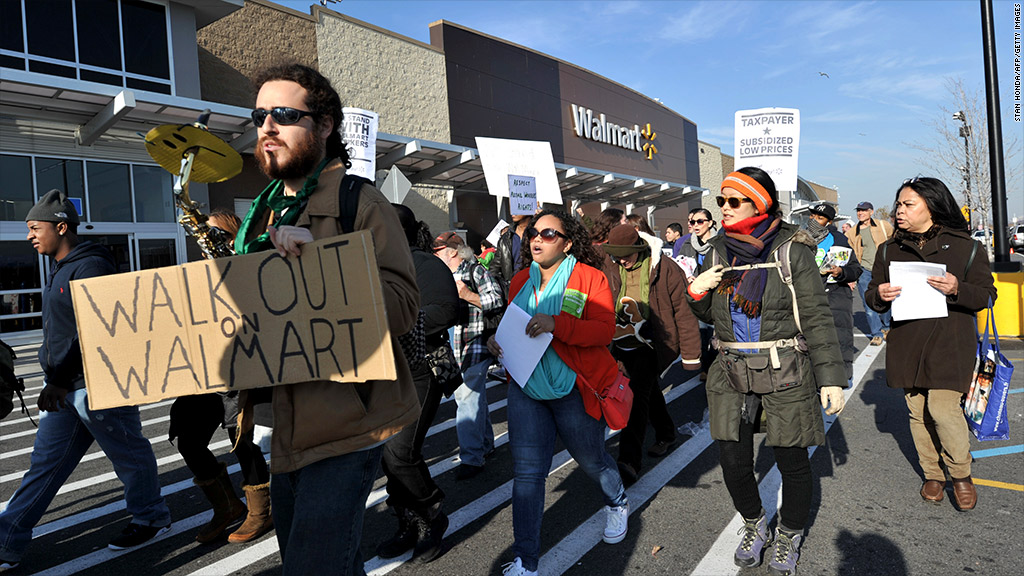 A Black Friday weekend spat between Wal-Mart and groups representing some of its employees appears to have resolved itself.
The National Labor Relations Board's office of general counsel said Thursday that it was unnecessary to decide the merits of an unfair labor practice charge filed by Wal-Mart in November. The world's No. 1 retailer complained that the United Food and Commercial Workers Union violated labor laws in organizing nationwide protests about alleged retaliation for advocating workers' rights on one of the biggest shopping days of the year.
In the complaint, Wal-Mart (WMT) said the actions disrupted business and violated the National Labor Relations Act, which prohibits picketing for any period of more than 30 days without filing a petition to form a union.
But the labor board said the union agreed that it would disavow any intent to organize Wal-Mart workers and promised not to picket for more than 60 days in line with NLRB standards, rendering any ruling on the Wal-Mart complaint moot.
Related: Why Wal-Mart workers were striking on Black Friday
Wal-Mart had sought an injunction to stop the Black Friday demonstrations that drew thousands of supporters and hundreds of employees to its stores. The protestors, which were organized by UFCW subsidiary OUR Walmart, wanted the retailer to end what they called retaliation against speaking out for better pay, fair schedules and affordable health care.
Soon after, OUR Walmart filed its own charge with the NLRB, claiming that Wal-Mart tried to deter workers from participating in the protests and interfered with their right to speak.
As the protests neared, the NLRB was under pressure to act within 72 hours of getting the complaint. But Nancy Cleeland, an NLRB spokeswoman, said that it was "highly unlikely" the federal agency would issue a ruling in time for Black Friday, the day after Thanksgiving. Cleeland said that the complaint was too complex to make a ruling so soon.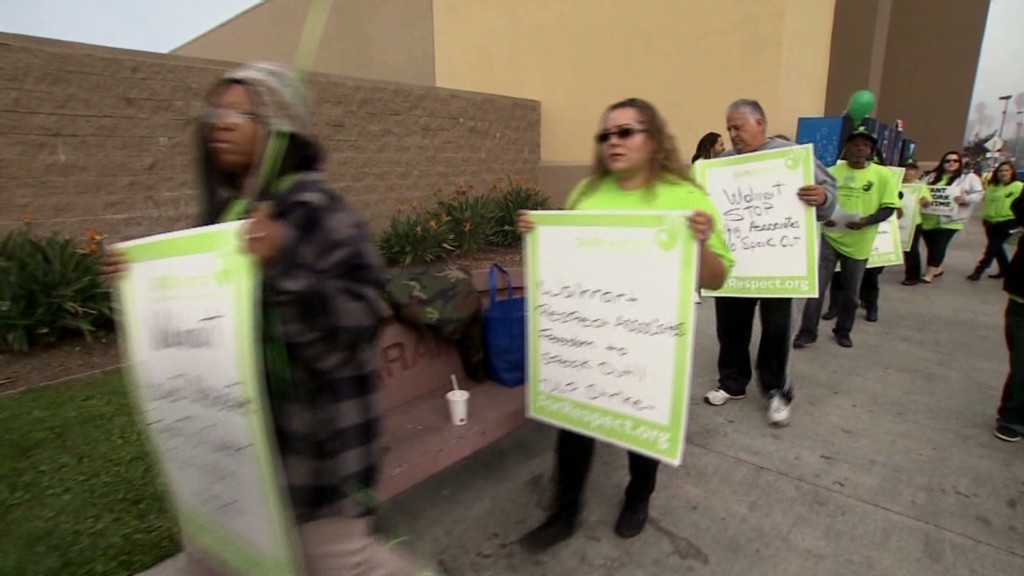 At the time, labor experts said that Wal-Mart would have a tough time winning, since labor laws that prohibit picketing for more than 30 days don't apply to those who are protesting against retaliation.
Despite the talk of the protests, Wal-Mart reported larger Thanksgiving and Black Friday crowds than last year. On the day of the protest, the company said it processed nearly 10 million register transactions.
In a statement following Thursday's ruling, Wal-Mart said the decision was good news for its employees.
"Our associates can now move forward knowing that the UFCW must stop its illegal and disruptive activities," David Tovar, vice president of communications said.
The UFCW said the decision allows it to keep supporting OUR Walmart and its efforts.
"Wal-Mart workers and their supporters will continue their call for change...and an end to its attempts to silence workers who speak out for better jobs," the UFCW wrote in a statement.