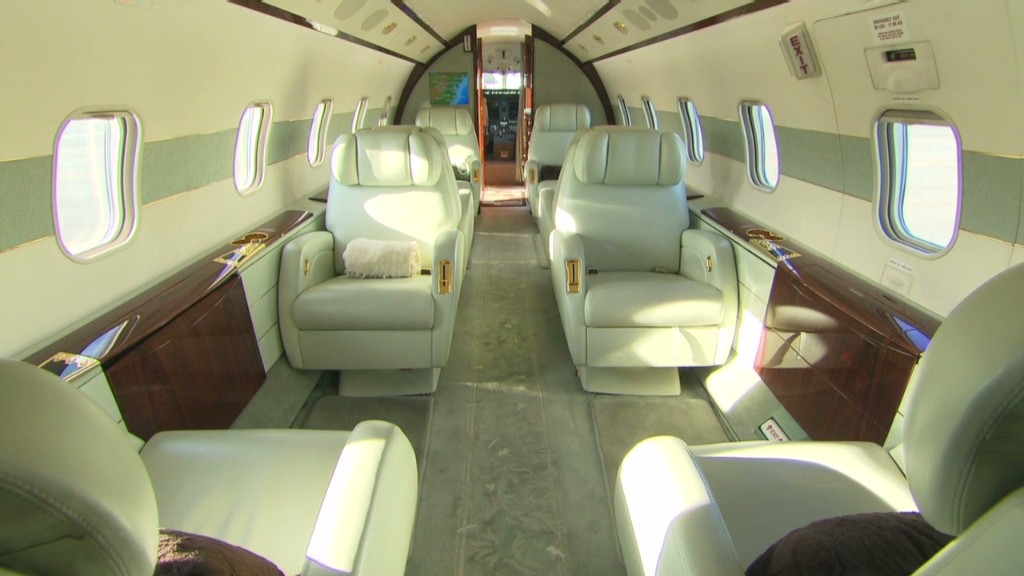 Want to fly private?
A company called BlackJet is looking to bring private aviation -- normally reserved for the ultra-wealthy -- to the masses.
At Teterboro Airport in New Jersey, BlackJet CEO Dean Rotchin spoke with CNNMoney aboard a private jet known as the Challenger 300. It seats eight passengers and would normally cost upwards of $20,000 for a coast-to-coast flight. Using BlackJet, a customer can book a seat on the plane for $3,500. It's not cheap, but it's far less than the going price for the whole plane.
Rotchin, who has been in the private plane industry for 15 years, hopes to pioneer this "semi-private" class of flying. His company charters flights from carriers like JetSelect and sells the high-end seats individually.
"The airlines are creating affordability by selling seats," Rotchin says. "We created affordability by taking the seat model used by the airlines and applying it for the first time to private aviation."
BlackJet's goal is to sell enough seats to profit from the flight. Even if the plane doesn't fill up, any ticket you purchase is guaranteed.
Cool Hunting editor-in-chief Josh Rubin says BlackJet has changed the way he travels.
"I can't afford to fly private by traditional private methods," Rubin says. He likes the perks: no lines, on-time flights, and he can bring his dogs aboard. Getting from the airport's front door to your seat takes about 10 minutes when you don't have to run through the security and check-in obstacle course.
Right now, BlackJet's service is limited to flights from New York, Florida, San Francisco and Los Angeles.
For carriers that work with BlackJet, the service is an opportunity to book more flights and reach a new -- if more frugal -- audience.
"The people that BlackJet is bringing to the table may not use our service," says Jeremy Bogle, JetSelect's executive vice president.
Before transforming his business into BlackJet, Rotchin launched Greenjets, which focused on a similar idea: let passengers share flights and cut fuel costs. After meeting with Silicon Valley investor Shervin Pishevar, who envisioned an "Uber for Jets" model, Rotchin reinvented the company with Uber co-founder Garrett Camp.
BlackJet attracted additional investment cash from celebrities who know a thing or two about flying private. Ashton Kutcher, Jay-Z and Will Smith are all on board.
BlackJet charges members a $2,500 annual fee, deferred for now until you book your first flight. (The membership code "LSNEWSVIP" gets you access to the site.)
Pishevar calls the service a part of the growing "sharing economy," in which technology helps connect people who wants to pool resources. You can rent a room in someone's house (AirBnB), their car (Getaround and RelayRides) or their time and skills (TaskRabbit, Zaarly and others).
"I believe this is just the beginning," he says. "Everything in our lives is going to be available in the push of a button."