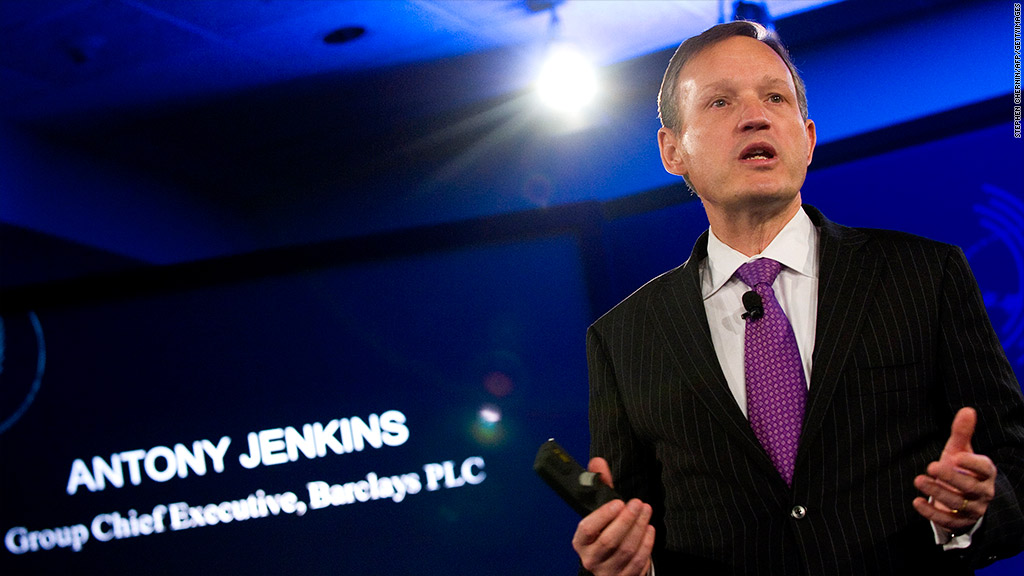 Antony Jenkins, who became Barclays' CEO in the wake of the bank's Libor-fixing scandal, says he has asked the company's board not to award him a bonus for 2012.
"The year just past was clearly a very difficult one for Barclays and its stakeholders, with multiple issues of our own making besetting the bank," he said Friday in a statement. "I think it only right that I bear an appropriate degree of accountability for those matters and I have concluded that it would be wrong for me to receive a bonus for 2012 given those circumstances."
In July Barclays agreed to pay U.S. and U.K. regulators $453 million after admitting that its employees conspired to manipulate the Libor rate in order to make money for its traders. The rate, which is supposed to represent what banks charge each other to borrow money, is used as the basis for setting rates for up to $800 trillion in loans and financial securities.
Barclays chairman Marcus Agius and CEO Bob Diamond resigned within days of the scandal becoming public, and many other banks admitted they were also under investigation. UBS (UBS) agreed to pay $1.5 billion for its role in the Libor scandal in December.
Related: Bank fines top $10 billion in '12
Jenkins, who had been head of Barclays' retail and business banking, was tapped to be the new CEO at the end of August. His task has been repairing the banks' image, especially in its home market, where the Libor scandal generated significant publicity and public outrage.
Barclays (BCS) shares have done well since Jenkins took over, rebounding more than 60% in London trading.