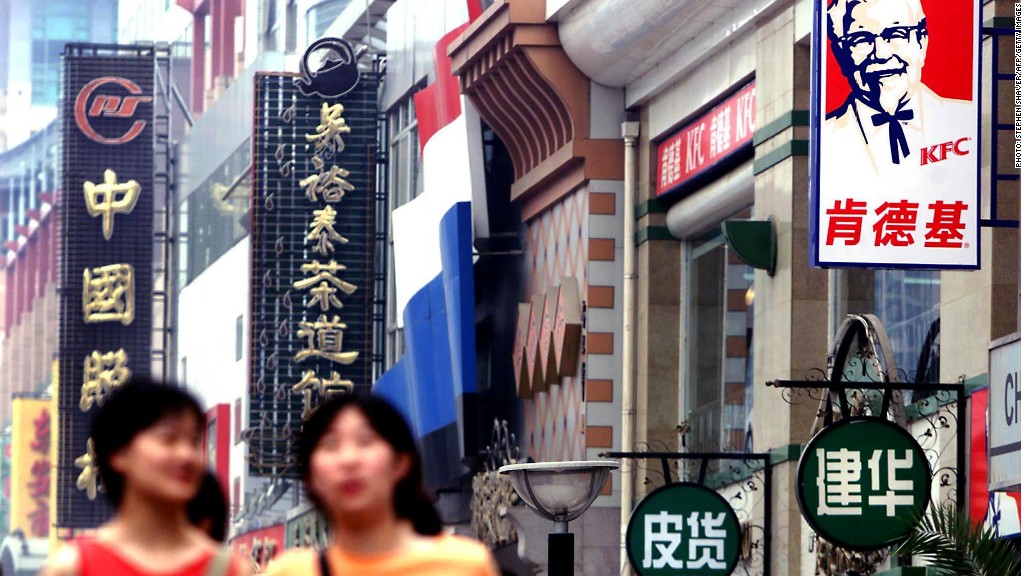 China is nothing but bad news for Yum Brands.
Yum (YUM) shares were down more than 5% in after-hours U.S. trading Monday after the company warned that slower sales in China will have a significant impact on its 2013 earnings.
The reputation of the global fast food powerhouse, which operates thousands of KFC restaurants in China, has suffered in the wake of an investigation by Chinese food regulators.
The inquiry was launched after media reports alleged that excess antibiotics and hormones were found in some chicken products sold at KFC locations. The revelation set Chinese consumers on edge and sparked calls for a boycott.
Same-store sales in China declined 6% in the fourth quarter, the company said, a trend that accelerated in the final two weeks of December, when negative publicity turned sales "sharply negative."
The company suggested Monday that problems will persist well into the new year, leading to a mid-single-digit decline in earnings per share in 2013.
"Due to continued negative same-store sales and our assumption that it will take time to recover consumer confidence, we no longer expect to achieve EPS growth in 2013," CEO David Novak said in a statement.
China is an increasingly important market for the parent company of Taco Bell, KFC and Pizza Hut. Yum has placed big bets on future growth in the world's second largest economy; it operates more than 4,200 KFC restaurants in China, as well as about 800 Pizza Huts.
Related: Burger King finds horse meat at European supplier
Prior to the investigation into tainted KFC chicken, western fast food companies had enjoyed a reputation for safety in China, where consumers have been subjected to a spate of food scares.
Regulators traced the bad chicken to two poultry suppliers in KFC's supply chain and have issued a series of recommendations that Yum said it will implement.
Even with the setbacks, Yum will proceed with an aggressive expansion of its operations in China, including 700 new restaurants in 2013 alone.
"Although we cannot predict how long it will take to restore sales, we are steadfast in our belief that the power and popularity of the KFC brand in China will ultimately drive a full sales recovery," Novak said.