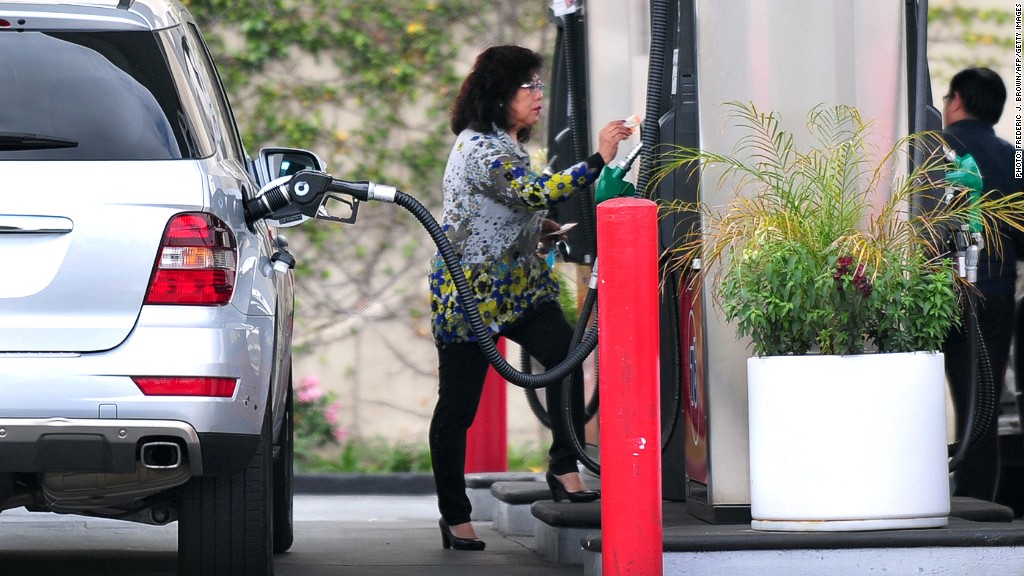 Americans are pumping about 4% of their incomes into buying gasoline, according to a government report.
The Energy Department said on Monday that U.S. households spent an average of $2,912 on gasoline last year, the highest level in four years.
The percentage reached similar levels in 2008, when a red-hot global economy and panic over dwindling supplies sent gas prices through the roof. But before then, the percentage hadn't reached these levels in nearly three decades.
Related: Check gas prices in your state
Another report put out by the Oil Price Information Service showed that Americans spent a record $479 billion in gasoline last year, up from $471 billion a year earlier. This is more than two and a half times what the nation's annual fuel bill was ten years earlier.
Even though Americans are spending more money -- and a bigger chunk of their budgets -- on fuel, overall, the Energy Department said that Americans are actually buying less gasoline than they have in the past. That's because Americans are heading to the pumps less often as cars become more fuel efficient.
Related: Cheapest cars to fuel
But gas prices have been soaring, and that's why the percentage of Americans' incomes devoted to gasoline has increased. The average price of gasoline rose to its highest-ever level in 2012, as hurricanes, refinery outages and tensions in the Middle East put pressure on supply, according to AAA.
The nationwide average price for a gallon of regular gas hit $3.60 last year, up 9 cents from the previous record set in 2011.