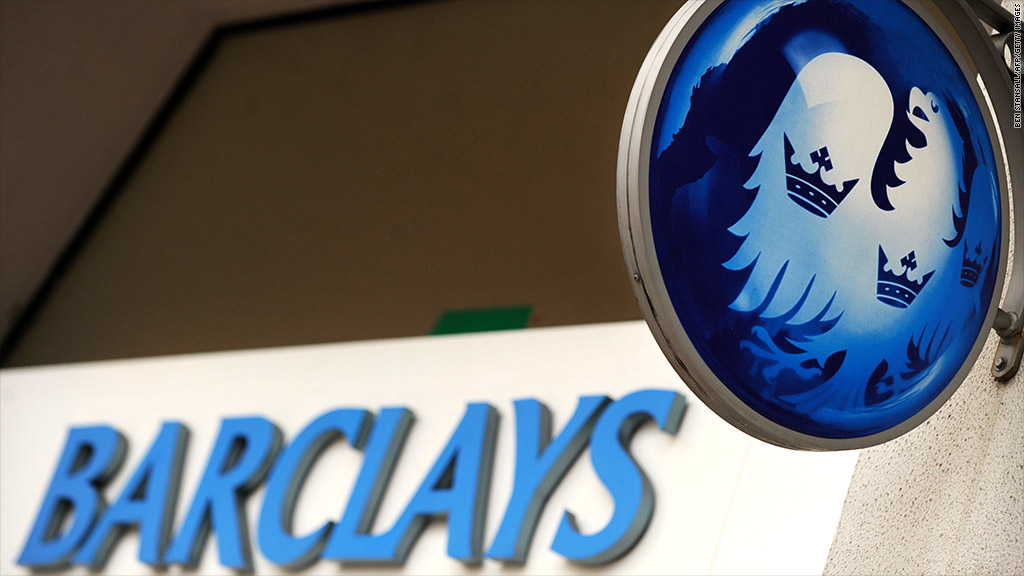 British bank Barclays is making another attempt to turn the page on past misconduct by setting aside more cash to compensate clients who were mis-sold certain products.
Barclays (BCS) said early Tuesday that it's added nearly $1.6 billion to help deal with scandals involving the sale of interest rate swaps and payment protection insurance.
Financial regulators said last week that Barclays, and three other leading UK banks, had agreed to compensate small businesses that were sold complex interest rate hedging products that they didn't fully understand or need.
Many of the businesses subsequently collapsed under the weight of the cost of servicing the swaps when interest rates were cut to record lows in the wake of the financial crisis in 2008.
Barclays, which last year paid $453 million to settle claims relating to the rigging of benchmark interest rate Libor, has now set aside a total of $1.3 billion for settling interest rate swaps claims, and about $4 billion for payment protection insurance (PPI).
The PPI scandal has been going on for over a decade. It has cost the industry almost $20 billion already and further undermined public trust in banks.
Related: British banks may need more capital
Buyers of mortgages and other products were aggressively sold PPI, which was supposed to help them keep up with repayments on loans if they lost their job or were taken ill.
But regulators found the banks were charging inflated prices for PPI products, selling them without explaining the terms properly and failing to make thorough checks on customers' circumstances, which in many cases made the insurance cover invalid.
Barclays said it would provide further details of the new provisions when it publishes earnings on Feb 12, but cautioned that the bill may rise still further.
Related: Bank fines top $10 billion in 2012
Barclays said it would keep its provisions "under ongoing review" as the process for compensating businesses that bought interest rate swaps progresses. The PPI provision represented its best estimate of future payments and the cost of managing claims, but it too would be monitored closely.
The Libor-rigging scandal cost Barclays chairman Marcus Agius and CEO Bob Diamond their jobs.
New CEO Antony Jenkins, who until August was head of retail and business banking, waived his bonus for 2012, describing it as a "very difficult" year for Barclays with "multiple issues of our own making besetting the bank".