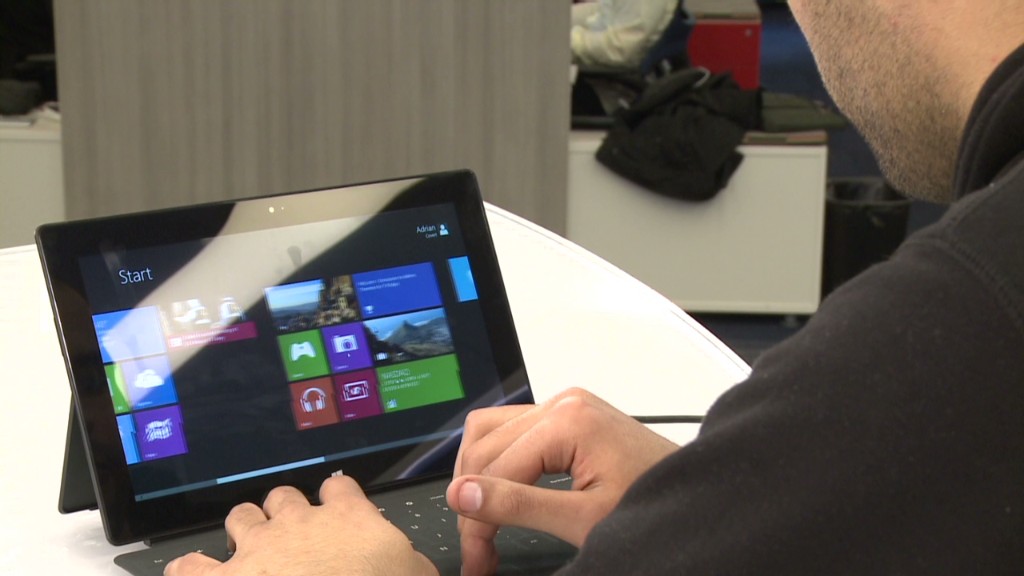 When Microsoft unveiled the Surface RT and Surface Pro tablets last summer, the former was treated as a curious experiment, while the latter was envisioned as something that could be a true laptop/tablet hybrid.
But the Surface Pro doesn't quite deliver.
First, the good news. It's every bit as well built as its counterpart. Every aspect of the Surface Pro's design is expertly considered and executed. It has a look and feel that lets you know you're using a Surface made by Microsoft (MSFT), and not just any Windows 8 device from another manufacturer.
And it certainly has all the specs on paper, with a 1080p display, an Intel (INTC)Core i5 processor, 4 gigabytes of RAM, and either 64 or 128 gigabytes of storage. Given that the Windows 8 install eats up more than 40 gigabytes of storage space, the $999, 128 gigabyte model is recommended.
To house the added horsepower, the Surface Pro is thicker and heavier (0.5 inches and 2 pounds, respectively) than the RT. And the battery, rated for 4-6 hours of use, really lasts 3 to 4 hours under moderate, but constant use.
The laptop guts of the Surface Pro make the thing zip around as fast as similar ultrabooks. Unless you're trying to run the newest hardcore games, push around serious pixels in Photoshop, or edit a full movie, the Surface Pro is more than game for any task thrown at it.
And Windows 8 has never looked better on a tablet display, largely because the Surface Pro packs full HD resolution into a 10.6-inch screen. It's not quite as beautiful as a display like the Nexus 10, which manages 300 pixels per inch in its 10.1-inch display. But it's no slouch, either.
Now the bad news. I've written before about the downsides of shoehorning a laptop experience into a hybrid device. And that turns out to be the biggest problem with the Surface Pro.
The big sell on the Surface Pro is that it can run all those old Windows apps you used to use on Windows 7 (or maybe even XP), and still function as a compact tablet. In actuality, working in the legacy desktop mode can be more of a hassle than its worth.
A big problem with the Surface is the display, or rather, how Windows 8 handles those old Windows apps. You're forced to pick between display settings that shrink everything down so that the visuals are sharp and the screen feels spacious or settings where everything is readable, but cramped.
Once I found a combination of screen settings that I could put up with, I then found myself fighting a battle with the keyboard covers that come with the Surface Pro.
Typing is mostly acceptable with either the Type Cover (featuring springy, mechanical keys) or Touch Cover (which has no moving parts). But the trackpads on both are borderline unacceptable.
Fitting a properly-sized keyboard and trackpad on a tablet cover is hard. And Microsoft chose to sacrifice trackpad size to make it happen. As a result you lose responsiveness and many of the gestures that make Windows 8 so enjoyable. You're burdened with extra swiping and a clunky left click/right click experience.
Relatively simple tasks, like signing up for an online service through a browser, become significantly more complicated when using the Surface Pro. It gets to the point where you'd rather reach for a proper laptop instead.
Some of this interaction friction could have been alleviated if the desktop environment of Windows 8 had been given the slightest bit of touch optimization. But aside from visual streamlining, it mostly looks and behaves like Windows 7.
It's weird to think this is an issue since hardware and software are coming from the same source, but the Surface Pro just doesn't seem to be well-tuned to handle Windows 8 Pro -- and vice-versa.
Of course, you can connect external monitors, and employ wireless keyboards and mice to improve the majority of what ails the Surface Pro, but then you're one level removed from what the device is supposed to be—a replacement for your existing laptop and tablet.
There's also a pressure-sensitive stylus, which mostly works as advertised, but isn't ideal. While it's fun as an aid for drawing or note taking, it isn't much better than a finger for navigating.
The Surface Pro does enable you to do more than the Surface RT. Still, one has to hope that Microsoft sees the device for what it is: a hedge.
It is a security blanket for users still trying to make sense of the divide between mobile and desktop operating systems.
Despite its glaring flaws, the Surface Pro really isn't a bad device. It can handle applications and multimedia as well as any other ultrabook. It doesn't fall short so much because it's a bad idea as much as it just wasn't properly executed. It needs to be more in sync with Windows 8.
Ironically, the Surface Pro might be best used as a device for the home. You can dock it to a keyboard, mouse, and monitor, where it essentially functions as a brain. And it would be fine as a living room/bedroom tablet, where weight and portability are less of a concern.
But if you need a primary Windows 8 machine that you can take anywhere, use anywhere, and really get stuff done, the latest generation of ultrabooks are still your best bet. For now, the Surface Pro is a work in progress.