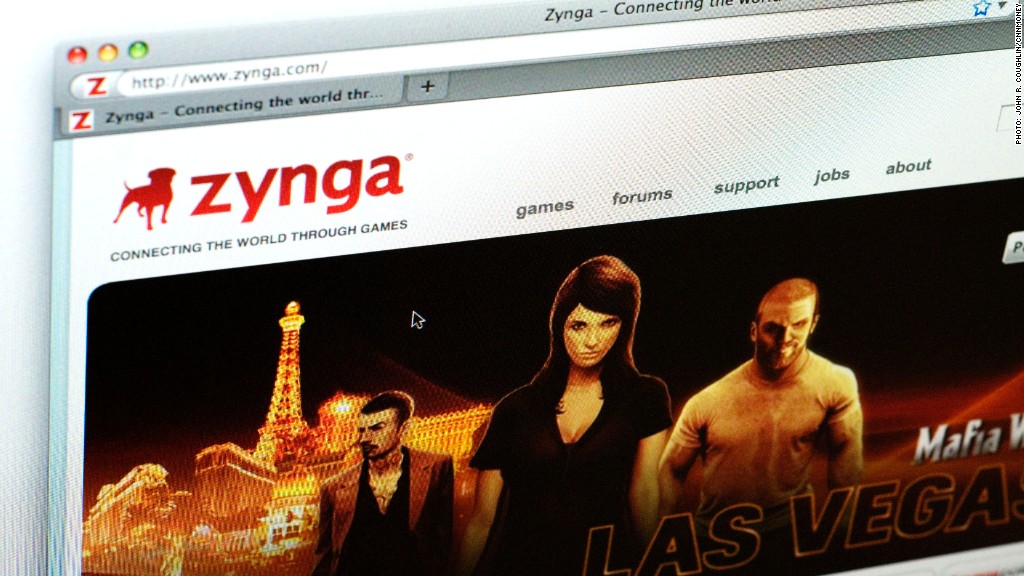 Zynga's fourth-quarter earnings and sales topped Wall Street estimates late Tuesday, but the FarmVille maker still faces many challenges.
Zynga (ZNGA) earned 1 cent per share, or $6.9 million, on sales of $311 million last quarter. Analysts polled by Thomson Reuters expected a loss of 3 cents per share and $212 million in revenue.
Shares jumped 7% in premarket trade Wednesday, as the numbers weren't as bad as analysts feared. But that doesn't mean its all good news for Zynga.
The tally of daily active users rose just 3% over the year, to 56 million in the fourth quarter of 2012. That means Zynga added only 2 million new daily active users over the past 12 months.
Perhaps more worrisome: The number of daily active users fell 6% from the third quarter to the fourth.
On the positive side, five of the top 10 Facebook (FB) games at the end of last year were Zynga titles: existing games Words With Friends and Zynga Poker, as well as three new games: Bubble Safari, ChefVille and FarmVille 2. Zynga cited tracking firm AppData for the Facebook stats.
Another bright spot is mobile, where Zynga said it averages 72 million users per month. According to comScore data that Zynga cited, mobile gamers spent more time on Zynga titles in December than on the next five game companies combined.
On a post-earnings conference call with analysts, Zynga executives said the company now has more teams devoted to mobile than to Web games.
Zynga launched six new titles in the fourth quarter, including two mobile versions of games that were previously Web-only.
But Zynga is also shuttering three games: CityVille 2, The Friend Game and Party Place. The company said on the conference call with analysts that it will "take a more disciplined approach in managing our game portfolio."
That's not much of a surprise: Since October, Zynga has shuttered about 15 games including FishVille, Treasure Isle, PetVille and Mafia Wars 2. Zynga seems to be admitting its slate of titles was bloated, and it's hoping a streamlined approach will boost its bottom line.
Beyond Zynga's standard mobile and Web games, some investors have expressed hopes that Zynga's steps into legal gambling could pay off. In December, Zynga filed an application for a gaming license in Nevada. Zynga had previously announced a partnership with bwin.party, a British gaming company that specializes in online sports betting, poker and bingo.
Related story: How King.com crushed Zynga
But the payoff on Zynga's new approaches won't be quick. For the first quarter of 2013, Zynga expects a net loss of about 4 cents per share on sales of about $260 million.
New Zynga COO David Ko said in the release that "2013 will be a pivotal transition year," alluding to the fact that 2012 was extremely tough for the company.
The last few months for Zynga were particularly troublesome. In early October, Zynga shares plunged after the company scaled back its 2012 outlook and warned it would take a massive writedown on its purchase of "Draw Something" maker OMGPOP.
Later that month, layoffs hit: Zynga cut 5% of its employees, closed its Boston outpost and proposed closures of its Japan and U.K. offices. That's also when Zynga announced it would be shuttering about a dozen games.
Then came the executive shakeup. In November Zynga CFO Dave Wehner quit and joined Facebook. Later that month, Facebook (FB) and Zynga significantly revised the terms of a five-year deal they signed in late 2010. The new arrangement relaxes restrictions on both companies.
This year kicked off with another spot of bad news: Zynga's chief game designer, Brian Reynolds, resigned in January.