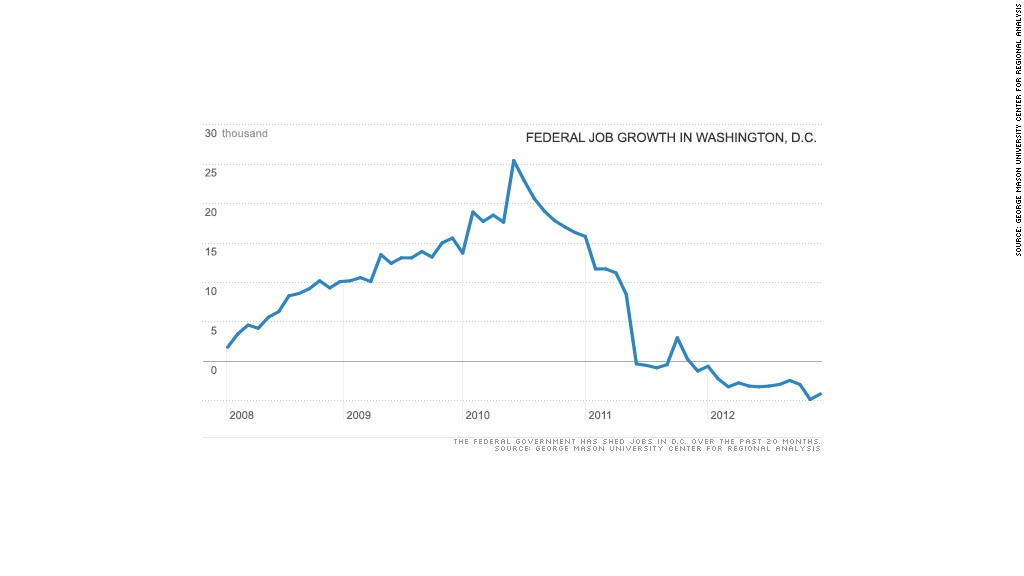 Washington, D.C., is ground zero for federal jobs. Which means, residents better prepare for layoffs and furloughs.
Come March 1, if Congress fails to act, the so-called "sequestration" would slash $85 billion from federal budgets through Sept. 30, part of some $1.2 trillion dollars in cuts expected over the next decade.
The cuts would force federal agencies to cut up to 10% from their budgets. The Defense Department has said that means furloughs for its 800,000 workforce starting in April, with employees staying home without pay one day each week. Other agencies, including the Federal Aviation Administration and National Parks Service are talking about furloughs for tens of thousands of their employees.
It's no surprise that private companies in the Washington area that serve the government are also expected to cut jobs.
As the furloughs, lost wages and purchasing power start to kick in later this year, the Washington economy will start feeling the impact, said Stephen Fuller, director of the Center for Regional Analysis at George Mason University.
"It's going to feel like a bad hangover for a while," Fuller said.
The cuts had been scheduled to take place Jan. 2, but Congress delayed them by two months as part of a deal to avert the fiscal cliff. President Obama this week called for another short-term delay.
It will be a setback for the Washington metropolitan area, which had been enjoying a surge in job and economic growth since 2002 due to a big ramp-up in federal spending and procurement, buoyed by the Bush Administration's war on terror and the creation of the Department of Homeland Security.
The area grew faster than any major U.S. city, including New York, according to Fuller. Federal payroll doubled from $23 billion in 2002 to $42 billion in 2010.
"It was as if we discovered diamonds here, but it was all taxpayer dollars," Fuller said.
Washington's growth continued even during the Great Recession, thanks to federal spending. Stimulus dollars helped, as did the addition of workers to deal with the financial crisis and the formation of new agencies like the Consumer Financial Protection Bureau and the Office of Financial Research.
By 2011, the bubble had burst. That year, federal dollars spent on both defense and non-defense contracts fell for the first time in 31 years. Over the past 20 months, the Washington D.C. area has lost 8,900 federal jobs from its peak in 2010.
Related: CBO: Spending cuts and tax increases slowing growth
The economies of the Washington and suburban Virginia and Maryland economies now rank middle-of-the-pack (58th out of 100), compared to other cities nationwide, according to the Brookings Institution Metropolitan Policy Program. In the middle of the recession, the metro area ranked 11th strongest.
That's not to say that all is doom and gloom for the area. The city of Washington D.C. last week reported a budget surplus of more than $400 million, thanks in part to more tax dollars flowing into city coffers from an influx of new residents.
In northern Virginia, traditionally home to large federal contractors like General Dynamics (GD), has also attracted companies that have little to due with government like Intel (INTC) and Hilton Worldwide.
But a slowdown is already apparent. Gerald Gordon, president and CEO of the Fairfax County Economic Development Authority, is seeing companies leasing less office space and hiring fewer employees.
He said that the biggest problem is nobody really knows if the sequester is definitely going to happen and how it will fall. Local businesses are worried about seeing an unexpected wave of lost contracts as the federal agencies handle projects on their own.
"Some employees will get laid off, some will get retained or go work for the federal government, but then companies are sitting on obligations for office space and equipment and there's no recourse for that," Gordon said.