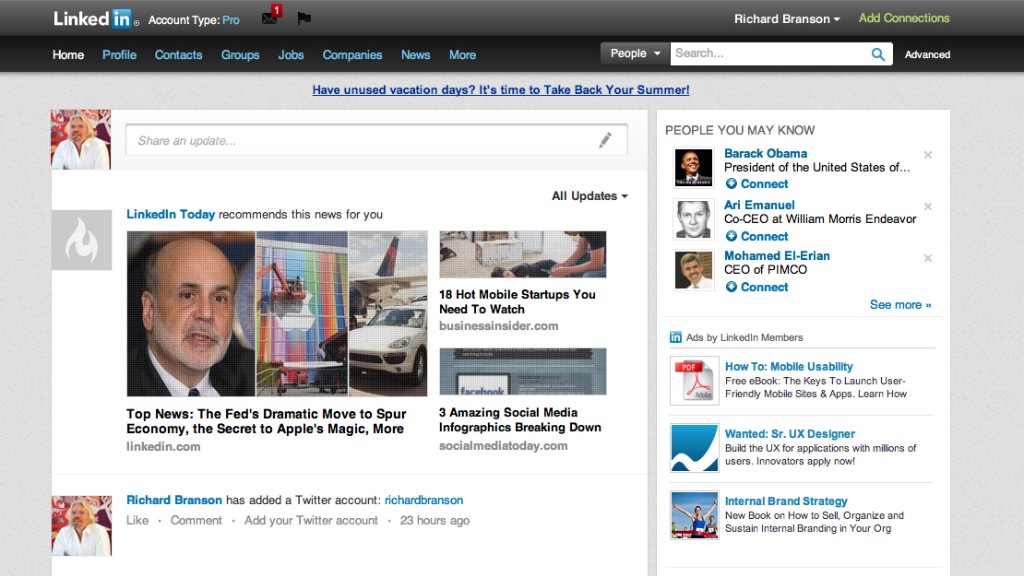 Post-IPO life hasn't been kind to Facebook and other newly public social startups, whose plummeting shares have left investors downtrodden. But LinkedIn, the first of the big social network upstarts to go public, continues to prove it can be a money-making machine.
Wall Street analysts had high expectations for LinkedIn's (LNKD) fourth quarter, and the company still beat on both counts. LInkedIn netted $40.2 million, or 35 cents per share -- more than three times as much as the $13 million it made a year earlier.
Sales came in at $303.6 million during the past quarter, up 81% over the year.
Shares rose 19% in morning trading, reaching an all-time high of $147.43.
As a business networking site, LinkedIn might not be as sexy as Facebook (FB) and other buzzy startups. But from the start, LinkedIn stood out from the newly public pack. The likes of Yelp (YELP), Pandora (P) and Groupon (GRPN) weren't profitable when they decided to go public, but LinkedIn was earning money and had a solid business model to boot.
The company has touted its multiple-revenue-stream approach, and all three money-making sectors were strong last quarter.
Sales from job-recruitment tools rose 90% over the year, accounting for more than half of the company's overall revenue.
Ads and other marketing revenue increased by more than two-thirds over the year. Advertising represents just a quarter of LinkedIn's revenue -- at Facebook, by contrast, ad sales account for 84% of revenue, and they were up only 41% last quarter.
The final fifth of LinkedIn's sales comes from subscribers who pay for premium accounts.
The company didn't shed much light on mobile, however, a continued pressure point for social networks like Facebook. Facebook shares are finally turning around now that the company is beginning to serve ads to mobile users, and Zynga posted a surprise profit on Tuesday as its mobile userbase expanded.
On a conference call with analysts, CEO Jeff Weiner said about 27% of the site's visitors last quarter came from mobile apps, a 15% jump from a year ago, and about one-third of people looking at job postings came from mobile devices.
One analyst on the call asked about LinkedIn's ongoing testing of mobile ads, and Weiner stressed it's "still early." Because of the limited space on smartphones in particular, the company wants to "be thoughtful" about its mobile ad rollout, Weiner said.
Meanwhile, LinkedIn's overall userbase is growing. The company passed the 200 million member mark during the fourth quarter, representing a nearly 40% increase from the same quarter last year. It's adding about two members per second, and the international market is especially hot: More than 64% of LinkedIn members live outside the United States.
The company also touted its fourth-quarter redesign of LinkedIn profiles, saying that nearly twice as many members updated their pages versus the fourth quarter of 2011. LinkedIn did not provide specific numbers on that point.
LinkedIn expects sales of about $307 million for the first quarter, and about $1.43 billion for the full year. Both figures were in line with the outlook analysts expected.
The social network continues to outperform more traditional job search competitors as well. Monster Worldwide (MWW) Thursday morning reported a $73 million loss last quarter, and the company decided to exit some foreign markets to focus on its U.S. business.