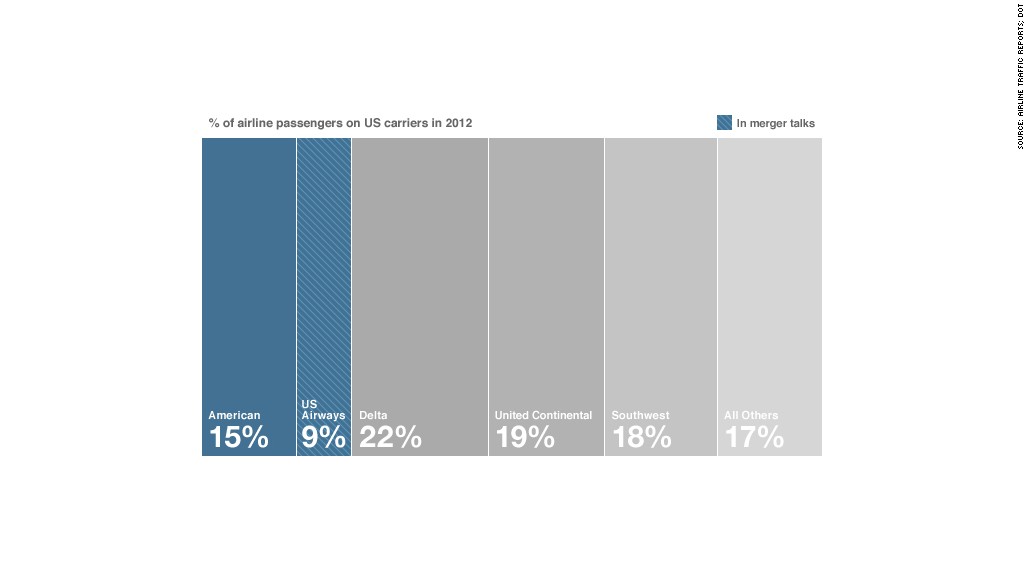 A decade of consolidation is about to leave the U.S. airline industry with only four major carriers.
Later this month, US Airways and American Airlines are expected to merge, creating the world's largest carrier and leaving the industry with four mega-carriers -- down from the 10 major airlines that existed in 2001.
The final four would be the combined American and US Airways (LCC), United Continental (UAL), Delta Air Lines (DAL) and Southwest Airlines (LUV).
That would mean less competition, according to a recent study by PricewaterhouseCoopers. The four carriers would fly about 80% of the passengers on U.S. airlines. For a third of the top 1,000 routes, passengers would have just one airline option if they want to fly nonstop. Nearly half the routes will only have two choices.
But the consolidation hasn't caused the spike in fares that many passengers would expect, and fares are expected to remain in check if this deal goes through.
The PWC study found that airfares are up less than 2% a year since 2004, a slower rate of increase than the rise in airline fuel and labor costs. Competition from non-direct flights and the fact that mergers have done little to reduce overall capacity have worked to keep fares in check.
"We have far fewer business travelers who would go at any price," said Joe Schwieterman, a DePaul University professor. "With the Internet, we have total fare transparency where everyone can play travel agent in ways that were impossible a decade ago."
A study by airline analyst Jamie Baker of JPMorgan Chase found that there are only 13 routes served on a non-stop basis by both American and US Airways. Eight of those routes will be served by the one airline after the deal.
Baker said that is probably not enough to have federal regulators block the deal on grounds of reduced competition, since it would be comparable to the loss of choice that occurred in some previous deals.
The proposed deal is backed by many large creditors of American parent AMR (AAMRQ), which filed for bankruptcy in November 2011.
US Airways (LCC) has been quite open about its desire to purchase American and vault into the ranks of the nation's mega-carriers. Even management at American, which went into bankruptcy hoping to remain independent, is quite open about the fact that discussions about a deal are ongoing.
Related: United - Customers will 'flock' back to Dreamliner
An agreement between the two airlines to share information during merger discussions is due to expire Feb. 15 and could provide a deadline for a deal, though the agreement could be extended.
The two airlines have held very public merger negotiations over the course of the last few months, including announcing a week ago that they had reached a final tentative labor deal with unions at the two carriers. The three unions that represent most American employees have lobbied publicly for the US Air deal since last summer, after American demanded concessions from its employees.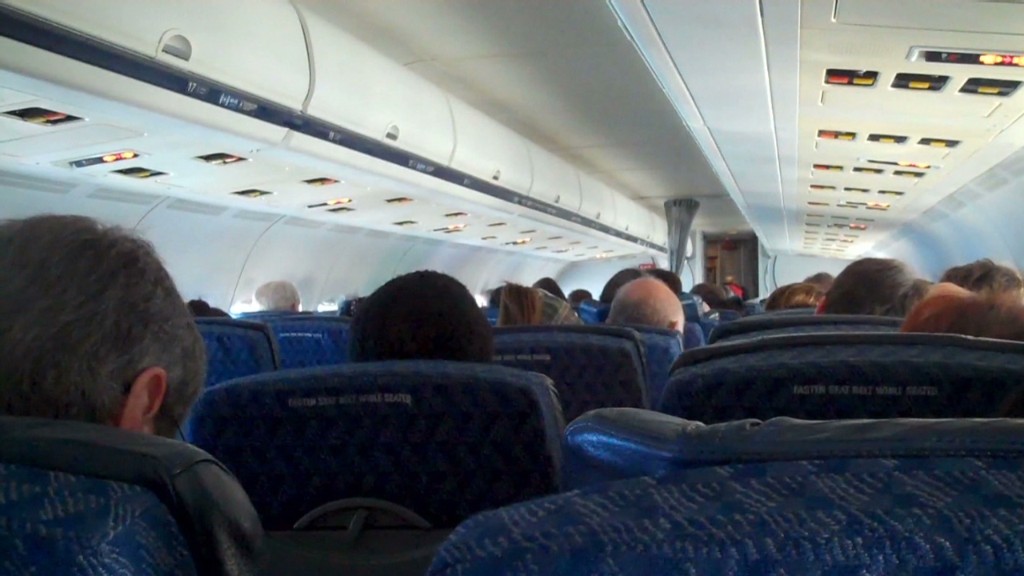 Even when it is announced, the deal will still need the approval of US Airways shareholders and the bankruptcy judge overseeing American's reorganization, as well as regulators.
The combination is likely to vault the new airline into first place among in terms of passenger traffic. American is No. 3 in miles flown by paying passengers, the reading most often used to rank airlines, and No. 4 in terms of the number of passengers. But adding the traffic now on US Airways and its feeder airlines could put the combined airline in the lead in both measures.
This would be the second time that US Airways, the nation's No. 5 air carrier, has bought a larger rival out of bankruptcy court. In 2005, what was then known as America West bought US Airways out of bankruptcy.
One year later, US Airways launched a hostile $8 billion bid for larger rival Delta, which was bankrupt at the time. But Delta was able to hold off that effort.