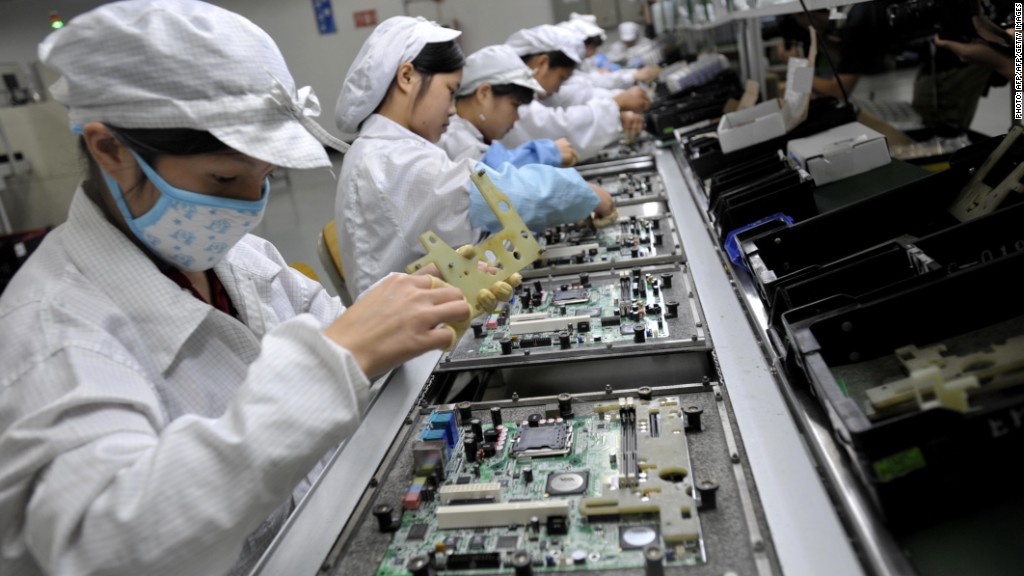 Hewlett-Packard has directed suppliers in China to limit the use of student labor, a move that reflects rising concerns in the tech community about working conditions in overseas factories.
The new standards are among the most stringent in the industry. Suppliers will be expected to comply immediately, and will be subjected to more frequent audits, the PC and printer maker said Friday.
HP (HPQ), which sources many of its products from suppliers in China, said it was responding to a "significant increase in the use of student and dispatch workers" in the country.
It is common practice in many parts of China for underage workers, often recruited by agencies, to work in factories under the guise of internships or temporary assignments.
Related: Scenes from China's annual migration
Documents are frequently forged, and underage workers are not permitted to leave factories of their own accord. In many cases, students are put to work to accommodate short-term production increases.
HP's new rules stipulate that all labor must be voluntary. Students employed by suppliers must be able to leave at any time, and will only be able to work for a limited term in a discipline associated with their primary area of study. The number of student workers will be limited, and all government regulations regarding legal working ages must be followed.
"We have worked closely with leading Chinese stakeholders to develop our new student and temporary worker guidelines to ensure the highest standards of ethical workforce management," said Tony Prophet, an HP executive and supply chain manager.
HP's announcement comes after Apple last year entered a partnership with the Fair Labor Association, an independent labor-rights organization that has conducted inspections of working conditions at factories in China.
Both HP and Apple (AAPL), along with Intel (INTC), Microsoft (MSFT) and Cisco (CSCO), have contracts with Foxconn, a Taiwan-based supplier that has come under fire for harsh labor conditions at its Chinese plants.
Related: China will be Apple's top market
The FLA has criticized Foxconn for several labor-rights violations, including requiring its employees to work excessive overtime and paying salaries that were too low to cover basic living expenses.
Workers went on strike in October in protest over conditions on the iPhone 5's production lines, a month after 40 people were injured in a protest that forced the temporary closure of another plant.
But in a notable shift, Foxconn said earlier this week it was giving employees more union rights. For the first time, employees have been promised a chance to vote for representatives free from management influence, and top officials will be elected by secret ballot.
Related: Uneven recovery for China's factories
Apple has instituted reforms of its own, and the company website highlights instances where audits have uncovered child labor at suppliers -- along with the steps taken to rectify the situation.
"When we discover suppliers with underage workers or find out about historical cases -- where workers had either left or reached legal working age by the time of the audit -- we demand immediate corrective action," Apple's website says.