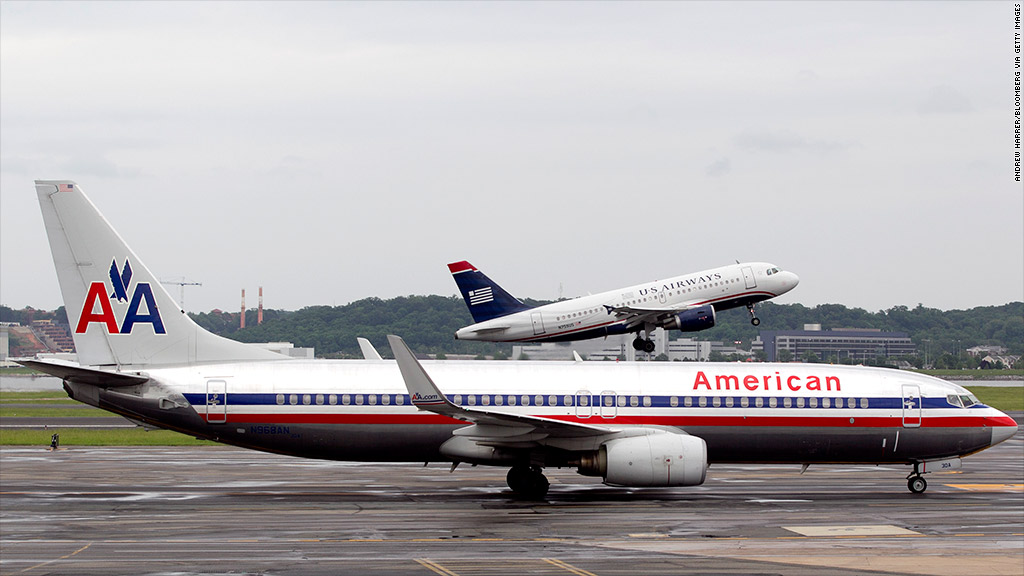 The boards of US Airways and American Airlines parent AMR agreed to a long-anticipated deal Wednesday night that could create the world's largest airline, according to a source familiar with the talks.
The official announcement is planned for early Thursday.
The new airline will beef up American's network, particularly along the East Coast, where US Airways (LCC) is a major player with its Washington-New York Shuttle and hubs in Philadelphia and Charlotte.
The combination of US Air and AMR (AAMRQ), which filed for bankruptcy in November 2011, is the latest in a series of moves that have whittled what were 10 major airlines 2001 down to four mega-carriers.
The combined U.S. Airways-American joins United Continental (UAL), Delta Air Lines (DAL) and Southwest Airlines (LUV) as the industry's dominant players in the U.S. Together they accounted for 83% of U.S. airline passengers last year. The consolidation has meant fewer choices for the nation's fliers, who have only one non-stop choice available to them on about a third of the nation's major routes.
Related: Consolidation shrinks U.S. airline industry to final four
But even as competition has dwindled, fare increases have remained in check, inching up less than 2% a year in the last decade. And most experts don't expect this deal to trigger a surge in ticket prices. There are only 13 routes served on a non-stop basis by both American and US Airways, according to JPMorgan Chase analyst Jamie Baker, and eight of those routes will be served by the one airline after the deal.
Passengers will however probably experience a lot more travel disruptions -- from lost luggage to flight delays -- as the two airlines combine systems, which is typically the case as airlines merge.
Related: Airline mergers can mean lost luggage, flight delays
US Airways has been very public about its desire to acquire American ever since AMR filed for bankruptcy, although American management had hoped to remain independent. But the three major unions at American pushed for the merger because their members were unhappy with the contract concessions and job cuts that American management was demanding.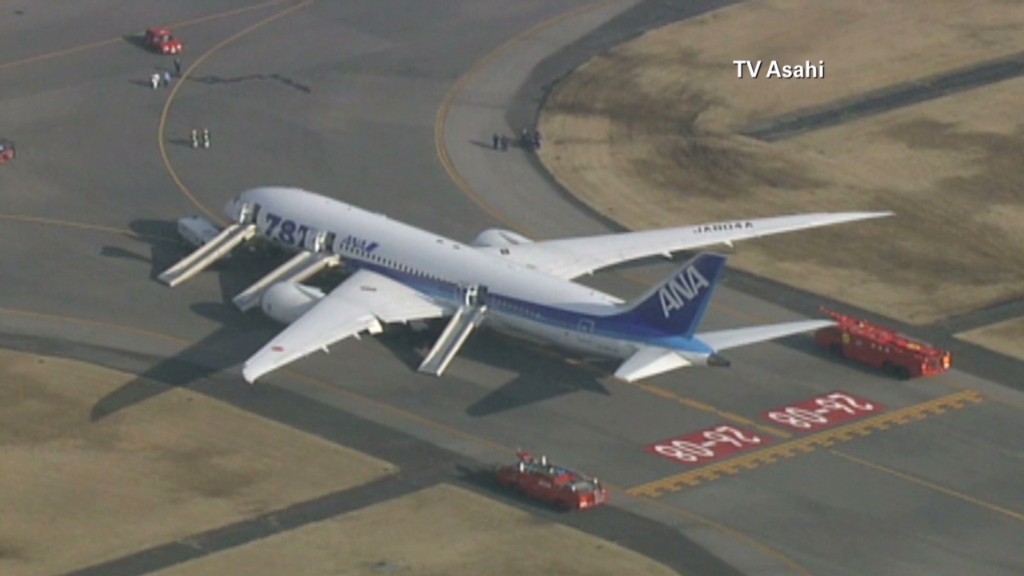 Indeed, when American used a bankruptcy court ruling to impose a less favorable contract on the pilots, management said the number of pilots calling in sick increased, as did the number of maintenance reports they filed before flights. Flight delays and cancellations soared, prompting some of its business customers to start using other airlines.
The combination is likely to vault the new airline into first place in terms of passenger traffic. American is No. 3 in miles flown by paying passengers, the reading most often used to rank airlines, and No. 4 in terms of the number of passengers. But adding the traffic from US Airways and its feeder airlines could put the combined airline in the lead in both measures.
This would be the second time that US Airways, the nation's No. 5 air carrier, has bought a larger rival out of bankruptcy court. In 2005, what was then known as America West bought US Airways out of bankruptcy.
One year later, US Airways launched a hostile $8 billion bid for larger rival Delta, which was bankrupt at the time. But Delta was able to hold off that effort.