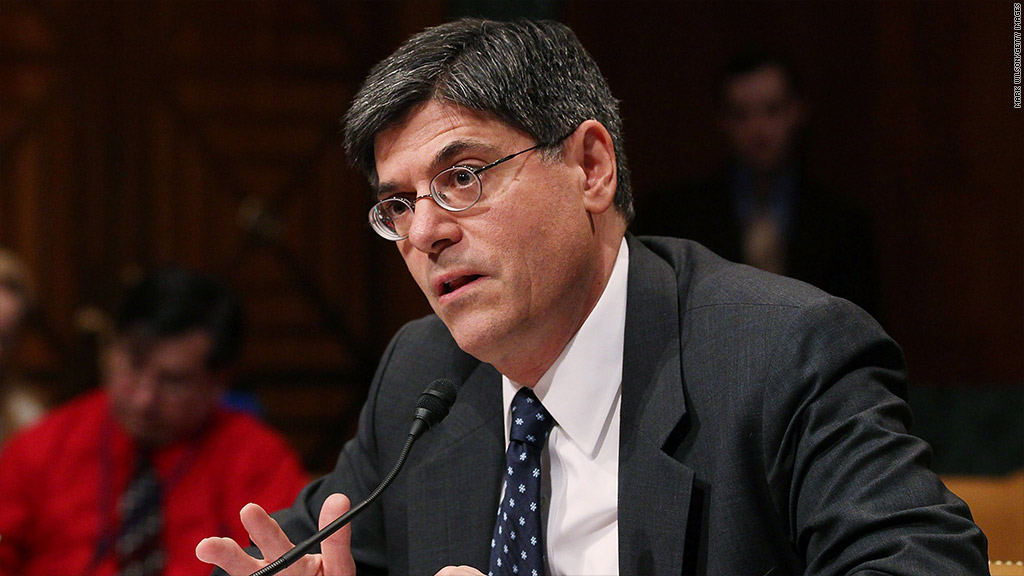 Treasury Secretary nominee Jack Lew seemingly breezed through tough questions posed by Republicans during his first confirmation hearing on Wednesday.
Washington insiders expect Lew, currently the White House chief of staff, to be easily confirmed.
Republicans on the Senate Finance Committee took turns targeting Lew's experience at Citigroup (C) during the financial crisis, questioning an offshore investment in the Cayman Islands and a bonus he received even as the bank was being bailed out by taxpayers.
But congressional aides, lobbyists and analysts say Lew was composed and answered questions thoroughly.
"There's nothing that came up in this hearing that could derail this." said Brian Gardner, a Washington analyst with investment firm Keefe, Bruyette & Woods. "Will he get every Republican? No. But at this point I expect Lew will be confirmed by a wider margin than Geithner was."
Former Treasury Secretary Tim Geithner was confirmed by a vote of 60-34, the minimum needed to prevent a filibuster.
Specifically, senators asked Lew about a fund organized in the Cayman Islands that he and other Citigroup employees invested in.
Lew said he didn't know at the time that the fund was based in the Cayman Islands.
"I was aware that it was an international fund ... I actually didn't know at the time what the address of the partnership was," Lew said.
Sen. Orrin Hatch, the Utah Republican, asked Lew about his $900,000 bonus from Citigroup in 2009. Critics, including Hatch, have said Lew was among the bankers who received bonuses even as Citigroup was getting a $45 billion taxpayer-funded bailout. Lew was chief operating officer at Citi Alternative Investments in 2008.
"Mr. Lew, you wrote in 2010 that your contribution was in line with what other managers at the firm got. That sounds a little to me like: Gee dad, everyone was doing it," Hatch said.
Lew responded that his bonus was "fully transparent," and "comparable" with those in his line of work. Lew's bonus came on top of a salary of around $350,000.
Republican Sen. Charles Grassley of Iowa asked Lew about his tenure as a top financial officer at New York University between 2002 and 2006, because the private college also invested in funds organized in the Cayman Islands. Lew said he was unaware of those investments at the time.
"It's certainly a poor reflection of your tenure there if you didn't know about these investments. . . I'm surprised you didn't know what was going on," Grassley said.
Lew had already declared his Cayman Islands investment in previous hearings. When he was confirmed as a Deputy Secretary of State in 2009, Lew said that he had invested $56,000 in the fund. In 2010, during his confirmation to be head of the Office of Management and Budget, Lew divested from the money-losing fund and recovered $54,400, he said on Wednesday.
The Obama administration has defended Lew's actions. And Lew assured senators during the hearing that he had paid taxes on all his income, noting he "lost money" from the Cayman Islands investment, so he didn't owe any taxes on that.
Lew, who was nominated last month to succeed Tim Geithner, stressed several times that his experience working on "almost every major bipartisan budget agreement over the last 30 years," should be a key reason why the Senate should confirm him to the position.
"I can honestly say that the things that divide Washington right now are not as insurmountable as they might look," Lew said.
Sen. Johnny Isakson, a Georgia Republican, asked about the impending massive budget cuts and whether Lew regretted his role in crafting the original idea of the so-called sequestration. If Congress doesn't act, some $85 billion will be slashed from budgets come March 1, resulting in large scale furloughs and job cuts.
Lew said the alternative at the time -- risking the credit-worthiness of the United States -- was much more unimaginable than sequestration.
"The only alternative that anyone could think of, that could be agreed to, was sequestration, precisely because it's so objectionable," Lew said. "It would be better for the country if we have an agreement on a framework to solve our fiscal problems and not go into sequestration."