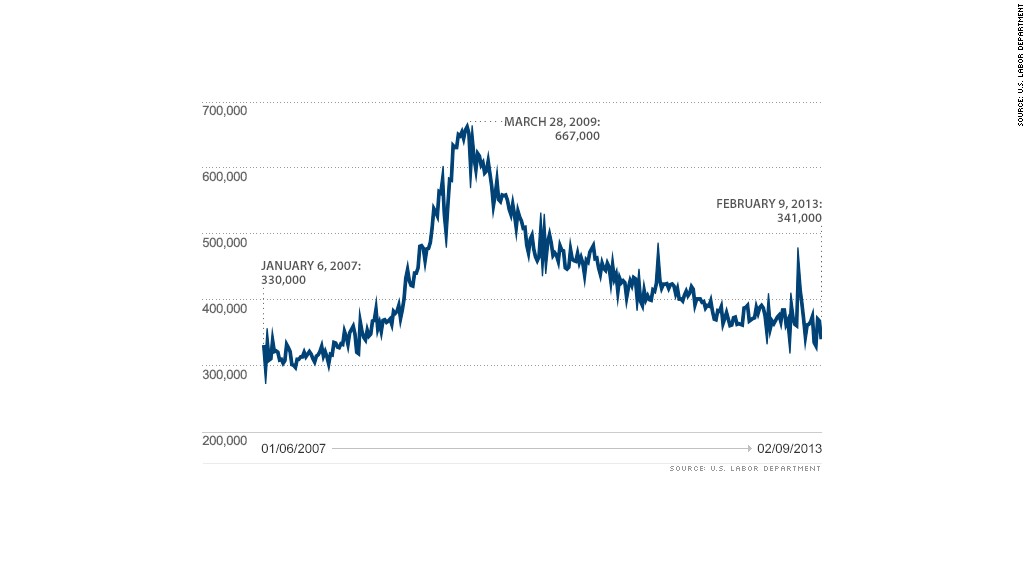 Fewer Americans filed for their first week of unemployment benefits last week, but economists were hesitant to say that the decline is solely due to an improving job market.
Initial jobless claims fell to 341,000, from an upwardly revised 368,000 the previous week, the Labor Department said Thursday.
It was a welcome surprise, given economists were expecting about 365,000 initial claims.
Jobless claims are seen as a key gauge of the job market, but last week's data could have been distorted by weather. Illinois and Connecticut both submitted estimated data due to the blizzard that hit those areas over the weekend.
Meanwhile, the blizzard may have also kept some people who are out of work from filing their claims, said Jim O'Sullivan, chief U.S. economist for High Frequency Economics, in a note to clients. If that's the case, next week's data could show an increase in filings.
Economists often prefer to look at a four-week moving average to smooth out the choppiness in the data, and that measure rose slightly last week to 352,500.
Related: Check the unemployment rate in your state
Overall, claims have come down from where they were a year ago, but the improvement has been very gradual. They've largely been hovering in the 350,000 to 400,000 range -- a level that seems to be consistent with hiring that adds about 180,000 jobs to the U.S. economy each month.
In addition to counting first-time claims, the Labor Department also tracks people who have filed for their second week or more of benefits. The latest data shows 3.1 million people filed continuing claims in the week ending February 2, a 130,000 decrease from a week earlier.