For passengers on-board the Carnival Triumph, Friday marked the end of a days-long ordeal at sea.
Shareholders in Carnival Corp. (CCL) may also be breathing a sigh of relief, as the cruise line operator hopes to move past its public relations nightmare.
Carnival shares are on track to end the week down about 5% after the company said Wednesday that its earnings would be hurt in the first quarter due to costs associated with the ill-fated voyage.
Analysts say the negative headlines should begin to dissipate now that the passengers, who had been stranded on the powerless cruise ship in the Gulf of Mexico since Sunday, have returned to shore.
The Triumph's plight was widely reported, with passengers detailing the deteriorating conditions on social media.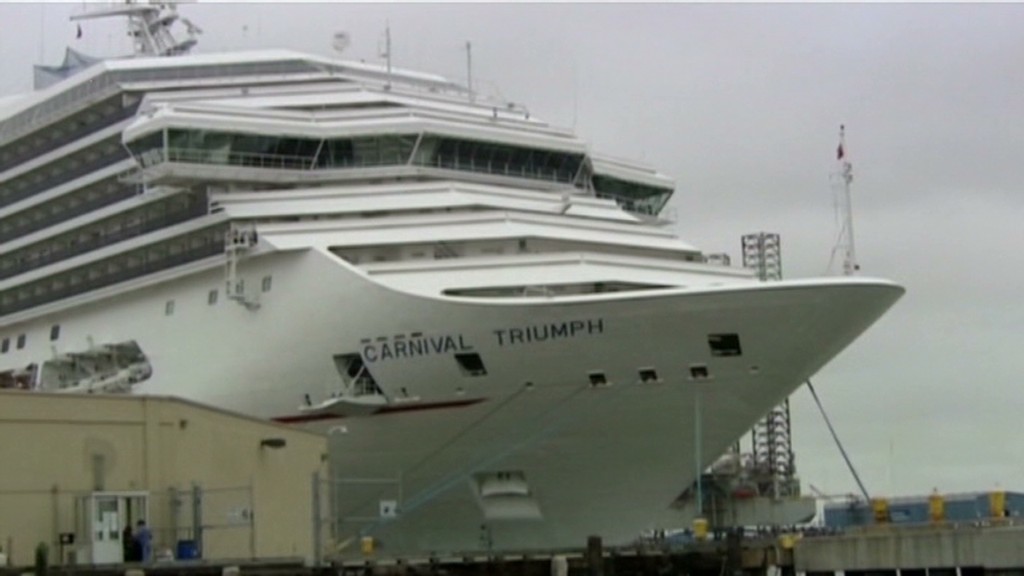 Passengers reported sewage sloshing in the hallways and, in some cases, running down the walls of cabins. Still others said the power outage forced people, especially those in the lower decks or inside cabins, to drag their mattresses to outside decks because of stifling heat.
Needless to say, this is not good publicity for the cruise industry, said Jamie Katz, an analyst who covers Carnival at Morningstar. But the safety protocols on the Triumph appear to have worked, and the episode did not result in any reports of serious injury, she added.
Related: Tears and big hugs as cruise passengers reunite with families in Mobile
"People were inconvenienced, but it doesn't sound like their safety was put at risk," she said.
The safe return of the Triumph is in contrast to the disaster that occurred just over a year ago on Carnival's Costa Concordia. That ship ran aground off the coast of Italy, in a wreck that left 32 people dead.
"This is not like last year, where the captain jumped ship," said Katz. "Everyone did what they were supposed to do."
Still, the bad press could hurt bookings in the short run, particularly among first-time cruisers. But veteran cruisers are a loyal bunch and will probably not be dissuaded by the latest debacle, according to a report by analysts at Nomura Securities.
"Cruise loyalists and investors should be undaunted by ugly headlines over the long term," said the analysts.
Despite the hit to earnings, Nomura sees this week's sell-off as a buying opportunity, since malfunctions like the one that disabled the Triumph should not happen again, in theory.
The episode could also present an opportunity for those looking to book a cruise in the near future. The negative news could "generate some discounting in the near term" as cruise operators seek to win back business, said Katz.
-- CNN Wires contributed to this report.