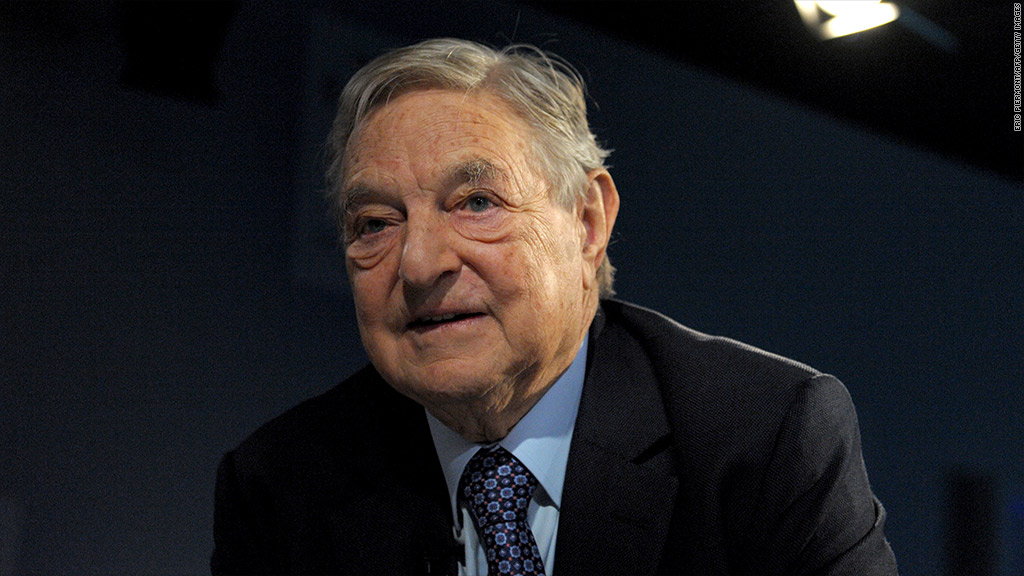 Billionaire investor George Soros is increasingly bearish on gold.
Soros cut his investment in the SPDR Gold Trust (GLD) in half during the fourth quarter, according to a regulatory filing.
The $8.5 billion Soros Fund Management now owns 600,000 shares of the gold ETF, worth an estimated $97 million. That's down from 1.3 million shares, worth more than $227 million, in the third quarter. The ETF is one of the most widely held gold-backed ETFs.
Soros also sold his stake in gold miner Kinross Gold Corp. (KGC), which was worth about $18 million, but held onto 1.7 million shares of Freeport-McMoran (FCX), worth about $46 million.
It's not the first time he's shunned gold. In 2011, Soros sold various gold-related investments worth $800 million.
Recently, gold has been pressured by concerns about waning demand as the global economy continues to struggle.
After climbing near $1,800 an ounce in October, gold prices have tumbled to about $1,600 an ounce.
Related: Gold is not just a lunatic fringe investment
Gold demand reached a record value of $236.4 billion in 2012, according to a report this week from the World Gold Council. But in terms of tonnage, gold demand fell 4% last year, marking the first decline since 2008.
The council said growth in jewelry and central bank demand helped offset declines in gold demand from investors and the technology industry.
Looking ahead, the council says it expects demand for gold jewelry to remain stable in China and India, while investment demand will be supported by monetary policies around the world.
"We expect gold to remain a core asset in portfolios," said Marcus Grubb, managing director of investment at the World Gold Council.
Meanwhile, another well-known hedge fund manager, John Paulson, held onto his gold position.
Paulson & Co. maintained its 21.8 million shares in the gold ETF, according to a regulatory filing. The investment was was worth $3.5 billion as of the fourth quarter, down 8% from the prior quarter.
Related: Gold: It's the end of the world as we know it
Gold prices have been rising steadily for over a decade, but some analysts say prices are nearing their peak.
Goldman Sachs recently predicted a turn in the long-term bull market in gold.
Gold has gained 481% since 2002, when it traded for about $275 an ounce. It hit an all-time high above $1,900 an ounce in September 2011. Last year, gold has gained about 8%.
In a report last month, Goldman said gold prices could rebound in the coming weeks as concerns about U.S. fiscal policy resurface ahead of the March deadline to raise the debt ceiling. But beyond that, Goldman still anticipates gold prices to peak in the second half of the year as the U.S. economy improves and interest rates rise.