Elon Musk, the high profile CEO of electric car start-up Tesla Motors, has been defending the company and its Model S from criticism as of late.
But he couldn't overcome criticism from investors Thursday who drove the stock sharply lower after the company posted a bigger than expected loss.
Shares of Tesla (TSLA) rebounded Friday, after their biggest one-day drop in more than a year. The stock had fallen 9% after Tesla announced a $75 million loss late Wednesday.
During a conference call, Musk tried to balance the earnings miss with some good news, saying Tesla had increased production and decreased capital expenditures which, he said, should allow it to generate a slight profit for the current quarter.
"Due to an enormous amount of hard work by a really dedicated group of people at Tesla, we're going to be profitable, and I think that's a pretty big deal," Musk said.
But comments about profit margins spooked some investors.
Analysts said Thursday that the real problem for Tesla are growing concerns that glowing reviews for its products and heady expectations for the upscale electric car market may have lifted its stock price too high, too fast.
"Investors are now beginning to focus on what sustainable demand is beyond 2013. The question remains: how big is the addressable market?" said Adam Jonas, auto analyst for Morgan Stanley, in a note on Thursday.
Jonas has a "buy" recommendation on Tesla.
Other analysts aren't as sure, even if they say Tesla's financial report had as much good news as bad.
Ben Schuman of Pacific Crest Securities has a "hold" recommendation on the stock, with an estimated value about $5 below its current price, even after Thursday's sell-off.
"Frankly the stock had reflected a lot of optimism heading into the earnings call. Much of the value is based upon expectations for growth for the company," he said. "It's going to be more volatile than a traditional auto stock, that's for sure. It's more of a tech stock." He said the company has some of the highest short interest of any mid-cap company, meaning many investors are betting against it.
Tesla would not comment on Thursday's stock move.
Related: Test Drive: DC to Boston in a Tesla Model S
Musk and Tesla have been in the headlines recently after a negative review of the new Model S in the New York Times earlier this month sent shares sinking.
Writer John Broder said the battery in his Model S drained more quickly than expected in cold weather during a recent trip up the East Coast, stranding him in Connecticut and forcing him to get towed to the nearest charging station.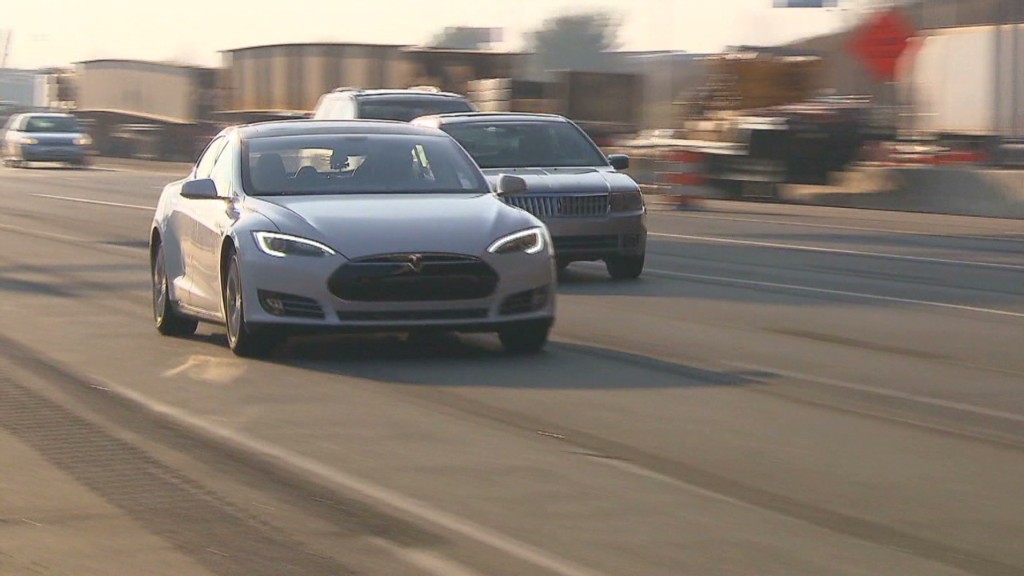 Musk fired back, alleging that Broder falsified aspects of the article. The review came at a sensitive time for Tesla, which has struggled to hit delivery targets amid continuing challenges with its technology.
He was more subdued during Wednesday's analyst call, acknowledging that "for a long-distance trip right now, depending upon where you are in the country, a little bit of extra planning is needed."
"We have a bunch more superchargers that are going in to the East Coast and across the country," Musk said. "We really want to get to the point where you don't have to think about it, and I think we're very close to that point."
The Model S has met critical acclaim elsewhere in the media, garnering "Car of the Year" honors in 2012 from both Motor Trend and Automobile Magazine.