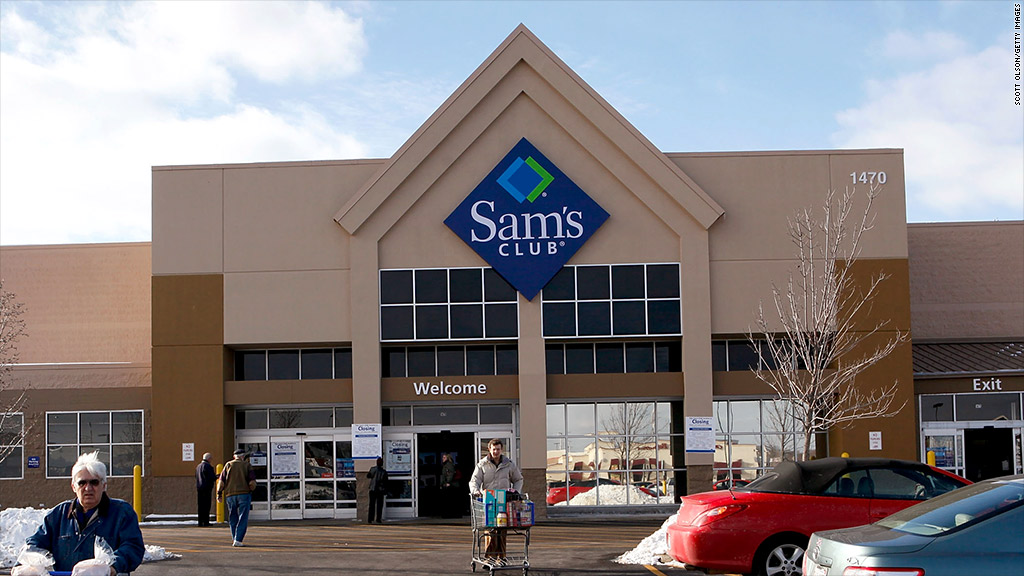 Small businesses have been spending less freely lately because they're concerned about gas prices, taxes and the economy, according to one key barometer -- Wal-Mart.
Small businesses frequently flock to its Sam's Club warehouse stores to buy items like paper, staplers, snacks and coffee machines for their offices at a discount.
But firms have become more cautious about how much they're buying at Sam's Club, according to Wal-Mart (WMT), which reported quarterly results Thursday.
"We recognize the mounting economic concern from both small businesses and consumers," said Sam's Club CEO Rosalind Brewer in a statement. "Recent traffic patterns of our business members indicate that they are more deliberate in their spending due to macroeconomic factors."
Related: Wal-Mart warns of soft start to year
When consumers tighten their wallets, small businesses often follow suit, said Rhett Buttle, government affairs director at Small Business Majority, an advocacy group.
Wal-Mart (WMT)'s sales growth slowed last quarter as taxes and gas prices weighed on shoppers' minds.
At Sam's Club, sales at stores open at least a year increased just 2.3% in the fourth quarter, down from 5.4% a year earlier. Sam's Club has more than 47 million members, about half of which are small businesses and entrepreneurs.
Related: 7 spending cuts you'll really feel
Experts agreed that small businesses are on edge.
Economic uncertainty and the deficit are top concern of small firms, said Molly Brogan, spokeswoman for the National Small Business Association, an advocacy group.
Business owners are worried about the state of consumer spending and health-care costs, said Cynthia Magnuson, a spokesperson with the National Federation of Independent Business, which has 350,000 members.
"We're not surprised that small businesses are buying less," said Magnuson. "Our members tell us that if their business isn't picking up, and their products aren't flying off the shelves, then they won't be spending more money on supplies and other purchases."