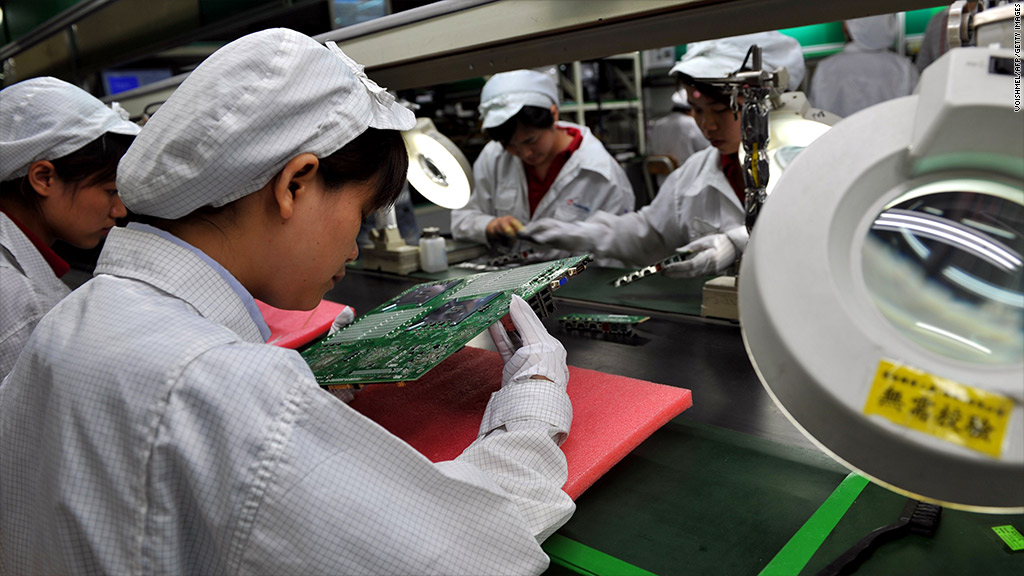 Apple supplier Foxconn has slowed hiring of new workers at its factories in China as workers have returned to their shifts after the Lunar New Year holiday.
Companies in China that rely heavily on migrant workers often plan on a number choosing to remain in their home villages after the annual mass migration. This year, more workers have come back to their jobs, according to Foxconn.
"Due to an unprecedented rate of return of employees following the Chinese New Year holiday compared to years past, our company has decided to temporarily slow down our recruitment process," Foxconn (FXCNF)said in a statement Thursday.
The Taiwanese company makes about 40% of the world's consumer electronics gadgets, including products and parts for Apple (AAPL), Intel (INTC), Cisco (CSCO) and others.
Foxconn denied a report in the Financial Times that it had imposed a hiring freeze as it scaled back production of the iPhone 5.
"This action is not related to any single customer and any speculation to the contrary is false and inaccurate," it said.
Related: Apple may be to blame for hiring freeze after all
Lunar New Year is China's biggest holiday. Work stops, factories close and millions of workers pile onto overcrowded trains and buses to leave the cities and return to their families.
Foxconn's factories have been troubled by strikes, violent protests and a series of suicides in recent years linked to poor working conditions.
But earlier this month, under pressure from Apple, the company said it would give employees more union rights, including the chance to vote for representatives free from management influence and secret ballots in elections for top officials.
--CNNMoney's Charles Riley contributed to this report.