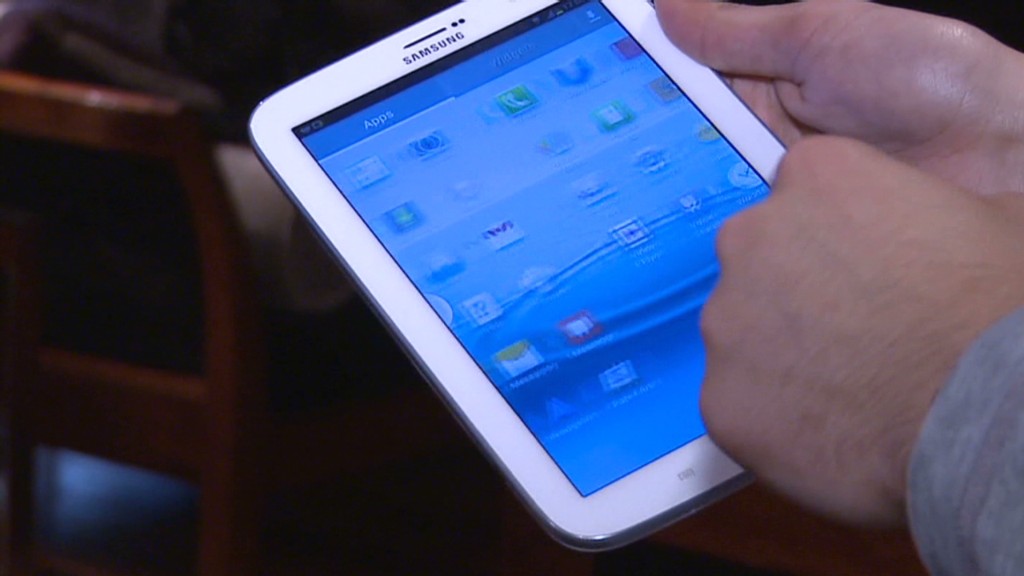 On paper, Samsung's new Galaxy Note 8.0 tablet is a perfectly fine piece of hardware.
It runs Android 4.1, has a 1.6 GHz quad-core CPU, 2 gigabytes of RAM, and an 8-inch, 1280 x 800 display that you can control with Samsung's S-Pen stylus. But on the international version of the device, there's something quite strange lurking near the top.
Yes, it's an earpiece. Yes, it's meant for you to make calls. Yes, Samsung expects you to hold an 8-inch tablet up to your face.
Samsung expects you to hold an 8-inch tablet up to your face.
The decision to imbue an 8-inch tablet with a phone very much seems like a reaction to the success of Samsung's Galaxy Note phones, which checked in at 5.3 and 5.5-inches, opening up some of the functionality of tablets. (Ugh, phablets).
I joked before about the day when we'd see a 7-inch phone. Turns out we got an 8-inch one sooner than we thought. But it is worth mentioning that it's undecided if a phone-enabled version of the Galaxy Note 8.0 will see the light of day in the U.S.
The device itself is suitably thin and light (more or less comparable to the iPad mini, it's closest known competition), and is responsive enough for most tasks. The stylus works pretty well, introducing a new feature that lets you activate preview panes of apps such as email and Flipboard, without ever touching the the screen (instead, you hover above the area you want to preview).
Related: Samsung overtakes Apple in 'smart connected devices'
But aside from the stylus, it also has a couple of tricks the iPad Mini does not. For starters, It has an IR remote which lets you enter the codes for most television sets and control your TV with your tablet, much like you would with any other remote. But sweetening the deal is the use of the media guide software from Peel Technologies, allowing you to seek out and directly jump to specific shows and movies without resorting to the channel up/down buttons.
It also supports a dual-window mode, where you can run two apps side by side, and without the loss of functionality. For now it only works with a handful of optimized apps, but includes a calendar app, a note-taking app, Chrome, Gmail, YouTube and more (adding up to more than 20 in all).
And while it's expected to arrive sometime in the next few months, there was not so much as a whisper about price. Judging from the year-old guts inside the Galaxy Note 8.0, it's possible Samsung made the necessary moves to offer it at a mainstream price point. If it falls anywhere under the $330 price tag of Apple's iPad Mini, it might just have what it takes to steal some of Cupertino's thunder.
But why...why does it have to have a built-in phone?