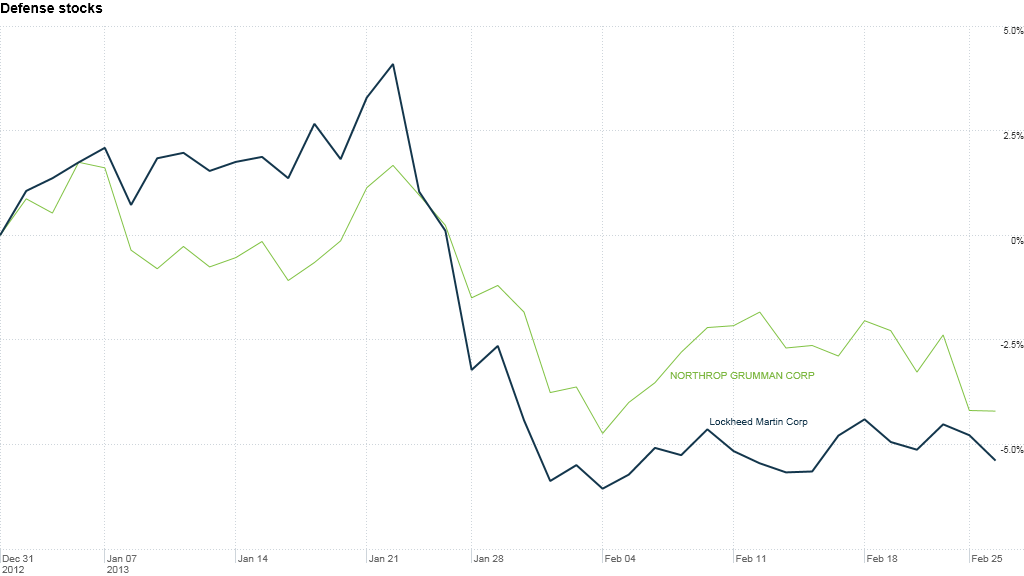 Defense stocks have come under pressure as investors brace for the forced spending cuts set to take effect this week.
The so-called budget sequester will slash how much federal agencies are allowed to spend by $85 billion over seven months. Roughly half of those cuts would come from the Defense Department's budget.
Shares of Lockheed Martin (LMT), Northrop Grumman (NOC) and General Dynamics (GD) have tumbled about 5% since late January. Raytheon (RTN) Kratos Defense and Security Solutions (KTOS) and BAE Systems (BAESF) have also been punished.
Overall, the defense sector is trading at about a 35% discount to the broader market based on forward earnings expectations, said Yair Reiner, a senior analyst at Oppenheimer.
"There's clearly been a re-rating of the stocks over the last month, since it's become increasingly clear that sequester cuts will come into effect," said Reiner.
Related: Defense industry braces for major spending cuts
While lawmakers could still act to prevent the cuts, most analysts expect the automatic reductions to go into effect, at least for a short time.
"There may be some faint, lingering hope for a last minute deal in Washington," said Jeff Morris, head of U.S. equities at Standard Life Investments.
But he said most investors are hoping the forced cuts will be replaced after the fact with ones that get phased in over a longer period of time. "If that does not happen, I would expect the defense stocks to come under additional pressure," said Morris.
He said the next big hurdle for defense stocks will come on March 27, when the latest continuing budget resolution expires. Congress will then need to pass another continuing resolution or risk a temporary government shutdown.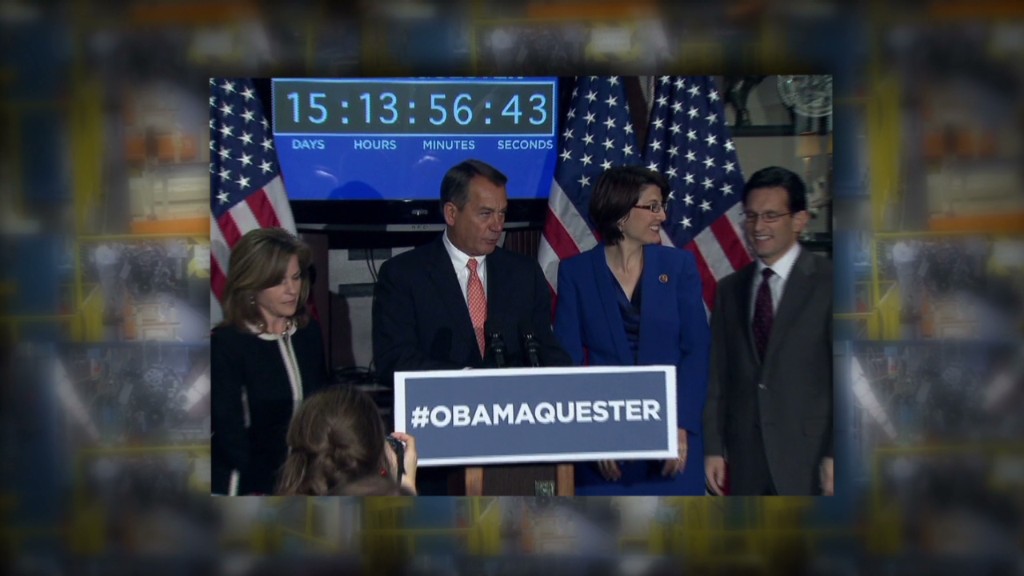 On the bright side, the Defense Department has signaled that it will try to avoid canceling contracts impacted by the cuts, according to William Loomis, an analyst at investment firm Stifel.
Loomis wrote in a note to clients this week that the Pentagon could conserve cash by slowing payments to prime contractors.
In addition, Defense Department officials have reportedly been authorized to begin discussing the cuts with suppliers, although it could be weeks before investors learn the outcome of the talks, said Loomis.
Related: Government contractors brace for spending cuts
Regardless of how the sequester plays out, the federal government is expected to shrink defense spending to help balance the budget and help get Washington's debt to a manageable level.
Over the next decade, defense spending is expected to be cut by $500 billion.
That would translate to a roughly 10% reduction in the Pentagon's budget compared with what was previously expected, said Reiner.
"Ultimately, something like that $500 billion cut is going to happen," he said. "It's just a question is how it gets implemented."
For the most part, he said investors believe that a short-term fix would not resolve the nation's long-term budget problems.
"There's a decent argument to be made that the stocks already reflect the likely headwinds for the sector," said Reiner. "But that doesn't mean there couldn't be subsequent shocks."