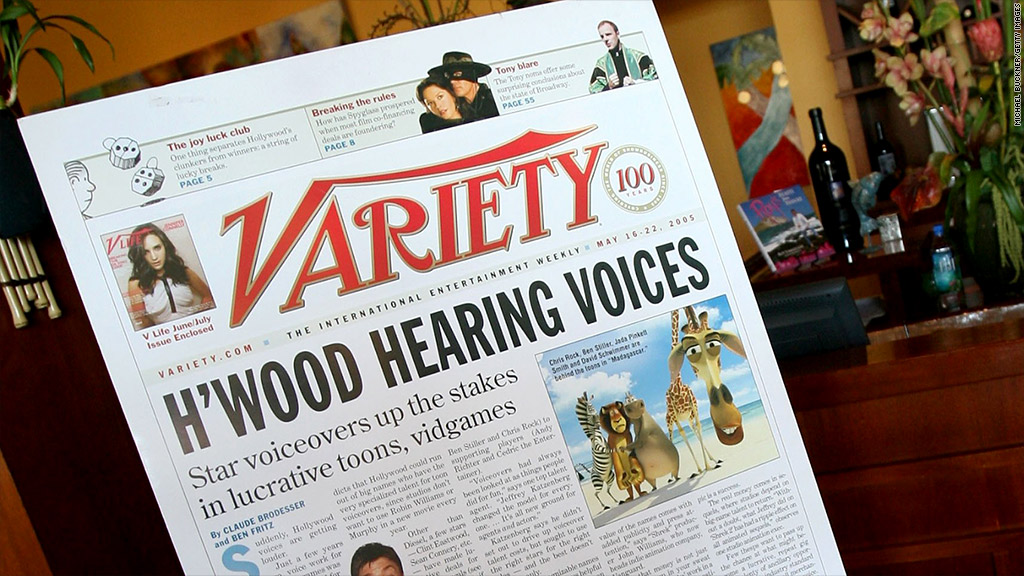 Variety, known as the bible of the entertainment industry, is dropping its daily print edition next month and will only print a weekly edition.
The publication, founded in 1905, also announced it is dropping the paywall from its online edition this Friday, which limited the readership of its articles to subscribers.
"Internally, we've been referring to the paywall dropping as 'the end of an error,'" said Jay Penske, chairman and CEO of Penske Media Corporation, which together with hedge fund Third Point purchased the newspaper last year from Reed Elsevier (ENL).
The new weekly version of the print edition will debut March 26, said the company. The announcement did not say whether there would be any staff cuts as a result of the move. It also announced that its editor-in-chief post would now be shared by three people, naming Claudia Eller, Cynthia Littleton and Andrew Wallenstein to the joint post and marking the first time a woman has held the editor-in-chief title at the paper.
Related: Record year for Hollywood box office
Variety is well known in Los Angeles and New York for its coverage of movies, television, theater and music. It also is known for its clever headlines. A 1935 headline, "Sticks nix hick pix," on a story about how rural audiences don't like movies about rural life, is considered one of the most famous headlines on any U.S. newspaper.
Traditional print media has been struggling in recent years as both readers and advertisers have shifted to online media. The costs involved in publishing a print edition, including newsprint and delivery expense, have prompted some other daily newspapers to drop some of their print editions. Notable among them is the New Orleans Times-Picayune, which dropped its print schedule to three times a week last year.
In December, the news weekly Newsweek dropped its print edition and is now only published online.