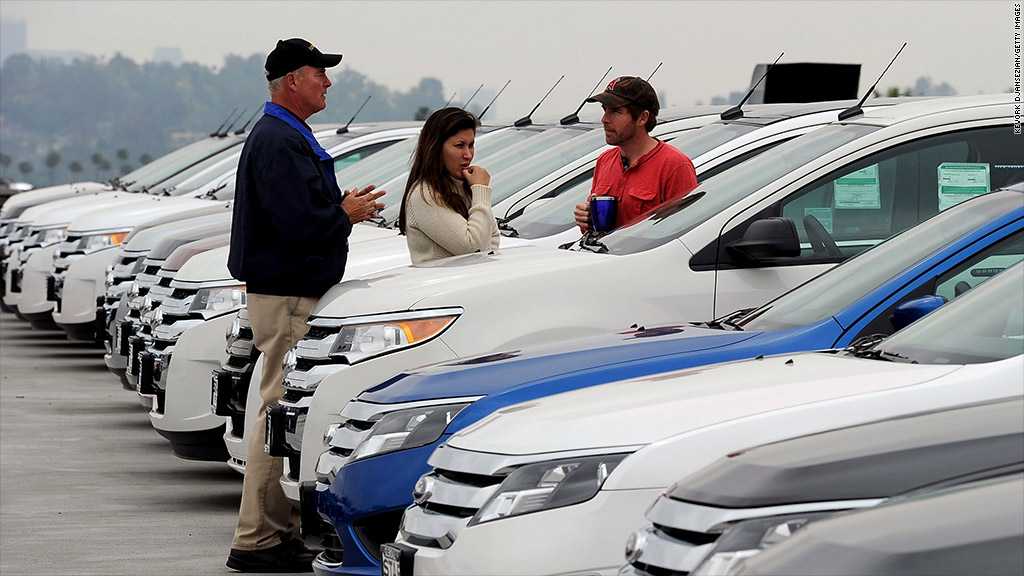 After a tough couple of years, the auto industry's recovery is moving ahead.
The world's major auto makers reported sales for February on Friday that were up solidly from a year prior and last month, though slightly short of analyst estimates in most cases.
Early results suggest sales should still come in at an annual rate above 15 million for the month. If they do, it will mark the fourth straight month they've topped that benchmark, after falling below it in every month since March 2008.
"It's been really impressive how consistent the stability of the recovery has been," said Jesse Toprak, an analyst with TrueCar.com.
Related: Rebooting the dashboard
The pent-up demand that has built up since the recession and the slow economic recovery is now starting to release. An improving employment picture and better financing opportunities for car buyers are helping spur a rebound in sales.
General Motors (GM) led the way in February with 224,314 vehicles sold, up 7% from a year prior. Ford (F) was next with 195,822, up 9%.
Toyota (TM) had 166,377, and Chrysler hit 139,015, both up 4%.
Truck sales appear to have been particularly strong, Toprak said, in an encouraging sign for the economy. Sales of GM's full-size pickups increased 28% in February, while sales of Ford's F-Series pickups rose 15%.
"Small businesses are buying the bulk of the full-size trucks, and there's a great correlation between pickup sales and the housing market," he said.
CNNMoney's Chris Isidore contributed reporting.