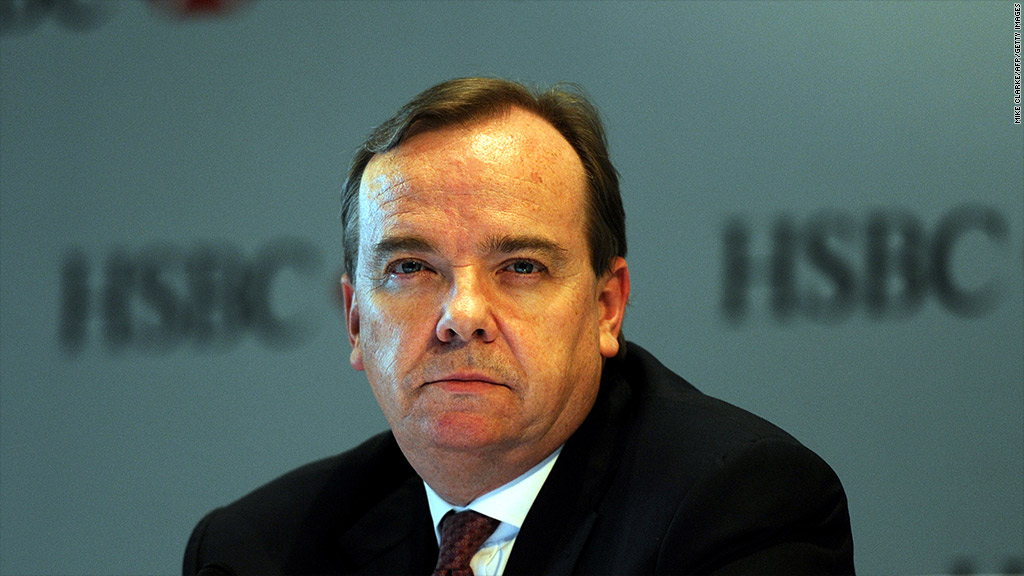 HSBC paid CEO Stuart Gulliver $11.1 million last year, despite missing cost and profit targets and a record money laundering fine.
The global banking giant paid $1.9 billion last December to settle money laundering allegations with U.S. authorities. It also set aside $1.4 billion to compensate U.K. customers for the improper sale of payment protection insurance and complex interest rate hedging products.
Barclays CEO Antony Jenkins last month waived his bonus for 2012 after dealing with a similar litany of scandals.
HSBC (HBC)said annual bonuses for 2012 -- in Gulliver's case worth $2.9 million -- would be deferred over five years, rather than the usual three, and payable only if conditions attached to the U.S. settlement are met.
The CEO's package represents an 8% fall compared with 2011, and his bonus is down 17%.
But performance against half the measures in HSBC's long-term incentive scheme -- return on equity, cost efficiency, brand equity and compliance and reputation -- was deemed by the bank to be unworthy of any payout at all.
Related: Wall Street CEO's: Who's paid the most?
In the league of top bankers, the HSBC CEO is on a par with J.P.Morgan' (JPM)s Jamie Dimon and Citigroup (C)'s Michael Corbat but behind Goldman Sach (GS)'s Lloyd Blankfein and Bank of America (BAC)'s Brian Moynihan.
Gulliver's bonus for last year is equal to nearly four times his base salary, a level which would fall foul of planned European Union rules.
EU officials agreed last week to cap bonuses at twice annual salary from as early as next year, although the details have to be hammered out by finance ministers.
HSBC said its total variable pay pool for 2012, including short-term bonuses and long-term incentive payments, was $3.7 billion, down from $4.2 billion the previous year. Its investment bankers were awarded a larger share, however, taking $1.3 billion compared with $1.2 billion in 2011.
Related: Bankers' bonuses down: Don't believe a word of it
The bank said it was too early to comment on the EU bonus proposals.
HSBC also said it couldn't reliably estimate the impact or size of any fines that may arise from the global investigation into attempts by banks to rig the Libor benchmark interest rate.
UBS, Barclays and Royal Bank of Scotland have all settled Libor investigations with regulators at a cost of hundreds of millions of dollars each.
HSBC earlier reported 2012 pre-tax profit of $20.6 billion, down 6% and missing analysts' forecasts. The stock fell 2.5% in U.S. pre-market dealing.