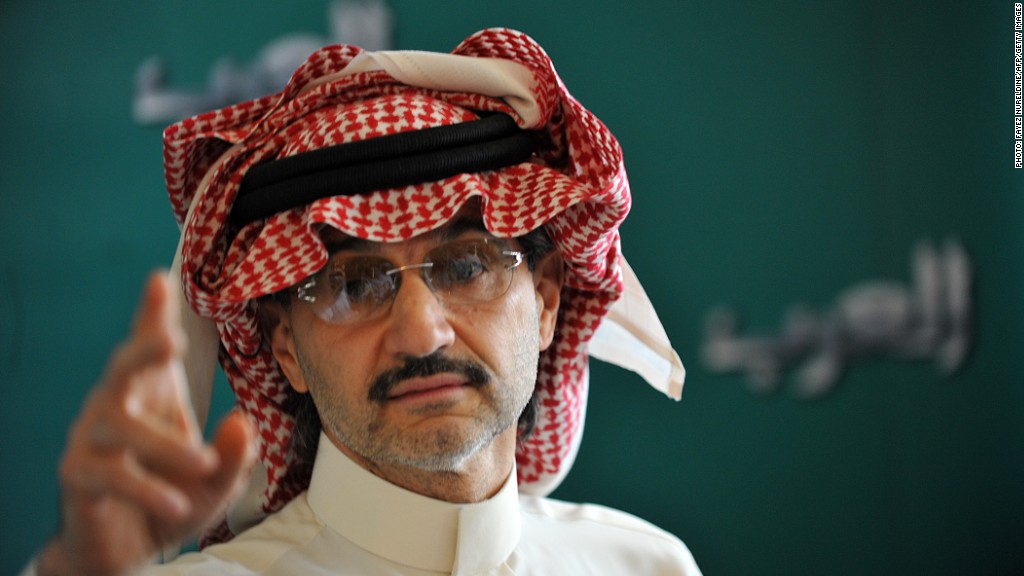 Saudi Prince Alwaleed Bin Talal and Forbes magazine are fighting over his ranking in the list of biggest billionaires.
Alwaleed, angry that Forbes values him at a paltry $20 billion, has formally severed all connections to Forbes' annual list of "World's Billionaires," now in its 27th year.
Alwaleed, a Saudi billionaire and chairman of investment services company Kingdom Holding, didn't even crack the top 20 on Forbes' list. He's listed as the 26th richest person, sandwiched between David Thomson, chairman of Canadian media company Thomson Reuters (TRI), and activist investor Carl Icahn of New York.
Alwaleed, whose investments include Citigroup (C), News Corp. (NWSA) and Twitter, said he prefers Bloomberg Billionaires, a list started last year, which values him at $28 billion and ranks him as the world's 16th richest person.
Kingdom Holdings issued a press release slamming the Forbes list as "false and inaccurate" for refusing to include the stock valuation of the multi-faceted Riyadh-based conglomerate, which is publicly traded on Saudi Arabia's stock exchange, the Tadawul. KHC, as the company is known, accused Forbes of being "biased against the Middle East" for refusing to take the Tadawul more seriously.
Related: Forbes rankings finds 210 new billionaires
"We have worked very openly with the Forbes team over the years and have on multiple occasions pointed out problems with methodology that need correction," said Shadi Sanbar, chief financial officer of Kingdom Holding, in a press release addressed to Forbes chairman Steve Forbes. "However ... we have decided that Forbes has no intention of improving the accuracy of their valuation of our holdings and we have made the decision to move on."
But Forbes is sticking to its list, and its methodology. The lead story on its site Tuesday defended its $20 billion valuation of Alwaleed -- less than the $29.6 billion that he claimed to Forbes, which would have put him in the top 10.
Forbes said that even when including Alwaleed's $9.7 billion worth of assets not related to Kingdom Holding -- including $4.6 billion in real estate, $1.1 billion in media companies, another $3.5 billion in company investments, and a list of "planes, yachts, cars and jewels" -- it "cannot justify an estimate of more than $20 billion."
Forbes spokeswoman Chelsie Gosk said Alwaleed will be included in the list going forward, even if he chooses not to participate.