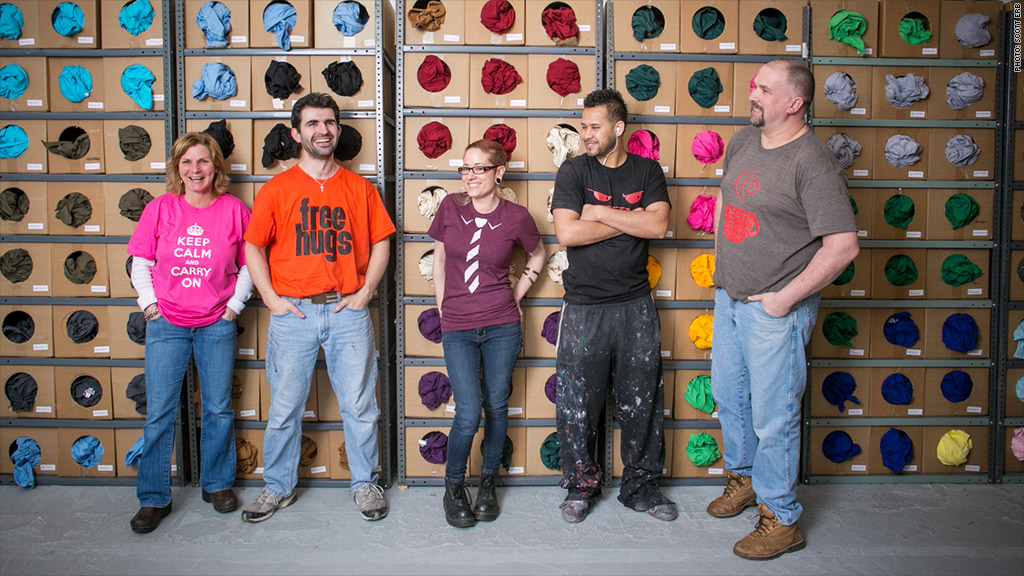 Michael Fowler acknowledges the severity of his mistake, but now worries it has doomed his small T-shirt company, including 5 workers in Worcester, Mass.
Amazon, his company's main distribution channel, shut down his accounts following an uproar over highly offensive T-Shirts with messages of misogyny, murder and rape.
Among them: "Keep Calm and Rape a Lot."
This weekend, Fowler went from the typical 800 orders to just three. Now, he's worried Amazon won't pay him $40,000 for shirts already sold. Amazon (AMZN) did not provide comment.
Tight on cash, Fowler says his company, Solid Gold Bomb, can't last much longer.
"We're dead in the water," Fowler said. "We have enough money to make payroll this Friday, and that's it."
Related: You make $70k but cost your boss $88k
Fowler thought he was just being innovative in 2011 when he had a computer program generate slogans that could be printed on T-shirts.
Solid Gold Bomb's catalog went from 1,000 to more than 10 million, greatly increasing his chances of getting his wares in front of customers on Amazon.
And there was no inventory risk, because he made the T-shirts only after a customer made his selection.
"We migrated the business to be print on demand," he said. "It's a numbers game, a quantitative culture. It's never been about taking the time to develop a beautiful design."
The catalog began with mostly innocuous sports-themed designs. Then early last year, he set his sights on reproducing versions of the British "Keep Calm and Carry On" propaganda poster of the Second World War era after hearing that a British company was attempting to trademark the phrase.
Fowler says he wrote a computer program script that would take "Keep Calm" and randomly pair it with a verb and pronoun. He gathered 700 verbs and imported them en masse -- but says he didn't carefully go over the list.
Fowler imagined phrases like "Keep Calm and Nurse On."
He got those but also the disastrous results that also included "Keep Calm and Knife Her" and "Keep Calm and Hit Her."
By Fowler's account, the shirts never existed. Only computer-generated images did.
After being available for a full year, the effort blew up in his face Saturday morning.
Fowler, an American who married an Australian, was in Melbourne having a morning coffee at home when he noticed his company's Facebook page suddenly light up. Death threats accompanied accusations of misogyny.
Related: Spending cuts threaten military town's businesses
Fowler raced to his Amazon seller's page and quickly deleted questionable designs, then canceled and refunded the 20 orders that had just been placed.
But it was too late. The public relations disaster had toppled his business. Fowler, who just had his third child, said Solid Gold Bomb can't sustain more than a few weeks without sales.
"I'll be destitute, but so would my employees," he said. "They all have children, mortgages. My first and foremost effort is to preserve their jobs."
One of them is Cristy McCullough, his operations manager in Massachusetts. She said she has faith in her boss -- but she's scared for her job nonetheless.
"Why would we knowingly do something as awful as this? It just doesn't make sense," she said. "It's just not who we are. We sell baby clothes, for crying out loud."