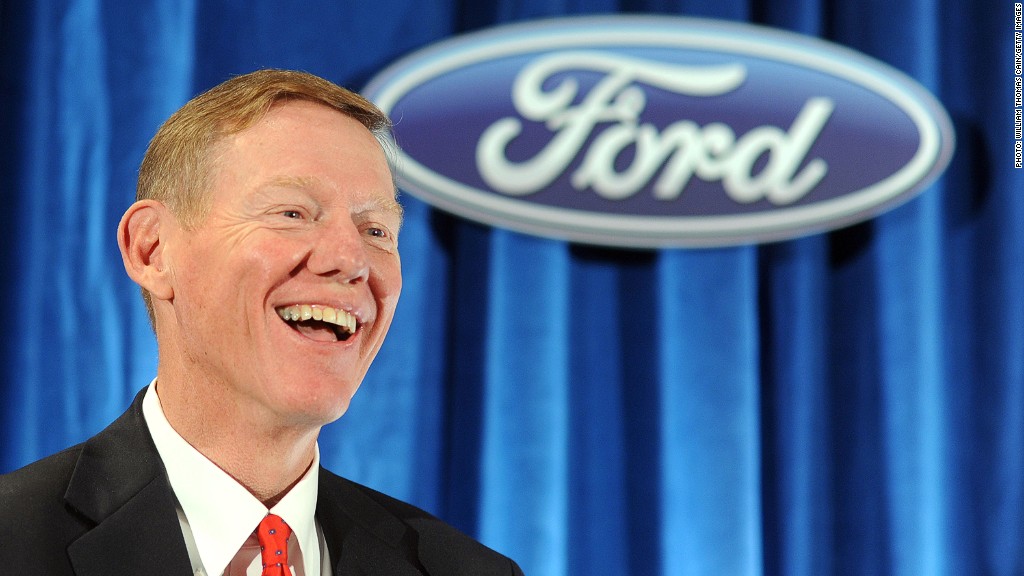 Alan Mulally has been very good for Ford Motor Co. And in return, Ford has been very, very good for Mulally.
In just over six years, the Ford CEO has amassed holdings valued at more than $300 million.
Mulally now has about 7.3 million shares worth more than $93.5 million, at the recent share price.
He has 17.1 million in-the-money stock options. That translates to stock worth another $220.2 million, though he'll have to pay $107.3 million to exercise those options.
And Mulally has a separate retirement account with $3 million in company contributions.
That brings his Ford holdings to $317 million.
That figure doesn't include additional Ford shares that Mulally sold for $64 million in order to cover the cost of converting the options and paying taxes on them.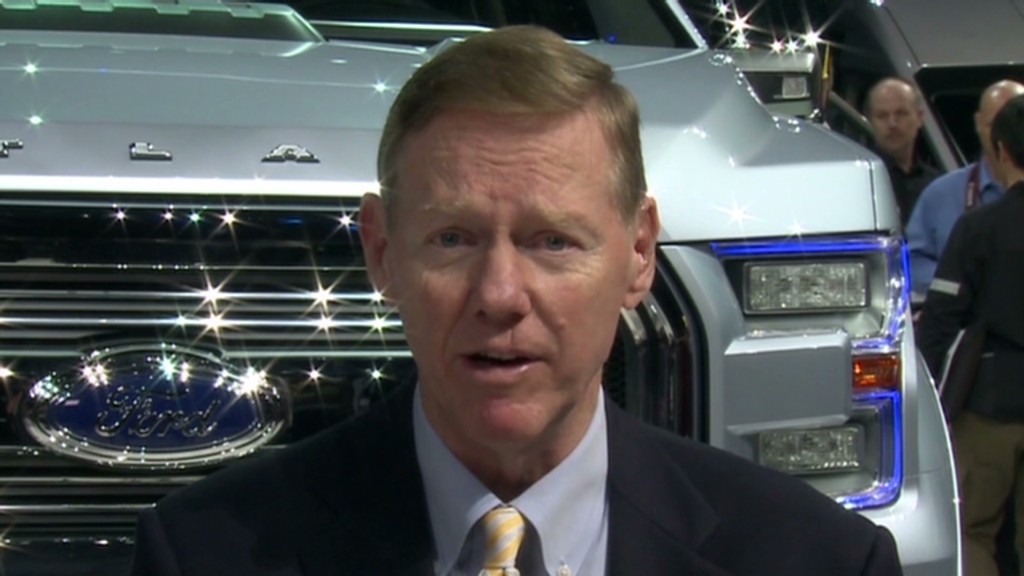 It also doesn't include what he's already received in salary, cash bonuses and other direct compensation: $53.9 million through 2011. Figures for 2012 have yet to be released.
"Even for a CEO who brought a company back from the brink of collapse, Mulally has built up a remarkable amount of stock in quite a short period of time," said Theo Francis, founder of Disclosure Matters, which examines company filings. Francis did a comprehensive analysis of Mulally's holdings and compensation for CNNMoney. His numbers were confirmed by another executive compensation expert.
Ford (F) said the success of the company since Mulally joined Ford in late 2006 justify his compensation.
Ford's share price is up more than 700% since the dark days of early 2009, when auto sales plunged to their lowest level since 1981. The company has gone from sustained losses to the best profitability in decades, regained some of its lost market share, restored a dividend and shed its junk bond status.
Mulally is widely credited with the fact that Ford avoided the trip to bankruptcy and the federal bailout that wiped out shareholders at General Motors (GM) and Chrysler Group.
Related: Heinz CEO due $212.6 million golden parachute
The value of Mulally's holdings have gotten a big boost because he got a lot of his stock grants and options at rock-bottom prices before the turnaround started lifting shares.
He has also benefited from the sheer number of shares he's received. His holdings amount to more than the stake directly owned by Bill Ford Jr., the company's chairman and great-grandson of founder Henry Ford.
Mulally is 67 and probably getting close to retirement. Last year, he said he would stay with the company until at least 2014. Ford rewarded Mulally's decision to stay put by quadrupling the funds the company contributed to his retirement account.
"Until this year, Mulally's [retirement] account was modest relative to other big-company CEOs," said Francis. "But overnight on January 1, Ford's contribution went from $667,000 to more than $3 million. That isn't something you see very often."
Mulally's compensation is nowhere near a record for CEO pay. But it is unusual for a relatively short-term CEO at an old line industrial company.
To find other CEOs making that kind of money so quickly, you typically have to look to Wall Street or technology companies in Silicon Valley. The new Yahoo (YHOO) CEO Marissa Mayer has accumulated millions of shares of restricted stock worth more than $60 million in less than eight months.
Mulally's compensation has sparked some backlash from the United Auto Workers union, whose President Bob King called it "morally wrong" in 2011.
But many shareholders are more concerned about when he might retire than whether he's being paid too much.