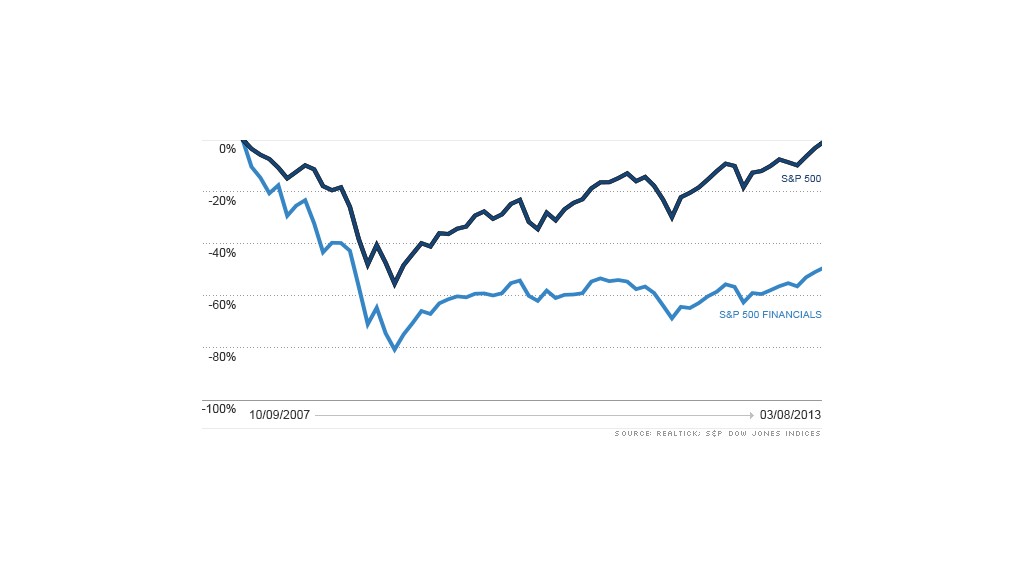 U.S. stocks may be trading at new highs, but there's one sector that's still miles behind: banks.
Bank stocks have staged an impressive comeback from the financial crisis, surging nearly 200% since the market bottomed in March 2009, and outperforming nearly every other sector.
But when it comes to reclaiming their pre-recession highs, bank stocks have a long way to go.
While the S&P 500 is within spitting distance of topping its 2007 record high, the S&P 500 financial sector remains about 50% below its all-time high, also reached in 2007.
It's true that banks are much healthier than they were in 2007, boasting higher levels of capitalization and cleaner balance sheets. Credit quality and loan demand have also shown marked improvement.
But simply put, banks are just not nearly as profitable as they once were.
Related: Actually, the real Dow is still 11% below its record
"The slow economic recovery and record low interest rates are headwinds that have been squeezing profits," said Anthony Polini, a bank analyst at Raymond James.
The U.S. bank industry's net interest margins, a gauge of lending profitability, were at their lowest level in five years at the end of last year, according to the Federal Deposit Insurance Corp.
And that's putting pressure on overall profits.
Bank of America's (BAC) return on equity, a closely watched metric that measures how well banks generate profits for shareholders, stood at less than 5% last year, down from more than 10% in 2007 and nearly 20% in 2006, according to Thomson Baseline.
Related: Stress test shows banks could lose nearly half a trillion dollars
The return on equity at Citigroup (C) stood at a little over 6% last year, down from 18% in 2007 and 31% in 2006. It's a similar story at Morgan Stanley (MS), Goldman Sachs (GS) and Wells Fargo (WFC).
One standout has been JPMorgan Chase (JPM), whose return on equity was near 12% at the end of 2012. But that figure may be a bit misleading. One of the reasons it's so high is because JPMorgan has had relatively low levels of capital. Any increase to that could quickly push the bank's ROE down.
On their road to recovery, banks have been cutting costs by laying off thousands of workers and reducing how much money they set aside to guard against bad loans. But that may not be enough.
KBW bank analyst Chris Mustascio says banks face new challenges from stricter regulations that come with the Dodd-Frank financial reform legislation, and the Durbin amendment, which limits fees banks can charge retailers for debit card transactions.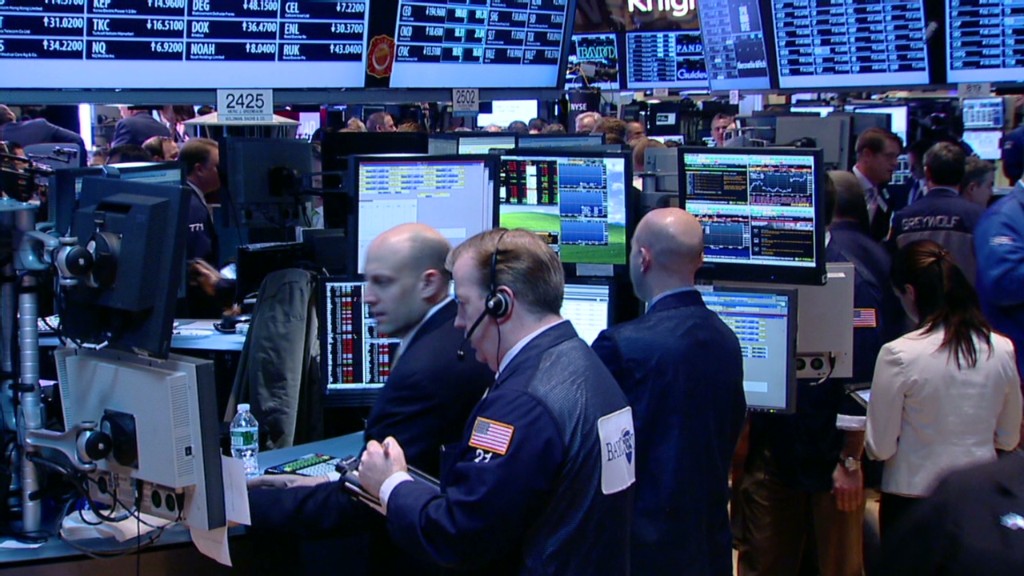 Mustascio expects bank stocks will perform in line with the market until earnings show marked improvement. And that won't happen until economic growth picks up and interest rates start rising, he said.
A faster-growing economy should increase the revenue banks rake in from deposit and transaction fees, while higher interest rates will lift the income banks receive from making loans.