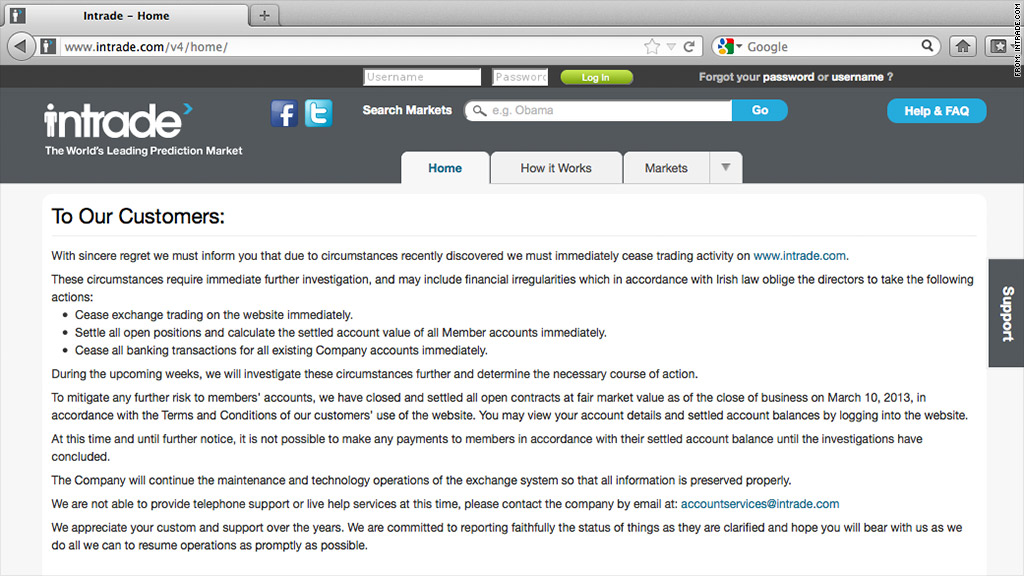 Online prediction betting site Intrade has shut down due to a probe of financial irregularities.
A notice on the site's home page gave few details of the probe, but said that it had halted trading on the site "due to circumstances recently discovered" that require further investigation and "may include financial irregularities."
The site says it has closed and settled all open contracts at fair market value as of the close of business Sunday. But it said it is not possible to make any payments to members until the investigation is concluded.
The site, which allowed customers to place bets on matters such as U.S. presidential election outcomes, the weather or other upcoming events, is based in Ireland. The odds are set based on the bets made on both sides of the various predictions.
While the betters are right about some of the events they bet on, including President Obama's re-election last year, they are also wrong on some high-profile predictions, including setting odds at 80% that the U.S. Supreme Court would rule the health care reform act was unconstitutional.
The most active prediction contracts ahead of the shutdown were about the papal succession process now underway and whether the Democrats will win the 2016 presidential election. It predicted Archbishop Angelo Scola of Italy as the favorite papal candidate with a 25% chance of election, and said Democrats have a 56% of winning the White House again in 2016.
In late November, the U.S. Commodity Futures Trading Commission filed a complaint against Intrade that forced U.S. customers to close their accounts by the end of last year. The CFTC complaint charged Intrade with violating U.S. laws on options trading and making false statements in official filings.
It cited prediction contracts on certain U.S. economic numbers, when the prices of gold and currencies would reach a certain level, and whether specific acts of war would occur by a certain future date. The CFTC complaint said such prediction contracts needed to be traded on a CFTC-registered exchange. It said the rule was important because it "enables the CFTC to police market activity and protect market integrity."