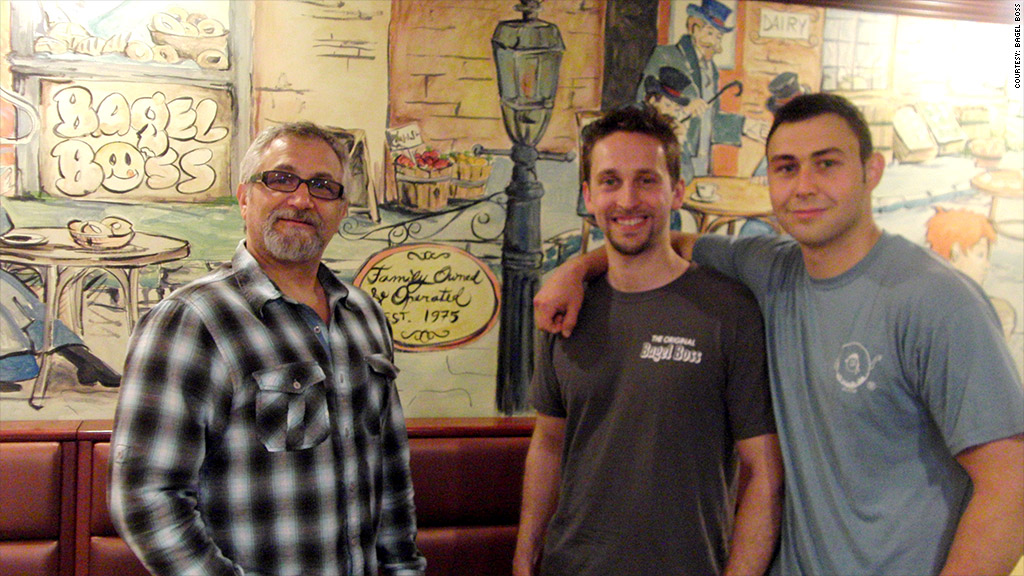 How many bagels and cups of coffee does it take to keep Spider-Man well fed?
Nearly $50,000 worth according to New York Governor Andrew Cuomo.
The Amazing Spider-Man 2 is filming at various locations in the Empire State and is set to be the largest movie production ever filmed in the state, Cuomo said Wednesday. Meanwhile, small businesses are reaping the benefits.
The production will buy about $16,000 in catered food from Jerry Rosner's business, Bagel Boss, over the course of several months.
The order amounts to roughly a 15% boost to the Hicksville, Long Island-based company's catering business. It's the second big jolt Bagel Boss has received from a movie, after Salt -- the 2010 Angelina Jolie action flick -- also filmed in the area.
"When we were drawing up the business plan in 1975, we didn't contact [Martin] Scorsese and Jack Nicholson to support us in our endeavor," Rosner joked. "But now two big productions have come through and as the movies gain success in the box office, they're going to come to Long Island. That's what we need."
The production will spend another $32,000 on coffee and other beverages from U.S. Coffee, and $19,000 in auto parts from Quick Auto Parts, also small businesses based in Hicksville.
New York has aggressively been trying to woo more film production companies, marketing the state as "Hollywood East." New York offers a 30% tax credit on expenses incurred while filming in the state, along with a host of other incentives.
Related: Hooray for Hollywood! Movie biz lifts job growth
Gov. Cuomo's office estimates spending from film productions totaled $2.2 billion in the state last year.
It estimates the Spider-Man film alone will add about 3,500 jobs, not including an additional 11,000 extras.
Perhaps some of those people were included in the February jobs report?
Last week, the federal government indicated that the film and sound industry added a whopping 21,000 jobs in February, an unusually high increase for an industry of its size.