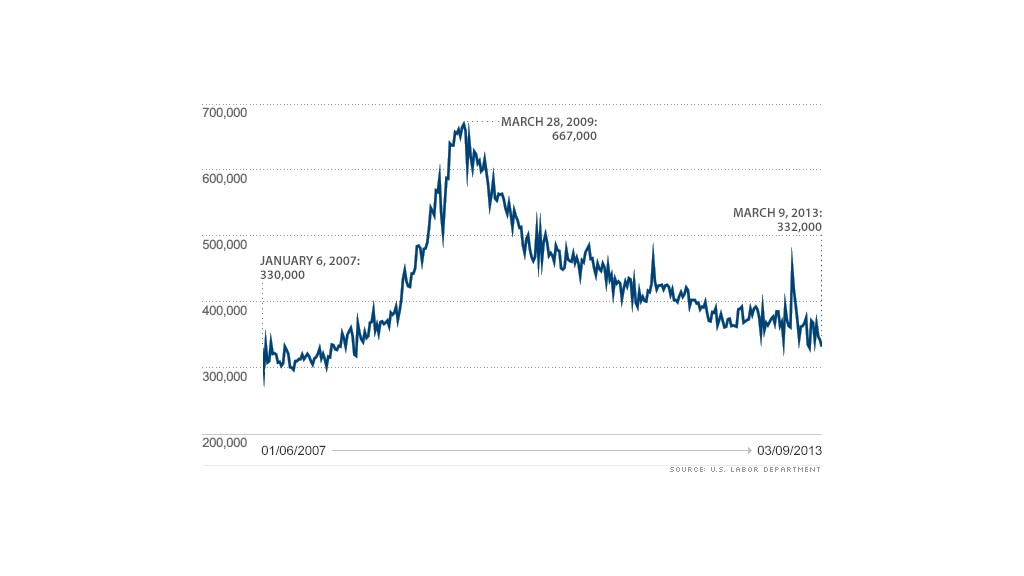 The job market continued to improve last week, as fewer Americans filed for their first week of unemployment benefits.
Initial jobless claims fell to 332,000, from an upwardly revised 342,000 the previous week, the Labor Department said Thursday.
That was less than the 350,000 claims economists expected, and is considered a sign of further strengthening in the job market.
"Even extracting from the ups and downs in the weekly data, it's clear the job market is steadily healing," said Mark Zandi, chief economist at Moody's Analytics.
During the height of the recession, weekly claims for unemployment benefits had surged to over 660,000, but now they're hovering back around pre-recession levels.
A four-week average, which smooths out some of the volatility, has also been falling recently.
Related: Check the unemployment rate in your state
Meanwhile, about 3 million people filed for their second week or more of unemployment benefits two weeks ago, the most recent data available.
A separate monthly report, released last week, showed the unemployment rate fell to 7.7%, as employers created 236,000 jobs in February.