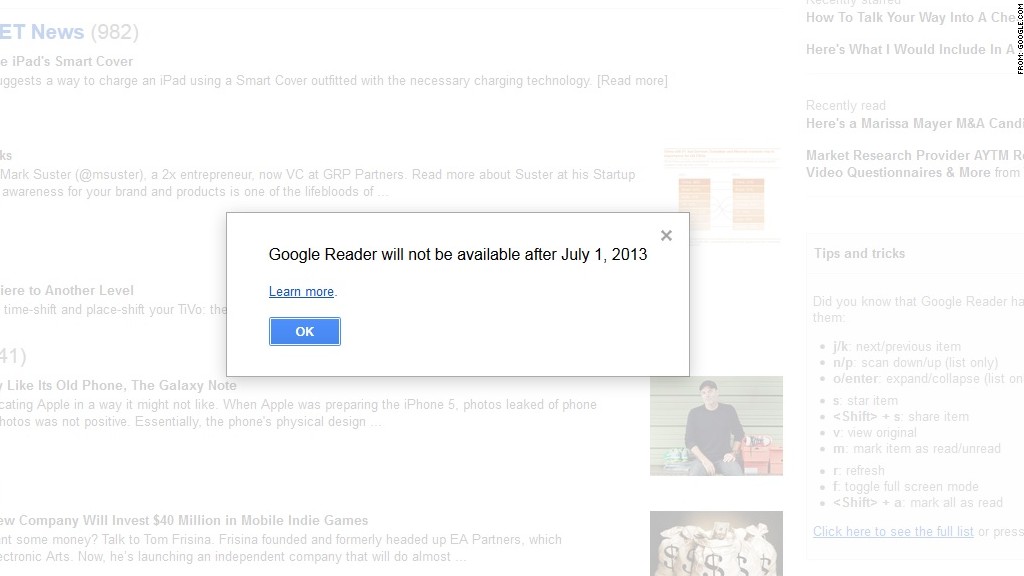 Google Reader has fallen victim to the company's latest "spring cleaning," an annual list of products that will be shut down.
Reader lets users "subscribe" to new posts from any website. The tool allows readers to categorize those various "RSS" feeds, giving them easy access to a lot of information on one website.
Google (GOOG) said Reader, launched in 2005, still retains "a loyal following," but usage has declined over the past few years.
Reader will be shuttered on July 1, the company announced late Wednesday. Users who want to keep their information and links have until that date to export their data, which they can do by using Google's Takeout tool.
The death of Reader is part of a wider "spring cleaning" that included several other products slated for shutdown. Since 2011, Google has periodically killed off products in an effort to streamline its portfolio. Including Wednesday's list, about 70 products have been "sunset."
"To make the most of these opportunities, we need to focus -- otherwise we spread ourselves too thin and lack impact," Google infrastructure executive Urs Hölzle wrote in Wednesday's blog post.
Google acknowledged that there would be many brokenhearted Reader lovers.
"We're sad too," wrote Google software engineer Alan Green on the RSS feed's official blog (which had not previously been updated since October 2011.)
Some of those angry Reader fans quickly set up online petitions protesting the shutdown. One of those petitions, set up on the White House's "We the People" page, was taken down quickly for a terms of service violation.
A separate petition posted on Change.org had received more than 56,500 signatures as of midday Thursday.