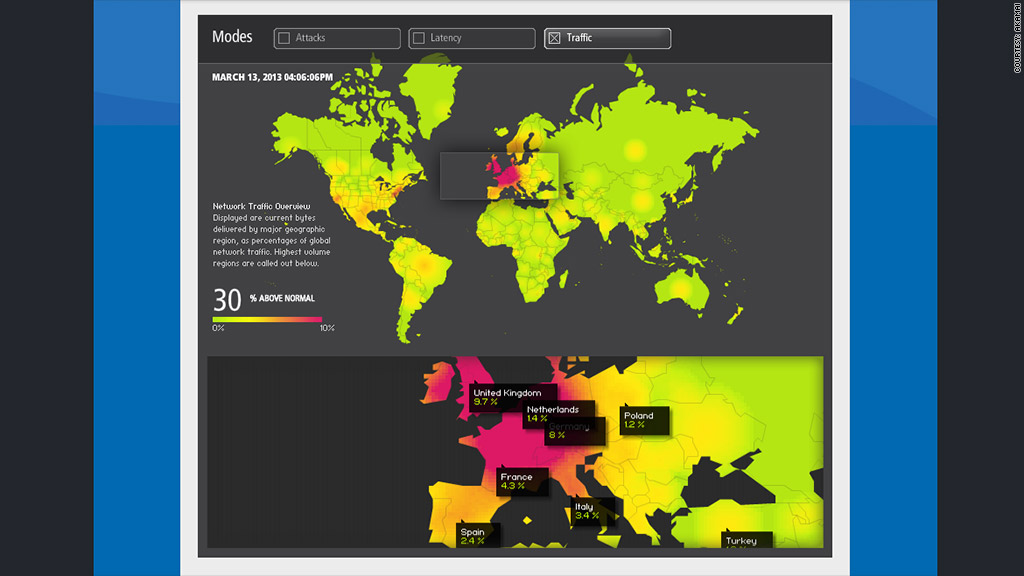 The announcement of Pope Francis caused a Super Bowl-like stir on the Web.
The Internet exploded with traffic on Wednesday afternoon as Cardinal Jorge Mario Bergoglio of Argentina was elected as pontiff. Social media sites such as Facebook (FB) lit up, and Twitter said it peaked at 130,000 tweets per minute.
That's nearly as much traffic as the 150,000 tweet-per-minute peak of this year's Super Bowl and double the 70,000 tweets per minute users fired off during the Oscars telecast last month. In all, Twitter said there were 7 million total tweets sent Wednesday about the papacy.
Overall Web traffic peaked at 32% above normal Wednesday, according to Akamai's real-time monitor. About 20% of the world's Internet traffic flows through Akamai's servers, making it one of the largest content delivery networks on Earth.
Total social traffic on Akamai's giant network peaked at 2:20 p.m. ET, about 10 minutes after white smoke rose from a chimney above Rome's Sistine Chapel. Social traffic served by Akamai (AKAM) nearly reached the same level an hour later when Francis emerged from the balcony atop St. Peter's Basilica.
Unsurprisingly, the biggest Internet traffic spike occurred in South America, where social network traffic jumped more than 50%. Francis is the first non-European pope in more than 1,000 years and the first Latin American pope in the church's history.
Still, the papal announcement did not crack the list of the largest Web traffic events in history, most of which are sports-related. But Akamai noted the papal announcement was "a much more video-centric event," as people watched live video online to see what color smoke would emerge from the chimney and who would step out onto the balcony dressed in white.
Akamai said the amount of live streaming Web traffic its servers were delivering during the announcement increased four-fold between 2:10 p.m. ET, when the white smoke first appeared, and 3:15 p.m. ET, when the new pope's identity and name were announced..
CNN.com homepage editor Carl Lavin tweeted Wednesday that the site's traffic quadrupled when the man who would lead the world's 1.2 billion Catholics was revealed.