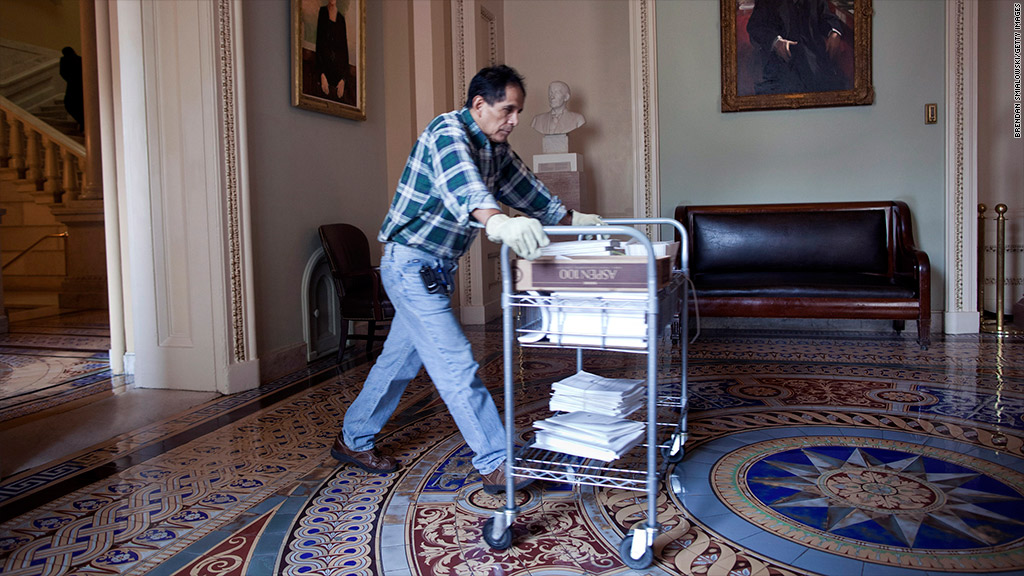 Federal government workers just can't catch a break.
It's looking pretty likely that the two-year pay freeze -- that was expiring at the end of this month -- is going to be extended again through Dec. 31.
Workers had been hoping to see a small bump in their pay by 0.5% next month, as ordered by President Obama last August.
But the Senate this week started debating a bipartisan deal that would fund government through the end of September. The deal would keep in place a freeze on federal workers' cost-of-living increases by another 9 months.
Maryland Democrat Sen. Barbara Mikulski, who helped put together the deal, called the pay freeze "necessary" to stop a government shutdown come March 27, when current funding runs out.
"Shutting down the government would make a tough situation even worse for federal employees," Mikulski said on the Senate floor on Wednesday.
Federal workers have been under siege recently. Washington's forced budget cuts that kicked in on March 1 are forcing hundreds of thousands of workers to take a 20% pay cut for five months.
Related: Paul Ryan wants to cut more federal workers
Many federal agencies have instituted a hiring freeze. And the Pentagon has been laying off some 46,000 contract workers. All off this will cut $85 billion from the federal budget by September.
These come on top of 33,000 worker jobs that the agencies have already lost through attrition and layoffs since January 2012.
Workers and unions quietly acknowledge that an extended pay freeze may not be as bad as what Republicans want: a two-year hiring freeze and slashed benefits. But they feel unfairly targeted by Congress.
"This pay freeze extension is absolutely unacceptable," said William R. Dougan, president of the National Federation of Federal Employees. "We need to end the reckless habit of singling out federal workers every time Congress finds itself in a self-imposed fiscal pinch."
Related: 5 federal workers: What job cuts mean to me
Unions point out that the pay freeze saves $3 billion a year in a $3.5 trillion federal budget.
But all's not lost. There's hope still from President Obama, who is expected to propose a 1% pay hike for civilian federal workers in his budget proposal for the 2014 fiscal year, which starts Oct. 1. He hasn't officially unveiled his budget recommendations yet.
Correction: An earlier version of this article incorrectly reported the annual savings from the pay freeze.