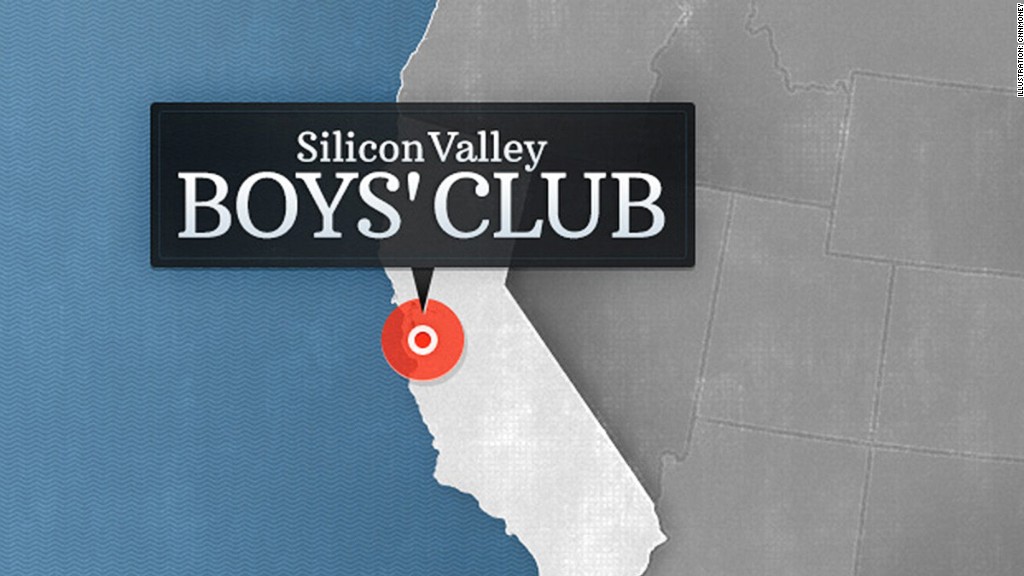 How diverse is Silicon Valley? Most tech companies really, really don't want you to know, and the U.S. government isn't helping shed any light on the issue.
In an investigation that began in August 2011, CNNMoney probed 20 of the most influential U.S. technology companies, the Department of Labor, and the Equal Employment Opportunity Commission, filing two Freedom of Information Act requests for workforce diversity data.
A year and a half, a pile of paperwork, and dozens of interviews later, we have a little more insight -- but not much.
Most of the companies stonewalled us, but the data we were able to get showed what one might expect: Ethnic minorities and women are generally underrepresented, sometimes severely so -- particularly in management roles. White and Asian males often dominate their fields.
Our investigation demonstrated how difficult -- and sometimes impossible -- gaining any insight into Silicon Valley's employee diversity can be. It shows a general lack of transparency in an industry known for its openness.
First attempt: In 2011, as part of CNN's Black in America series, CNNMoney reached out to 20 tech companies: the industry's 10 largest firms by annual sales and 10 smaller but prominent companies. We asked each for information about the race and sex makeup of their staff.
Only Dell (DELL), Ingram Micro (IM) and Intel (INTC) played ball. Intel, in stark contrast to the rest of the tech industry, actually makes its employment diversity information public on its website.
"Intel believes that transparency with our data is the best way to have a genuine dialogue," Intel chief diversity officer Rosalind Hudnell told CNNMoney last week. "We are tech companies and data drives our business; we need to get beyond our fears that the numbers are a poor reflection on our individual organizations and work together to address the issue collectively. "
The other 17 companies refused to turn over their data. Having made little headway by asking the companies ourselves, the only way to compel them to release the data was through a Freedom of Information Act (FOIA) request.
Every U.S. company with more than 100 employees is required to fork over an annual report to the government, called the EEO-1, that categorizes U.S. workers by their race and sex. An independent federal agency called the Equal Employment Opportunity Commission (EEOC) collects the data, using it to play watchdog: It keeps a close eye on companies' hiring practices and occasionally assists in investigations.
We sent the EEOC a FOIA request on Aug. 18, 2011, and three weeks later it was denied. The EEOC said it is legally prohibited from releasing EEO-1 reports.
Read CNNMoney's FOIA requests and the government's responses
Second attempt: After consulting with experts and CNN's legal team, we learned the Department of Labor has access to EEOC data for some companies -- and unlike the EEOC, no federal statute bars the DOL from releasing the reports.
We re-filed the FOIA request to the Department of Labor on Nov. 1, 2011. It took more than a year for that request to be processed.
On Dec. 7, 2012, we finally received the data, but for only five companies: Cisco (CSCO), Dell, eBay (EBAY), Ingram Micro and Intel.
What happened to the other 15 companies' information is complicated.
The Labor Department has no authority to release EEO-1 reports for companies that aren't federal contractors. That knocked out 10 companies: Amazon (AMZN), Facebook, Groupon (GRPN), Hulu, LinkedIn (LNKD), LivingSocial, Netflix (NFLX), Twitter, Yelp (YELP) and Zynga (ZNGA).
But even contractors may block the release of their data. Apple (AAPL), Google (GOOG), Hewlett-Packard (HPQ), IBM (IBM) and Microsoft (MSFT) all submitted written objections, successfully petitioning the Department of Labor for their data to be excluded on the basis that doing so would cause "competitive harm."
Those five companies declined or ignored CNNMoney's requests for comment on their unwillingness to turn over their data.
The information gap: "It's absolutely preposterous," said John Sims, a FOIA expert and law professor at the University of the Pacific. "Knowing how many white male sales workers a company has is a trade secret? Absurd."
Sims questioned why five companies consider these reports trade secrets, while the other five allowed them to be released.
The data show diversity in Silicon Valley remains a serious issue. Some companies cite a "pipeline problem," saying too few minorities and women are graduating with technical degrees. Others argue that people tend to hire people like themselves, and in tech, that's largely white and Asian males.
But the biggest obstacle, according to industry experts, is that few are talking about the problem.
"This data is a just a baseline for discussion, but we can't end the problem if we can't start the conversation," said Aditi Mohapatra, associate tech sector director at BSR, a consulting group that works with companies on social and sustainability issues. "For the tech industry to remain silent about diversity is so not aligned with what they preach."
The Department of Labor said it does sometimes go back to companies and demand defense of their claims.
In "rare" situations, the DOL said, this can escalate into lawsuits between the government and the companies.
But lawsuits and appeals take time and money, and there's no guarantee of data waiting at the end of the road. Mike Swift, a reporter with the San Jose Mercury News, began probing the topic in 2008 by sending similar FOIA requests for data from the region's 15 largest employers.
His inquiry sparked a two-year legal battle, resulting in access to data from just one company -- HP -- that had opposed its release.
The Black Economic Council and the National Asian American Coalition have also attempted to uncover diversity data at major companies, but most of those requests have turned up little information.
"Companies are happy to hide behind a law that provides so little access to this data," said Sims, the law professor. "Tech is the most vibrant sector of the American economy, and rather than trying to fix problems, they want to keep secrets."