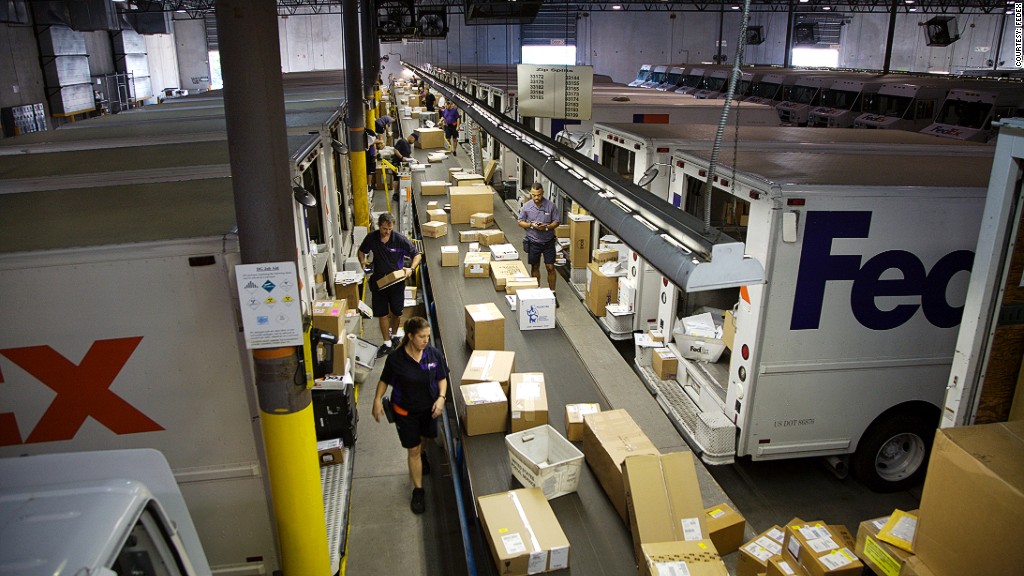 FedEx raised red flags about global economic weakness, as it reported a steep drop in earnings and issued weak guidance.
The Memphis-based express delivery company said shipments to and from Asia fell, and that customers are shifting more of their business to slower shipping methods in an effort to save money. FedEx is often considered to be a bellwether of the global economy due to both its size and worldwide presence. The lower earnings and outlook is considered a discouraging symptom of a global weakness.
The company's net income fell 31% in the period ending Feb. 28 to $361 million. This is the third straight quarter that the company has reported lower earnings.
FedEx also said it expects that earnings per share in the current quarter could fall as low as $1.90 a share, excluding realignment costs, which would be down from $1.99 a year earlier. Analysts had been forecasting EPS to rise to $2.07.
Total revenue was up 4% to $11 billion, but the company said its international revenues were about $100 million lower than it had expected.
Related: FedEx is #6 on Fortune's list of Worl'd Most Admired Companies
The company said it will cut air capacity to and from Asia starting April 1, and that as a result it may ground some of its older aircraft. It will also spend between $450 million and $550 million on a voluntary buyout program to reduce headcount that had been previously announced.
Shares of FedEx (FDX) fell nearly 4% in premarket trading on the news. Shares of rival United Parcel Service (UPS) were also down 1%.