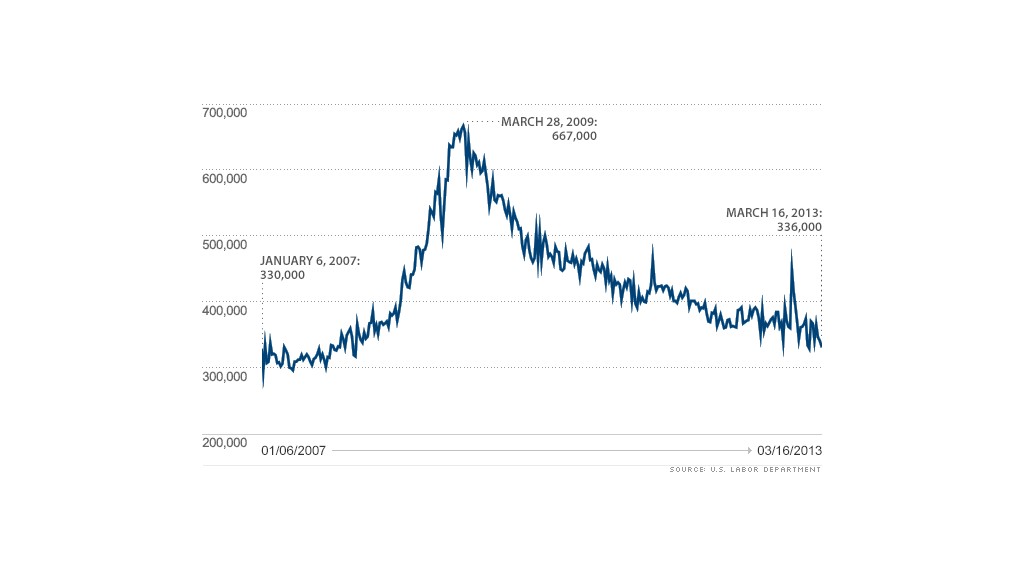 Week after week, jobless claims have been hovering at their lowest levels since early 2008. That could mean layoffs are finally back at pre-crisis levels.
Initial jobless claims rose to 336,000, from an upwardly revised 334,000 the previous week, the Labor Department said Thursday. The minor increase is not unusual, since the initial claims report is notoriously choppy.
Meanwhile, a four-week moving average -- which smooths out the volatility -- shows that initial claims are at their lowest level in five years. Jobless claims are considered a proxy for layoffs, and their recent lows coincide with other data indicating that layoffs at the start of 2013 were back at pre-crisis levels.
"Layoffs have dropped. That's important," said Ward McCarthy, chief financial economist for Jefferies. "We're also getting hiring. There are two sides of that equation."
A separate report on job openings and labor turnover, known as JOLTS, showed last week that there were 1.5 million layoffs in January, representing 1.1% of total U.S. employment.
That is a low layoff rate, consistent with normal turnover in the job market. Contrast that to the worst month for layoffs on record, January 2009, when there were 2.6 million layoffs, representing 2% of U.S. employment.
Related: Workers don't share in companies' productivity gains
During the recession, employers cut their payrolls to the bare bones. Productivity per worker continued to increase steadily, reaching a post-World War II high.
Low layoffs signal that employers may finally be out of cost-cutting mode and ready to ramp up hiring at an even faster pace, said Jonathan Basile, U.S. economist with Credit Suisse.
Thursday's jobless claims report also showed that about 3.1 million people filed for their second week or more of unemployment benefits two weeks ago, the most recent data available.