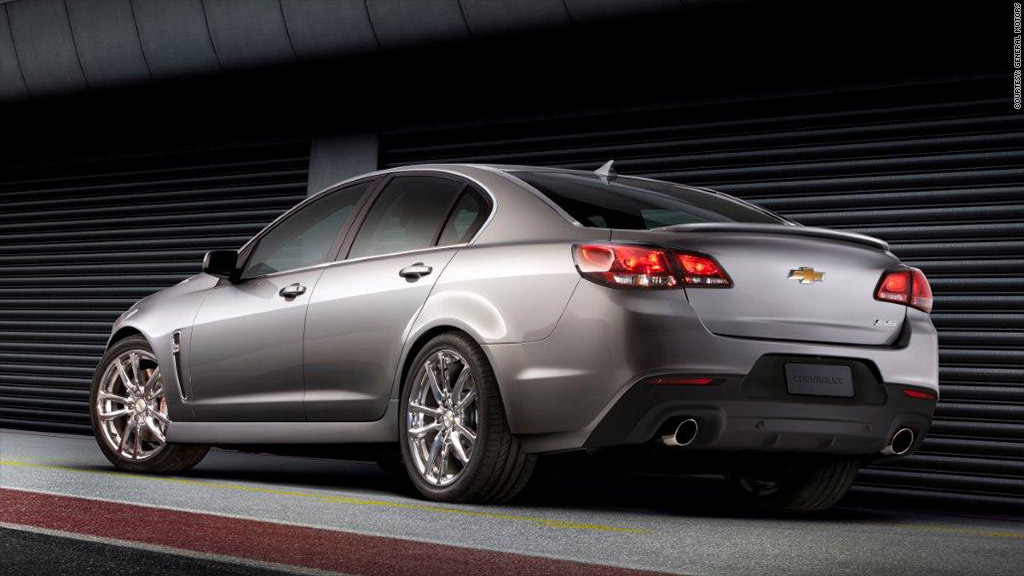 General Motors' new Chevrolet SS sedan, making its first auto show appearance at the New York Auto Show this week, is a rear-wheel-drive performance sedan powered by the same V8 engine used in the Corvette sports car.
The car isn't going to sell in huge numbers, according to GM. This car is mostly about image-building and excitement. It will appeal to a core group of buyers that are interested in more than just a friendly family sedan, GM spokesman Randy Fox said.
"We're looking to attract that enthusiast seeking out a stylish sedan that has great performance," said Fox.
The SS was first unveiled at the Daytona 500 Nascar race in February.
The four-door SS is powered by a 6.2-liter V8 estimated to produce 415 horsepower. While the engine is taken from the Corvette, much of the car's other engineering is borrowed from the Chevrolet Camaro. The SS will be built in the Australia where essentially the same car is sold as the Holden Commodore. (A previous version of the Commodore was sold here, for a short time, as the Pontiac G8. GM killed off the Pontiac brand in 2009.)
With more car shoppers today focusing on fuel economy rather than driving excitement, some are questioning whether the SS is really a car that Chevrolet brand needs right now.
"You have the Camaro already," said Todd Turner of auto industry consulting company Car Concepts. "So now you have that car with four doors. So what?"
Best cars from the New York Auto Show
While GM has not yet revealed fuel economy figures for the SS, it's V8 power stands in stark contrast to vehicles like the Chevrolet Volt plug-in hybrid and the tiny Chevrolet Spark subcompact.
While there are some car shoppers yearning for good old-fashioned rear-wheel-drive performance, most car shoppers today, especially the younger ones, don't care about that.
"People have grown up with a different definition of performance," he said.
Younger buyers, who've grown up with souped-up front-wheel-drive compact cars don't necessarily need big engines and smoking back tires.
But Chevrolet does have a certain fan base that still cares about a car like the SS, said Jack Nerad, editorial director of the automotive Web site KBB.com.
"I think it's going to be a very cool car," he said.
Although it's built in Australia, the SS represents a classically American style of automotive performance. It carries an emotional resonance a small-engined front-wheel-drive car just can't match.
"Especially in the Midwest, in the center of the country, there's a lot of enthusiasm for American performance cars," he said.
General Motors hasn't released fuel economy estimates and pricing for the car yet. Those will be made available later in the year, closer to when the SS goes on sale, GM said.