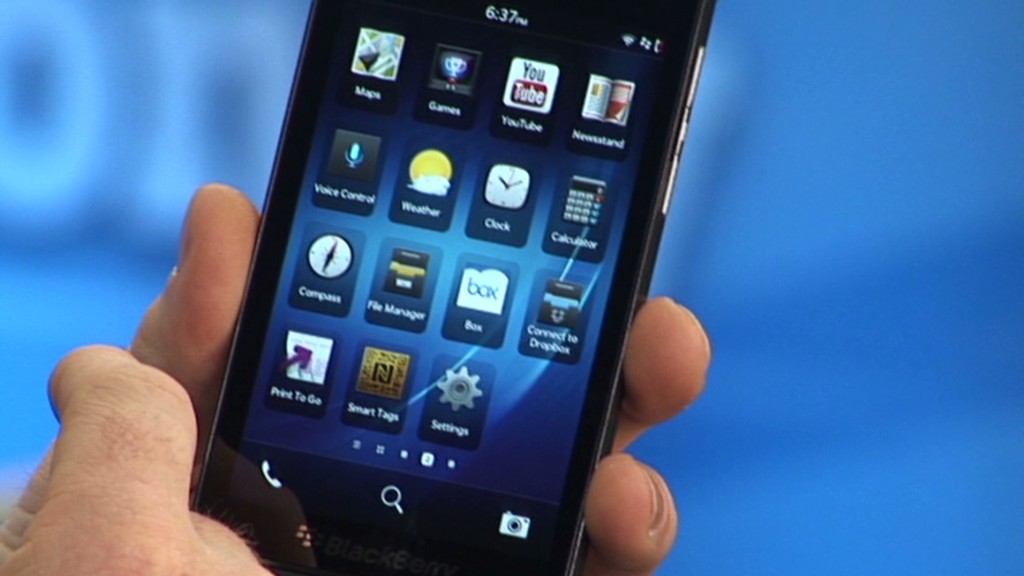 BlackBerry's first earnings report since dropping the "Research in Motion" moniker is on tap for Thursday, and analysts aren't expecting much during this transitional period.
The name change, announced during the January launch of the long-delayed BlackBerry 10 operating system, is meant to signal a new era for BlackBerry. But this quarter won't tell much about BlackBerry 10's success or failure. The first phone built around the operating system, the Z10, went on sale in only a few countries less than a month before the quarter ended.
The Z10 launched in February in Canada, the U.K. and the United Arab Emirates. Reports on sales in those countries have ranged from "they're solid!" (Canada) to "uh-oh" (UAE).
The U.S. got the Z10 just this week, which means it won't play into the company's financial report on the quarter that ended March 2. Analysts are already concerned about stateside sales, though. Goldman Sachs declared U.S. Z10 sales "tepid," while Citi called the American launch "disappointing."
Those are harsh words for any device launch, but they're particularly cutting for BlackBerry. The new OS is meant to be the linchpin of the company's turnaround.
Related story: Inside BlackBerry's last stand
The Z10 sales concerns have spooked investors, who sent BlackBerry shares about 11% lower over the past week. Shares have been extremely volatile recently throughout the company's transitional stretch. BlackBerry stock is up 91% over the last six months on hopes that the new OS will help the company rise from the ashes.
Some investors think that run-up is overblown. As of March 15, nearly one-third of shares were held by short-sellers betting that BlackBerry stock will fall. That's a whopping percentage, and it has contributed to BlackBerry's volatility as "shorts" are occasionally forced to buy up shares in order to cover their positions.
Those shorts could get squeezed if BlackBerry beats Wall Street expectations, which are very low. Analysts polled Thomson Reuters are estimating that BlackBerry lost 29 cents per share in the fourth quarter, and that revenue fell by nearly one-third over the year.
Sterne Agee analyst Shaw Wu thinks BlackBerry (BBRY) could vault that low bar, but he's not sold on the stock. In a note to clients Monday, he expressed concern about the company's growing river of red ink, and whether it has the ability to reverse those declines.
Meanwhile, rivals Apple (AAPL) and Google (GOOG) continue to storm the smartphone market. Wu isn't convinced BlackBerry 10 can "regain broader acceptance against iOS and Android."
BlackBerry's fourth-quarter results won't really answer that question. Investors will be looking to the company's first-quarter outlook to see if bluer skies are ahead for BlackBerry.