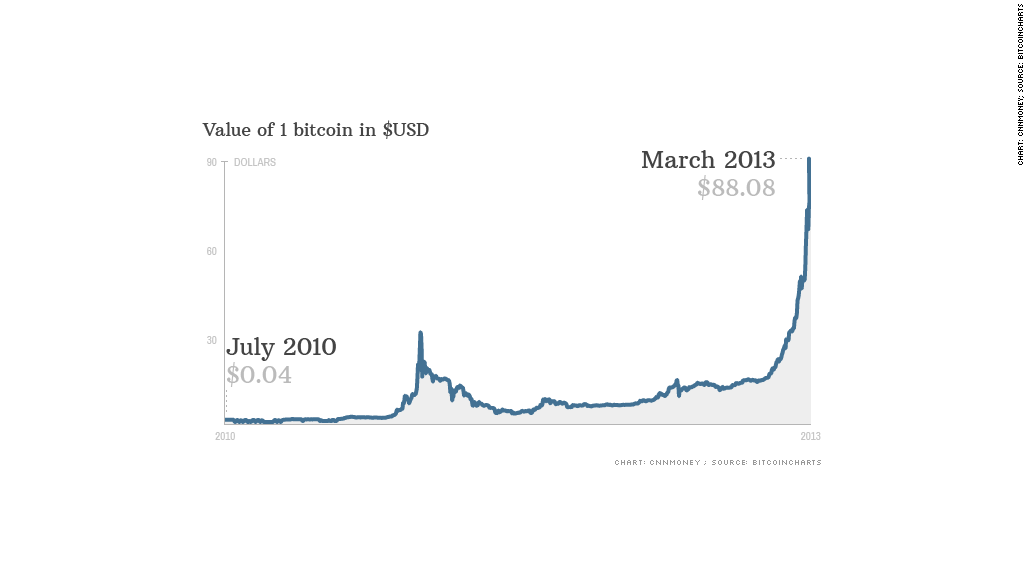 Shares of the cyber-currency bitcoin have surged in the past week as investors seek safe havens following the unprecedented bailout of Cyprus' banks.
Bitcoin is an unusual place to seek security. It's a four-year-old digital currency developed by a hacker who still remains anonymous.
But these are unusual times. Depositors in the tiny island nation of Cyprus are struggling to gain access to cash stored in the nation's banks, and some face losses on their deposits. The situation has caused investors all over Europe to question the safety of the banking system.
The price of one bitcoin has popped 87% since Cyprus began discussing tapping deposits as part of the bailout by the EU and IMF. Bitcoins now trade at $88 each, up from $47 on March 16, 2013, according to data from Mt. Gox, the currency's main trading exchange. That compares with just 5 cents per bitcoin in mid-July 2010, when Mt. Gox first started tracking prices.
Related: 'Funny money' has officially entered the real world
Trading volume has also exploded. Between 60,000 and 110,000 bitcoins have changed hands per day recently, according to Mt. Gox. That's double to triple the amount traded a few weeks ago.
Albert Hendriks, a 32-year-old programmer for a high-speed trading firm in Amsterdam, jumped into the currency for the first time this week, purchasing €1000 worth of bitcoins. He's not worried about the safety of the global banking system, but he sees bitcoins as a lucrative investment.
"I think the currency is maturing," Hendriks said. "It's risky, but I think more and more people are starting to trust it."
Bitcoin investors can trade in their coins for cash through a number of sites like Coinbase and BitInstant that work directly with banks to facilitate transfers. Some vendors are starting to accept the coins too, including the blog hosting site Wordpress and the online community Reddit.
Jeff Berwick, a media entrepreneur who runs the website Dollar Vigilante, hopes to open one of the world's first bitcoin ATMs in Cyprus in the next few weeks. The ATM there would allow individuals to retrieve cash for their digital bitcoins or put cash into the machine to add to their bitcoin collection.
"It's going to be an experiment," said Berwick, who also aims to install a machine in Los Angeles in the next few weeks.
Related: Why cyber currency Bitcoin is trading at an all-time high
Bitcoin has been one giant global experiment since an anonymous developer using the pseudonym "Satoshi Nakamoto" created it in 2009 as a currency that's free from government intervention and has no central bank backing. Bitcoin transactions typically carry very low exchange or processing fees.
As of now, nearly 11 million bitcoins are in circulation, making the current value of all outstanding bitcoins roughly $975 million.
These coins are "minted" by a network of computers running specialized software on powerful (and often pricey) hardware systems. The software is designed to release new coins at a steady -- and finite -- pace that slows down over time. Bitcoin's algorithm caps the total number of bitcoins that will ever be created at 21 million. More than 99% of them will be circulating by 2033, but the very last bitcoin won't be generated until around 2140.
"The point of the bitcoin is that you don't have to trust the founder," said Jeff Garzik, a computer programmer in Raleigh, N.C., who has served as a consultant to businesses working with bitcoins. "People are drawn to it because it can't be artificially manipulated by any human. Central bankers can't just decide to make more of it."
Last week, the Treasury Department's Financial Crimes Enforcement Network issued new guidelines outlining what anti-money laundering rules virtual currencies like bitcoin must follow. Critics say that the currency's anonymity makes it particularly useful for money launderers. Members of Silk Road, an online drug bazaar, use it as their currency of choice.
Although bitcoin businesses now have more regulatory hoops to jump through, Garzik said he sees the new rules as a tacit acceptance by the U.S. government of the currency's legitimacy.
Meanwhile, Hendriks hopes that he won't ever have to exchange his newly purchased bitcoins for dollars or euros.
"I hope it will become a global currency, and I can use it without turning it back into another currency," Hendriks said.
-CNNMoney's Steve Hargreaves contributed to this report.