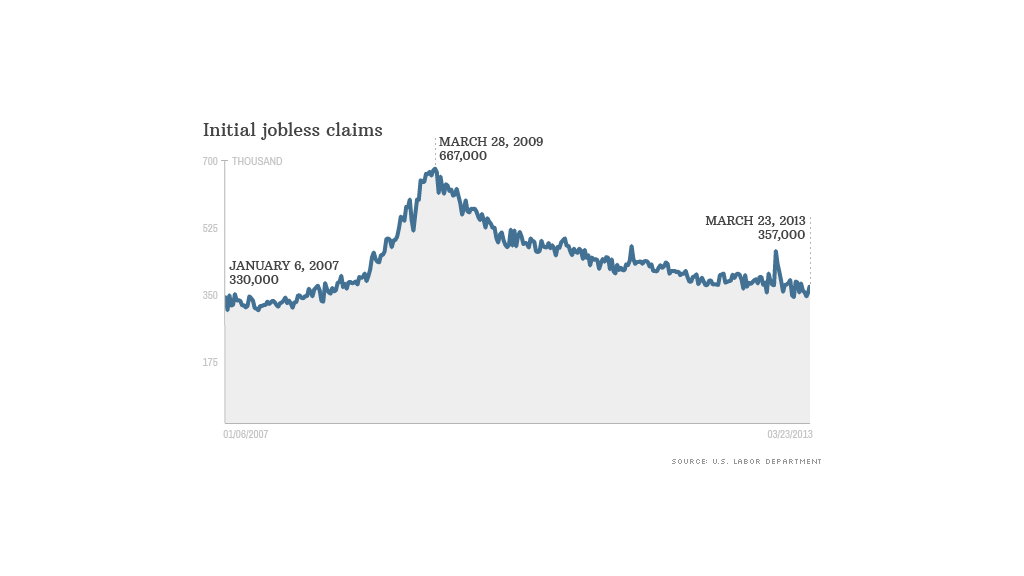 The number of Americas filing for their first week of unemployment benefits rose last week, suggesting a stall in what has generally been a steadily if slowly improving job market.
For the week ending March 23, 357,000 people filed for unemployment benefits, the Labor Department said Thursday. That was up 16,000 from last week's upwardly revised figure of 341,000.
Analysts were expecting 335,000 people to have filed for unemployment benefits, according to Briefing.com.
One analyst called Thursday's number "disappointing," but wasn't particularly concerned.
"Given the volatility in these figures, particularly around the Easter and Passover holidays, we wouldn't read too much into a single data point," Paul Ashworth, chief U.S. economist at Capital Economics, said in a research note.
During the height of the recession, weekly claims for unemployment benefits surged to over 660,000, but now they're hovering back around pre-recession levels.
In total, there were just over 3 million people filing for their second week or more of unemployment benefits two weeks ago, the most recent data available.
Last month, the Labor Department's jobs report showed that unemployment had fallen to 7.7%, the lowest level since last 2008.