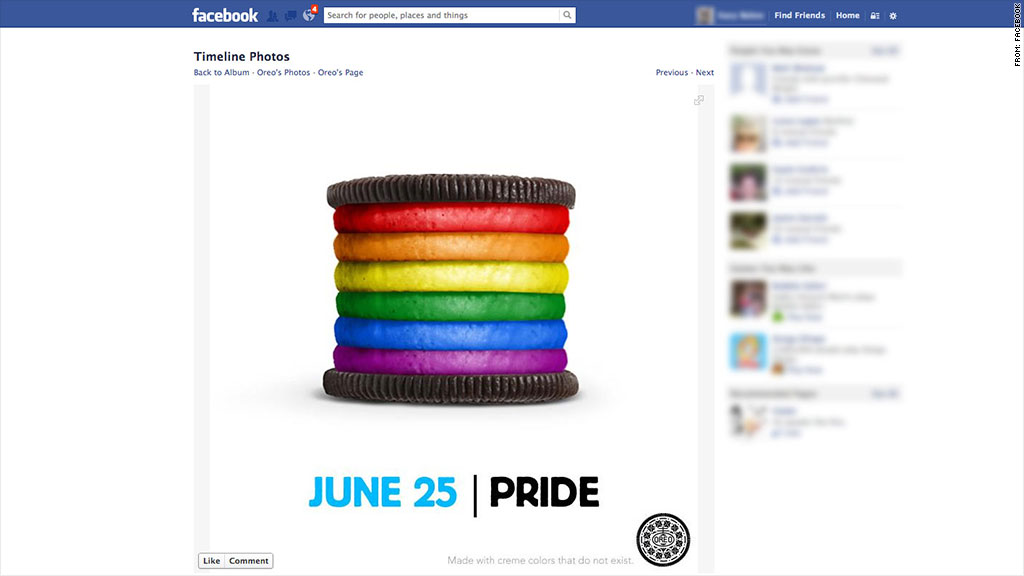 The Supreme Court is toiling over a decision on two landmark cases involving same-sex couples. But many companies have already decided to support them.
Last week, Starbucks (SBUX) CEO Howard Schultz publicly told off an investor who complained that the coffee giant's support of same-sex couples was hurting profits.
"It's a free country ... you could sell your shares at Starbucks," Schultz said.
Schultz is not alone. In recent years, a wave of businesses have demonstrated their support for same-sex couples, sometimes drawing the ire of customers and investors.
J.C. Penney (JCP) featured a family with two moms in its Mother's Day advertisements last year and two dads for Father's Day. The ads received immediate backlash from the family advocacy group One Million Moms, which called on its members to boycott the store and send back its catalogs. The retailer didn't back down.
Related: Marriage ruling could save same-sex couples thousands
Also last summer, Target (TGT) sold a line of gay pride-themed T-shirts and donated $120,000 of proceeds to the Family Equality Council, an advocacy group for the lesbian, gay, bisexual and transgender community.
Last June, Oreo posted a photo of a cookie with rainbow colored filling -- a symbol for the gay rights movement. The popular creme sandwich cookie made by Mondelez International (MDLZ) paired the photo with the captions "pride" and "proudly support love."
And last month, more than 100 of the nation's largest companies filed a brief with the Supreme Court opposing Proposition 8, which prohibits same-sex marriage in California. This week, the country's highest court heard two cases: Defense Of Marriage Act, which denies federal benefits and recognition to married gay couples, and Proposition 8.
Companies including Apple (AAPL), Facebook (FB), Google (GOOG), Morgan Stanley (MS), Nike (NKE), Verizon (VZ), Levi Strauss & Co. and American International Group (AIG) signed the brief and called rights for LGBT couples "a business imperative."
The brief says laws such as Prop 8 could force gay workers out of states that don't recognize same-sex marriage, interfering with companies' ability to hire and compete.
"Laws that prohibit marriage by two people of the same sex discriminate against ... millions of employees, as well as their customers, clients and vendors," the companies wrote.
Businesses don't have much to lose by sticking up for gay rights. Already, 53% of Americans support same-sex marriage, a sentiment that's even higher among the coveted under-30 consumer.
It also makes business sense. Same-sex couples have been shown to out-earn and outspend opposite sex couples.
According to a 2012 study from Experian Marketing Services, the typical household income for a married or partnered lesbian woman is $7,200 higher than that of a married or partnered heterosexual woman, and $21,500 more for a gay man.
Same-sex couples spend more on their weddings, too, despite having fewer guests, according to survey conducted by TheKnot.com.
"Corporate support for the LGBT community largely preceded public support for it," said Gary Gates, a demographer at the Williams Institute, which studies legal issues that affect the LGBT population at the University of California at Los Angeles Law School. "Corporate America perceived that there was a big consumer market."