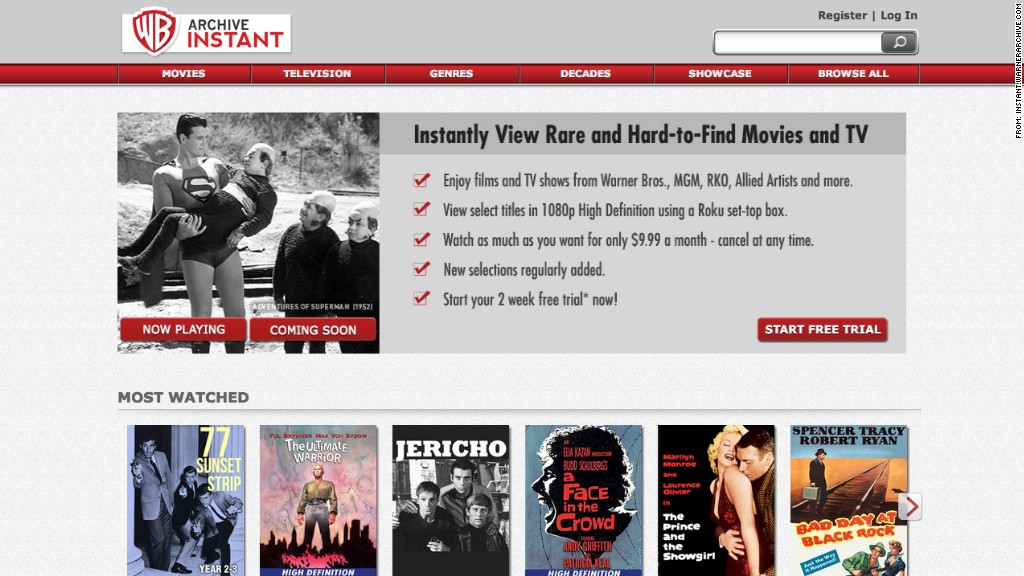 Netflix, Hulu and their rivals are locked in a constant battle to score new content. But classic movies and TV can get lost in the fray -- and Warner Bros. is launching a streaming service aimed at that niche.
For $10 per month, Warner Archive Instant allows users to stream content from the 1920s through the 1990s. The catalog includes what the company says are "rare, hard-to-find" TV shows and movies from Warner Bros., MGM, RKO and Allied Artists. Offerings include a 1921 adaptation of "The Scarlet Letter" and 1991's "Until the End of the World" with William Hurt.
The monthly price tag is $2 more than both Netflix (NFLX) and Hulu Plus. But Warner Bros., which is owned by CNNMoney parent company Time Warner (TWX), is promoting the rarity of its catalog as its selling point. Warner Archive Instant's FAQ page refers many times to "other streaming services" lacking its classic titles.
Archive Instant features only 122 titles at launch, but Warner Bros. says new content will be "regularly added." The service also lacks compatibility with most devices at launch. Archive Instant users can stream via the website, but the service works with only one connected-TV device: Roku.
Only Roku users will be able to stream the high-definition versions of the handful of titles with that option. The Web version of Archive Instant won't stream in HD.
Archive Instant will also feature monthly streaming movie or TV marathons built around a common theme or interest.