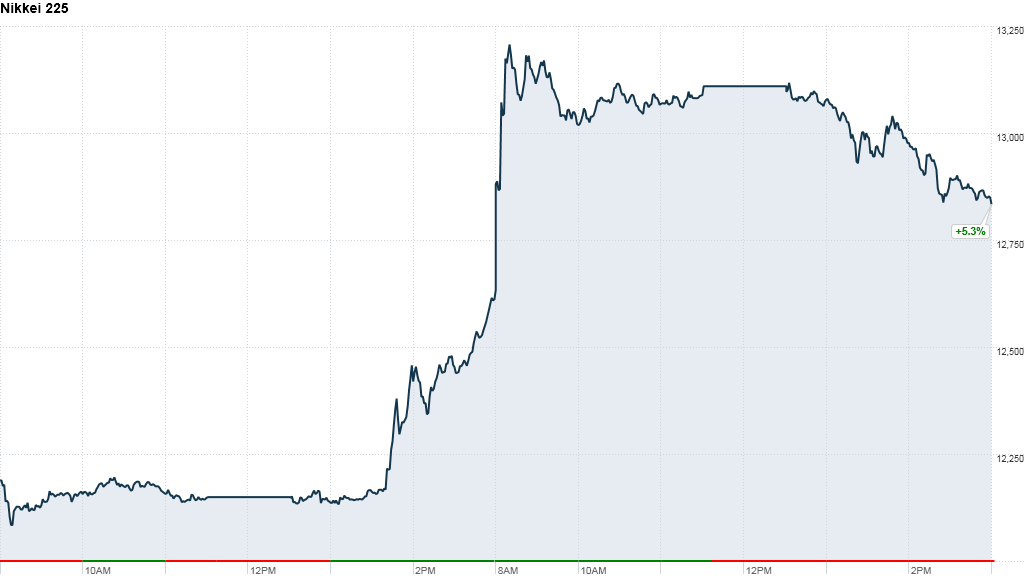 Japan's Nikkei touched its highest level in almost five years Friday, adding momentum in the wake of aggressive actions by the Bank of Japan to counter persistent deflation by pumping more money into the economy.
The index shot above 13,000 for the first time since 2008 in early trading, before losing momentum to close at 12,833 -- a 1.6% increase. The yen also weakened, falling to 97 per dollar, a level not seen since 2009.
The reactions come one day after new BoJ chief Haruhiko Kuroda announced a vast expansion of the central bank's stimulus program.
The bank will now do everything possible to meet its 2% inflation target at the "earliest possible time."
The aggressive policy moves should drive down the value of the yen, and benefit the country's exporters.
And when combined with more government spending on economic stimulus, the bond-buying binge could push up prices and end years of deflation, leading to more robust growth for the world's third largest economy.
The yen had weakened significantly in anticipation of the policy changes, and the currency has now fallen 40% against the U.S. dollar since the beginning of October. The Nikkei has been on a tear, adding 50% since the middle of November.
Some observers had worried the central bank would not meet sky-high expectations, but investors have cheered the program announced Thursday by Kuroda.
Related story: High hopes for Japan's central banker
The plan calls for the Bank of Japan to purchase longer-term debt and securities like ETFs that are less conventional for central banks. The bank also took other moves including suspending a rule that prohibited the purchase of longer-term debt.
The new purchases -- made at an annual pace of 60 - 70 trillion yen -- will double the bank's monetary base over a two-year period.
Skeptics abound, however, and even Abe has acknowledged that hitting the 2% target before the deadline could be difficult. In particular, economists are worried about sustained downward pressure on wages in Japan, a trend that makes inflation difficult to achieve.
"If the broad monetary aggregates and inflation in Japan don't show signs of a shift, the new-found trust in the capacities of the central bank will rapidly fade," Mark Williams of Capital Economics wrote Thursday in a research note.