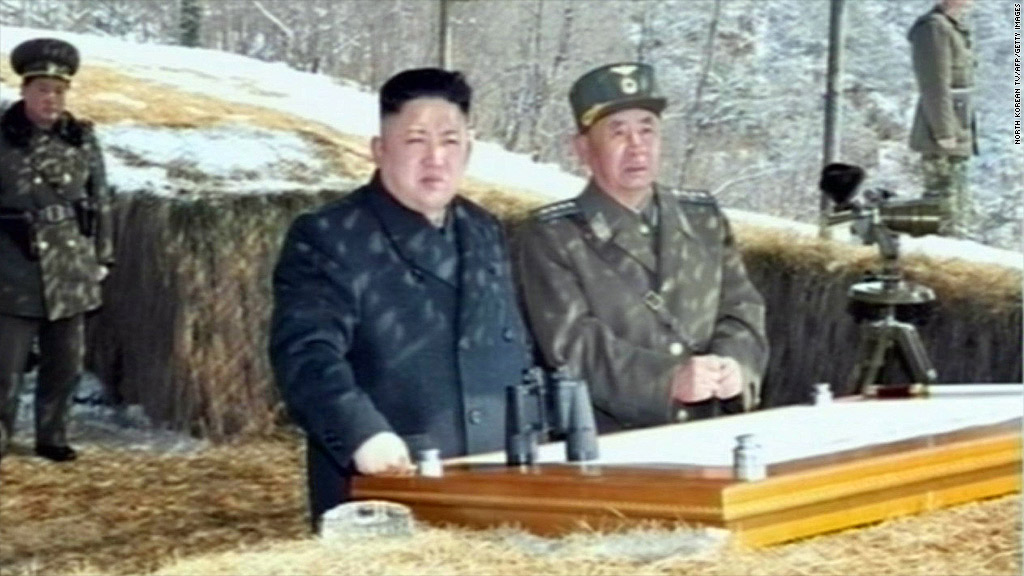 The military prowess of North Korea's Kim Jong Un is the subject of worldwide skepticism and even mockery. But the communist dictator's saber rattling is causing market turmoil for his capitalist neighbors to the south.
South Korea's KOSPI Index dropped 1.6% Friday, as the North Korean military reportedly prepared missiles for launch.
"The KOSPI is headed for its worst weekly performance in 10 months as the geopolitical tension between North and South Korea remains high," wrote Deutsche Bank analyst Jim Reid, in a report to investors.
North Korea has officially declared a "state of war" with U.S.-backed South Korea. The two countries have been at odds since the Korean War ended in 1953, and they remain divided by the heavily fortified Demilitarized Zone.
Related: Samsung profit soars 53%
The KOSPI plunged nearly 4% this week as the North Korean military moved missile launchers to the coast, the South Korean military deployed Aegis destroyers for radar surveillance, and the U.S. military staged a flyover of B-2 stealth bombers.
Exchange-traded funds of South Korean stocks have been pulled down by the anxiety of potential war. The iShares MSCI South Korea Capped Index Fund plunged 7% this week, and the Korea Fund dropped 4%.
Related: Should investors be worried about North Korea?
Kim Jong Un assumed office of the so-called "Hermit Kingdom" in December 2011. Since then, his isolated government has threatened to launch missile strikes against U.S. targets as distant as Austin, Texas, and referred to America as a "boiled pumpkin" unable to withstand the military might of North Korea.
Even Samsung took a hit from the North Korean tensions. The South Korean tech giant reported a 53% surge in quarterly profit, but was still down slightly in Friday's session.