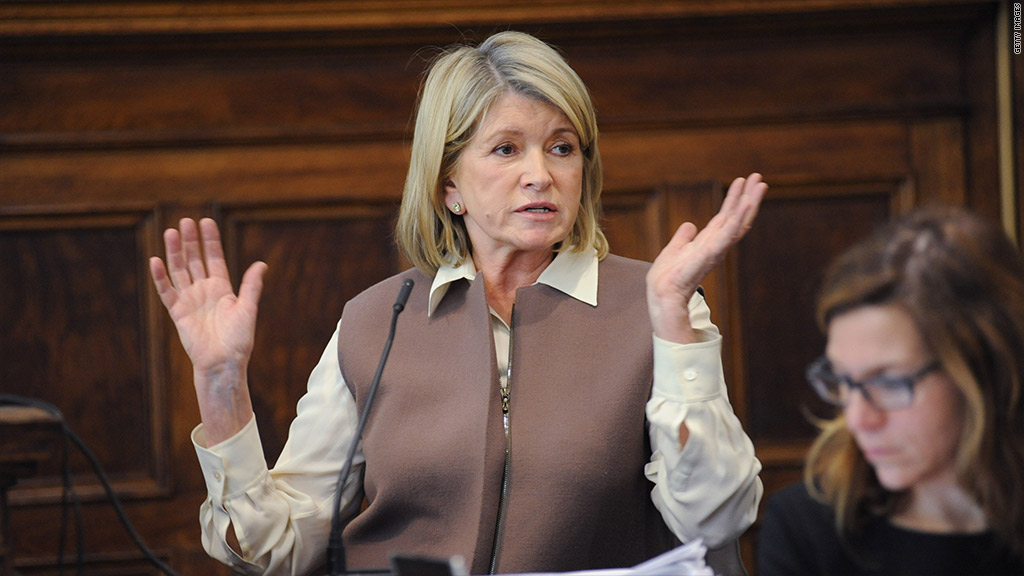 Macy's and JCPenney are back in court, continuing their fight over Martha Stewart home goods, after a month-long attempt to settle the case in mediation hit a dead end.
The department stores have been duking it out in New York state court over whether they can both carry Martha Stewart-branded home goods in their stores.
In December 2011, J.C. Penney (JCP) bought a 16.6% stake in Martha Stewart Living Omnimedia (MSO) for $38.5 million. The deal was meant to create Martha Stewart "mini-stores" within Penney locations nationwide.
Macy's (M), which already had a partnership with Martha Stewart Living, fired back by filing lawsuits against both companies. The retailer claimed its own 2006 agreement with Martha Stewart gave it an exclusive license to manufacture and sell certain products, including bedding and dinnerware.
Related: 13 Martha Stewart court moments
Justice Jeffrey Oing had given the retailers a month-long mediation period in which to resolve their dispute, but the companies failed to reach an agreement. The trial resumed in court on Monday, according to a Macy's spokesman.
Last month, Stewart took the stand to defend her decision to sign a deal with J.C. Penney.
"We thought, and I hope rightly so, that we were allowed to do such a thing," the domestic diva told the courtroom.
Macy's CEO Terry Lundgren also took the stand, saying that he was shocked to learn about Stewart's deal with his competitor.
"I was literally sick to my stomach," he told the court. He said at the time, he thought of her as a friend.
Meanwhile, J.C. Penney CEO Ron Johnson has been working to turn the story around ever since he came on board from Apple in 2011. Last week, the company disclosed that it slashed Johnson's compensation package due to its poor performance. Shares of the company are down 55% over the last year, and sales in the fourth quarter were down 28% compared to the year before.