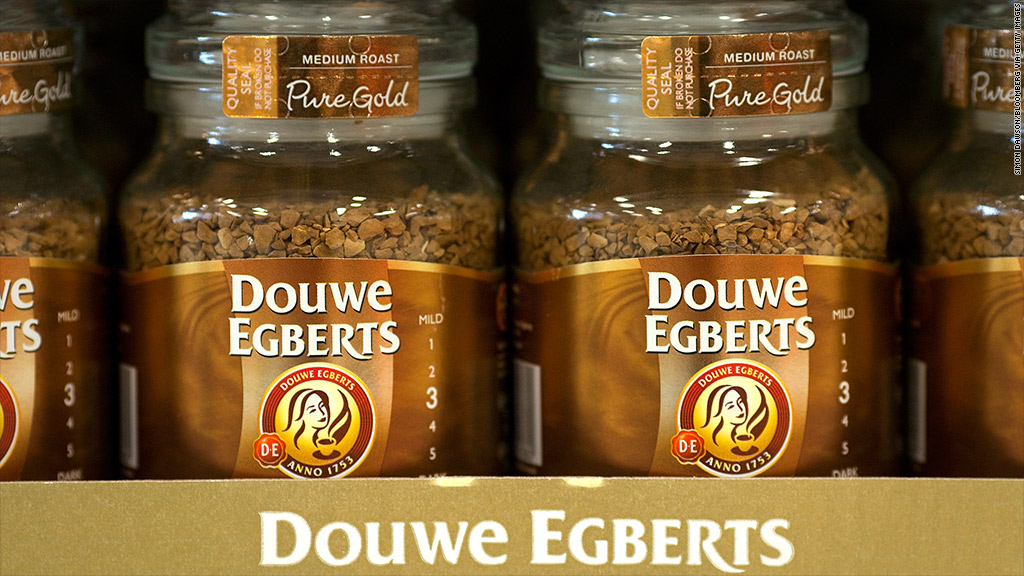 Some people can never get enough coffee and nor, it seems, can German investment firm Joh A. Benckiser.
The investment arm of the Reimann family has swallowed its third coffee takeover in less than a year, agreeing to pay €7.5 billion ($9.8 billion) for Amsterdam-based D.E Master Blenders, well-known across Europe for its Douwe Egberts brand.
The all-cash deal values Master Blenders' shares at €12.50 each.
Just last year, JAB bought California-based Peet's Coffee & Tea and Minnesota-based Caribou Coffee in deals worth roughly $1 billion and $340 million, respectively.
Jon Cox, an analyst at Kepler Capital Markets in Zurich, said the Reimann family may look to build a global empire resembling a combination of Starbucks (SBUX) and Nestle's Nespresso.
"Coffee is a very stable business so that's probably why the family is looking to invest," he said, noting that the global retail coffee market is worth about $65 billion.
JAB is known for investing in various consumer brands, and owns companies such as Jimmy Choo and the apparel label Derek Lam.
Related: Wrigley to sell caffinated chewing gum
D.E Master Blenders was spun off last year from Sara Lee, now known as Hillshire Brands (HSH). The Dutch firm is the third largest coffee company in the world and competes with Kraft (KRFT) and Nestle.
The takeover has been given the stamp of approval by D.E Master Blenders' board, though the price is slightly below the €12.75 per share previously announced when the coffee company revealed in late March that it was in talks.
Cox said he expected the deal to go through because the financing was sound and other bidders were unlikely to jump into the fray.
The terms of the deal stipulate that D.E Master Blenders will continue to operate in the Netherlands. The bulk of its sales are in the Netherlands, France, Belgium, Germany and Brazil.