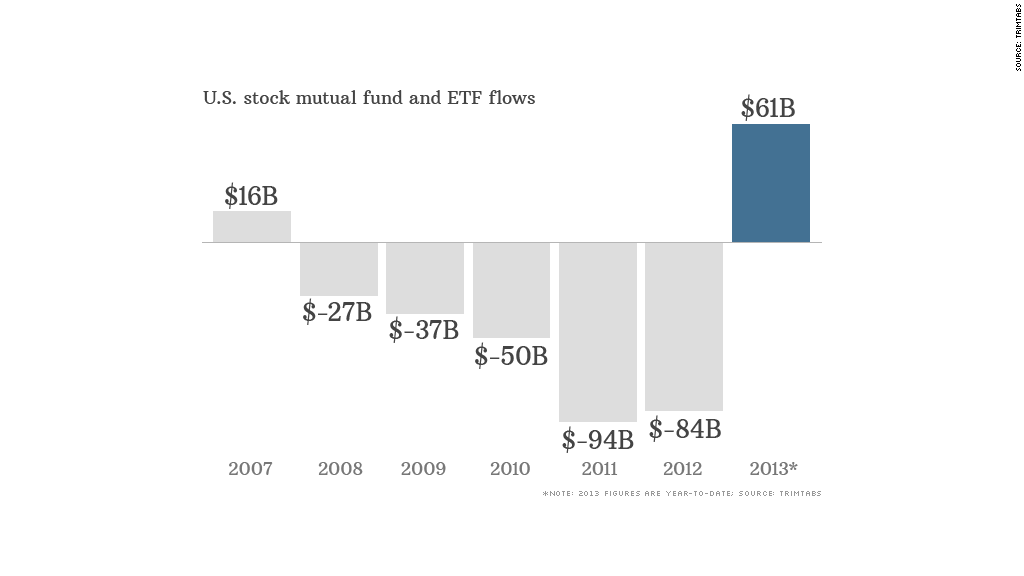 Investors have been rushing off the sidelines this year and show no signs of letting up.
So far, they've pumped more than $60 billion into mutual funds and ETFs that hold U.S. stocks, according to research firm TrimTabs.
That's already more than any full calendar year since 2004. And if the pace keeps up, this year's inflow would be the largest since 2000.
Investors dove right in at the start of the year, pouring more than $30 billion into U.S. stocks in January, but inflows in February were barely positive.
Related: Stock rally has room to run - CEO
That led many experts to initially dismiss the robust January inflows as a one-off related to seasonal and tax factors, said TrimTabs CEO David Santschi. But appetite for U.S. stocks has since returned.
One of the biggest drivers behind the strong inflows has been stimulus from the Federal Reserve, said Santschi.
"Investors seemed convinced the Fed has their back," he said. "They snapped up equities across the board as the Fed pumped an average of $4 billion per business day of newly printed money into the financial system."
Mutual funds, a gauge of individual investor participation, attracted about 40% of the total inflow during the first quarter.
ETFs took in the remaining 60%. While most ETFs are still primarily used by institutional investors, such as hedge funds and pension funds, ETFs that hold U.S. stocks attract both institutional and individual investors.
Related: Wall Street sours on gold
The rush into U.S. stocks in 2013 comes after individual investors shunned the market for several years, so there's still plenty of money on the sidelines that could make its way back in, according to experts.
With the Dow and S&P 500 trading at record highs, many are wondering whether the market has topped out or if the rally will continue, said Scott Wren, senior equity strategist at Wells Fargo Advisors.
"Up until late last year, most of these investors were happy staying on the sidelines and not really paying attention to what was going on in the stock market," he said, adding that the attitude was particularly common among Baby Boomers who were nearing retirement and had already suffered huge losses when the stock market crumbled in 2001 and again in 2008.
"Now, these same investors are beginning to realize they will not be able to fund their retirements by investing in [certificates of deposit] that yield almost nothing," said Wren.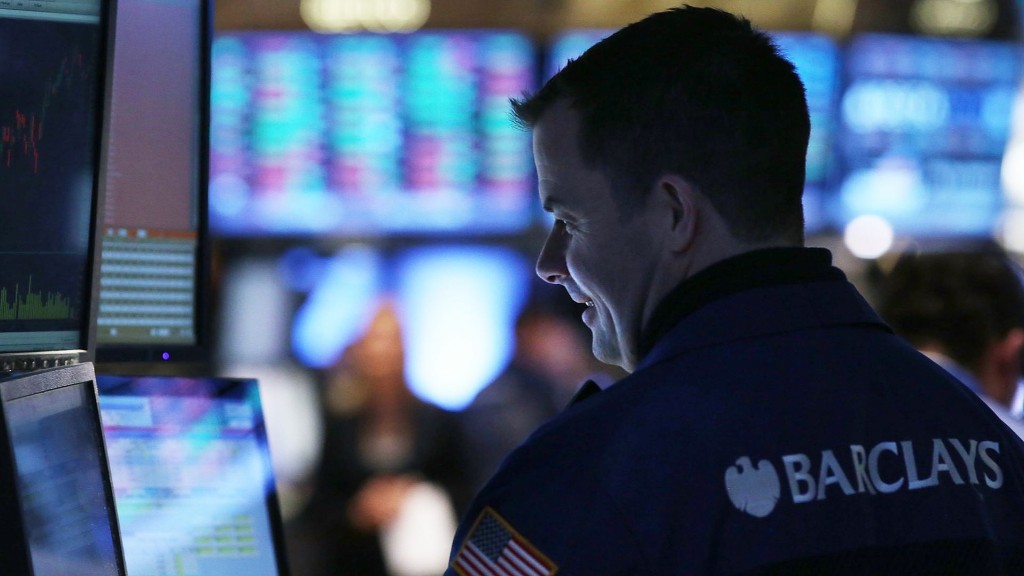 While some have moved off the sidelines amid fear of missing any further upside, a larger group is waiting for a pullback to "better time" their entrance into the stock market, he said. And that group is just getting increasingly frustrated as stocks continue to grind higher.
To those who are still waiting, Wren said his advice is "get invested in this market." He suggested investors put at least a third of the money they've been keeping on the sidelines to eventually invest into stocks back into the market sooner rather than later.
He argues that valuations remain reasonable, and the economy is expected to continue growing.
"There will likely be opportunities at some point this year to buy stocks at lower levels," he admitted. "But give up trying to time the market and put a portion of sideline money to work now."