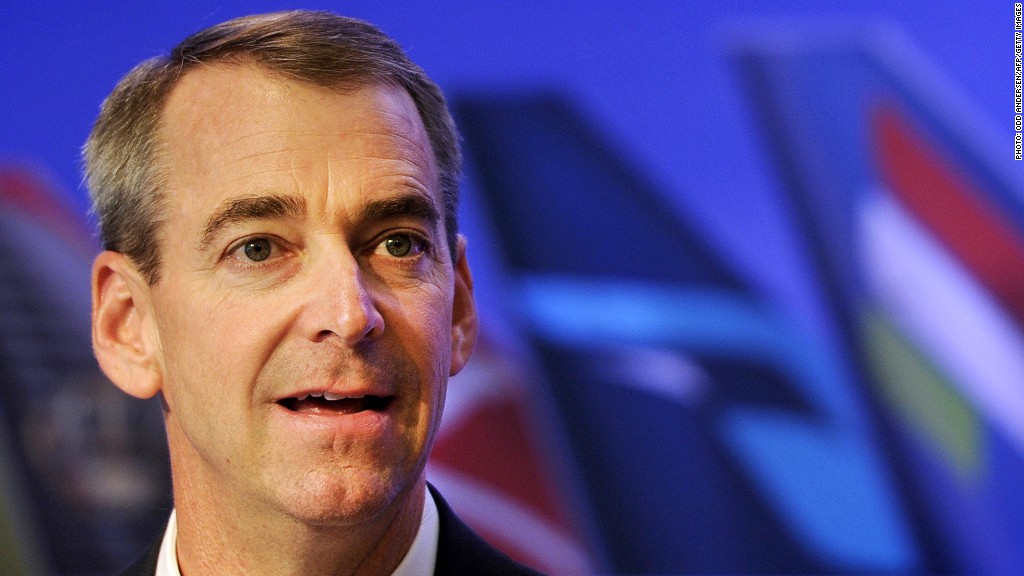 A federal bankruptcy judge denied American Airlines' plan to give its CEO a $20 million severance package, saying bankruptcy law prevents such rich "golden parachutes."
But the airline says it will continue to push for CEO Tom Horton to get the payoff. And the judge left the door open to reconsider the request in future, or for the company to approve the windfall for Horton once its merger with US Airways (LCC) is complete.
Horton is losing his CEO position when American and US Airways merge, which is expected to take place later this year. US Airways CEO Doug Parker, who pushed for the deal that Horton initially opposed, will get the corner office instead, although Horton will hold the position as non-executive chairman for a year.
Horton became CEO the day American parent AMR (AAMRQ) filed for bankruptcy in November 2011, having served as president of the Dallas-based airline before then.
The $20 million payday, which would be half in cash and half in stock in the new merged airline, was opposed by the bankruptcy court trustee, who is appointed to protect the interests of creditors in the case.
Related: Bankruptcy judge OKs American-US Airways merger
Judge Sean Lane agreed with the trustee's argument that the payment was too great to be approved as part of the court's approval of the merger. He said the law was changed after bankruptcies at Enron and WorldCom to make court approval of such golden parachutes more difficult.
The new law "eradicate(s) the notion that executives were entitled to bonuses simply for staying with the company through the bankruptcy process," the judge said.
But Lane did say in the ruling that it is possible he could approve the payoff later in the bankruptcy process, just not as part of his initial approval of the merger itself. He said that if he had approved the case at this point on the bankruptcy case, it would have locked the severance plan in a way that could not be changed.
American's statement Thursday indicated it will seek the court's approval of the proposed $20 million golden parachute later in the process.
Related: How 10 airlines got down to the "Final Four"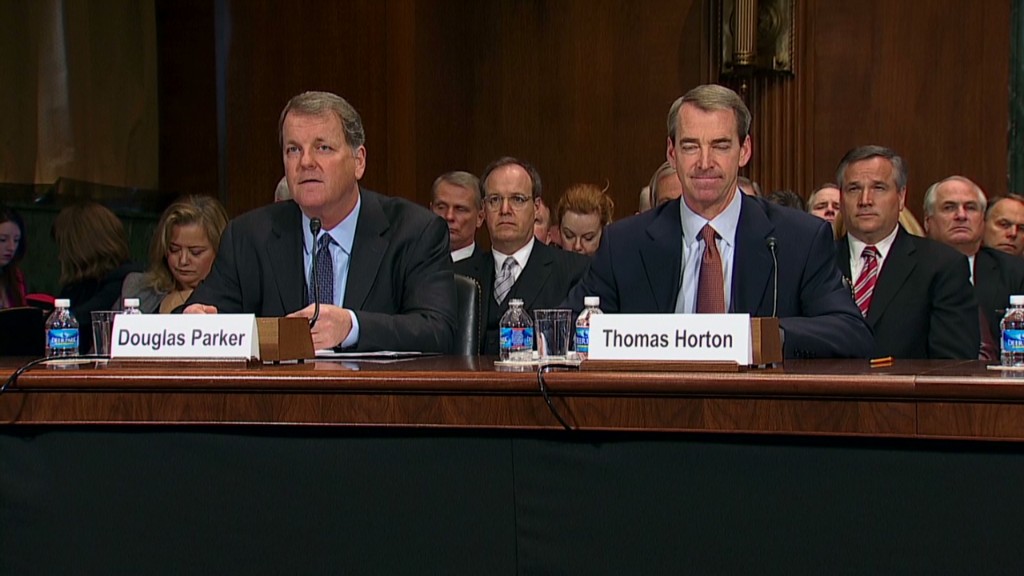 Lane also pointed out that, if it wants to, the newly merged company can give Horton the $20 million severance package once the new company is out of bankruptcy.
"Although the court is constrained by [bankruptcy code] ...requirements in considering the proposed severance now, [the merged airline] will not have such restrictions and instead will answer only to its shareholders," Lane wrote.